Matthew Perry Digs Deeper Into Past Double Life With Diane Sawyer
Gregg Deguire/Getty Images
This article includes discussion of alcohol and drug addiction.
Matthew Perry is gearing up to reveal the details of his struggle with addiction, which has seemingly plagued most of his career. The actor — who rose to fame as Chandler Bing on the hit show "Friends" — is set to release his first memoir titled, "Friends, Lovers & The Big Terrible Thing." In an excerpt from the book, obtained by Us Weekly, Perry discusses how his addiction impacted his time as an actor.
"You can track the trajectory of my addiction if you gauge my weight from season to season — when I'm carrying weight, it's alcohol; when I'm skinny, it's pills," Perry writes in the book. "When I have a goatee, it's lots of pills." The Massachusetts native went on to suggest that the physical changes in his body were so drastic, that he was noticeably skinnier when he returned to film Season 7 of the sitcom.
Perry's book is set to hit stores on November 1, but the actor recently sat down with Diane Sawyer to dig deeper into his troubled past.
Matthew Perry started drinking at 14 years old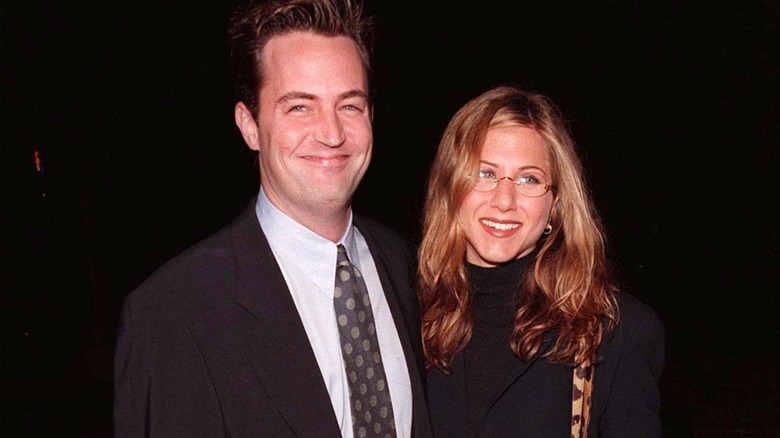 Featureflash Photo Agency/Shutterstock
Matthew Perry recently spoke to GQ about the upcoming release of his memoir, "Friends, Lovers & The Big Terrible Thing," and explained that he was "completely honest" in recounting his experience with addiction. The "Friends" star went on to reveal that he cried relentlessly after reading his own book, as he realized the tragic story was his own.
Perry has further opened up about his troubled past in a sit-down interview with Diane Sawyer for ABC, which aired on October 28. During the conversation, it was revealed that Perry began drinking at 14, as the actor recalled feeling like he was "in heaven" under the influence of alcohol. Years later, his addiction issues followed Perry to the set of "Friends," where he recalled showing up to work "blindly hungover, like shaking and crazy hungover." He also recalled an addiction to pills, revealing he'd take up to 55 Vicodin a day. Shockingly, he would doctor shop and rummage through medicine cabinets at open houses, stealing what pills he could find.
Perry revealed that his co-star, Jennifer Aniston, was one of the first crew members to confront him over his addiction. Unfortunately, Perry admitted he "wasn't in a position to stop" when Aniston came to his aid. Furthermore, Perry revealed that he has trouble watching the popular 90's show, as it tells the story of his years-long battle with addiction. "In a weird way, I feel sorry for that guy, because that's a guy that's out of control," Perry said. "I didn't know what was going on with me."
If you or anyone you know needs help with addiction issues, help is available. Visit the Substance Abuse and Mental Health Services Administration website or contact SAMHSA's National Helpline at 1-800-662-HELP (4357).