What Really Happened Between Megan Thee Stallion And G-Eazy?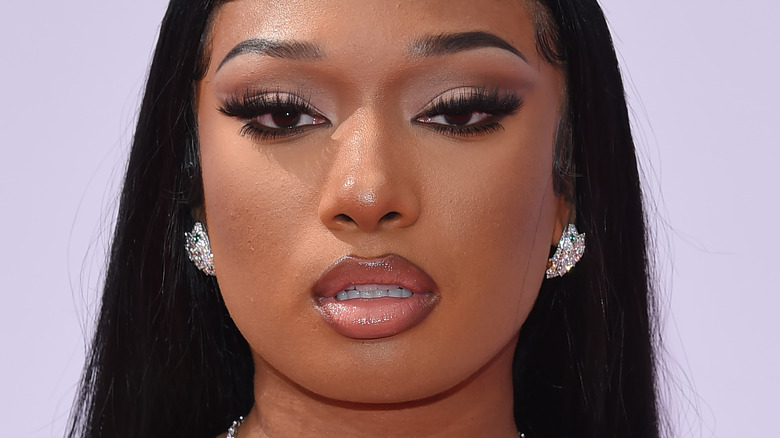 DFree/Shutterstock
Fans normally are ecstatic to see two of their favorite celebrities get together. Whether it's Tom Holland and Zendaya or Ryan Reynolds and Blake Lively, people love to see the spark that grows between the two individuals. Things, however, were a little different when it came to Megan Thee Stallion and G-Eazy's relationship.
According to E! News, Megan and G-Eazy had a romantic relationship they tried to keep hidden. A source told the outlet about the pair's outing at a club in Miami in February 2020. They shared, "Megan kept grabbing G-Eazy's face and they were having intimate moments." The source continued, "G-Eazy was singing and rapping to the music that was playing and Megan was grinding dancing on him and they both had smiles on their faces." The two seemed to be vibing with each other, and it was all confirmed on social media.
That same month, G-Eazy posted a video of the two cuddled up on a couch on his Instagram Stories (via E! News). In the video, the rapper gave Megan some interesting kisses, with his mouth wide open almost sucking her cheek. Fans were shocked by the video as many never knew the two even had feelings for one another. One person expressed their shock by tweeting, "Lol what is happening? G-Eazy and Meg ???????????" The now-deleted intimate story was the only time the pair shared anything like that on social media. So, what really happened between Megan Thee Stallion and G-Eazy?
Megan Thee Stallion denied a relationship with G-Eazy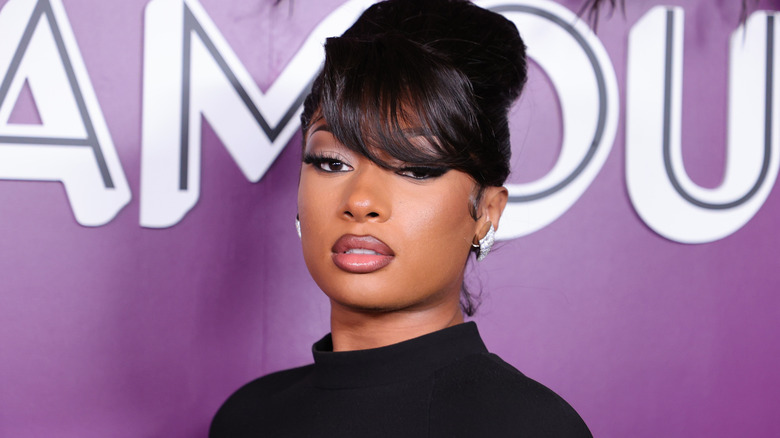 Theo Wargo/Getty Images
Megan Thee Stallion has made it known she is an independent woman in her music. But, just like anyone else, Megan has had several relationships all in the hopes of trying to find love. And when G-Eazy posted that video of him and Megan canoodling, she was coming off a recent breakup (via Capital Xtra).
Megan and Moneybagg Yo had just recently called their relationship quits. Moneybagg Yo had confirmed the relationship and breakup in January 2020, a month before she and G-Eazy were spotted. Moneybagg Yo told Ebro Darden (via Capital Xtra), "I'm really proud of her. The Megan y'all know and the Megan I know are two different things. Still love! No bad blood, we just didn't see eye to eye." Megan's recent breakup with Moneybagg Yo made it all the more confusing when she was spotted with G-Eazy.
After fans had shared their opinion about the video, the rapper quickly denied any relationship. She took to Twitter and wrote, "Lol alright noww y'all got jokes out but I am not f***ing G-Eazy." But when one fan pointed out that G-Eazy had "sucked the makeup" off her cheek, Megan joked in a tweet, "He like Fenty" — referring to Rihanna's makeup line she must have been wearing that night. Megan denied the relationship once more on HOT 97, sharing, "It wasn't a fling. It wasn't a club jumpoff. You know, people turned up in the moment ... G-Eazy is cute, but I just want to be single right now."
G-Eazy says he and Megan are 'friends'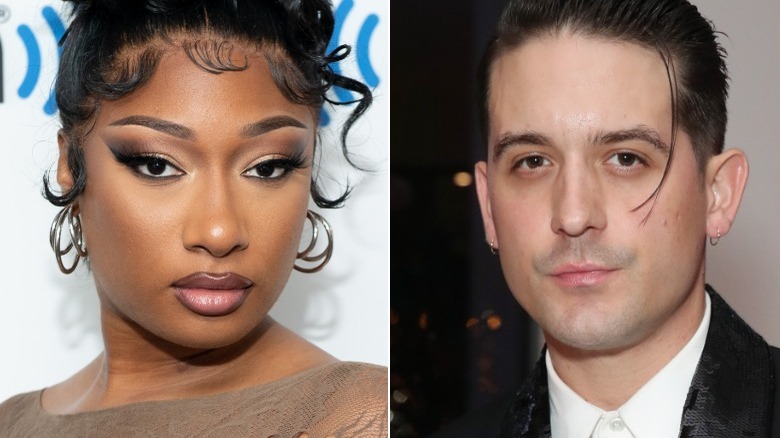 Noam Galai/Getty & Joe Scarnici/Getty Images
G-Eazy has been connected to his share of famous women including Halsey and Ashley Benson. And although he and Halsey stirred up some reaction from fans, none compared to his "relationship" with Megan Thee Stallion. But, it seems to both artists that night was nothing but a fun night out on the town. The "Far Alone" rapper also denied any relationship with Megan, but he was a bit more flirtatious about it (via Entertainment Tonight).
In an interview with Entertainment Tonight, they asked G-Eazy about Megan. The rapper looked into the camera with a smirk and winked as he said, "We're just friends." And as much as fans may want to know what had happened, G-Eazy kept reiterating they were "just friends." G-Eazy was also asked about the song he had dropped called "Still Be Friends," which many speculated was about Meg and his true feelings toward her. Once again, the rapper denied that he made that song about her. He said, "That song I made a while ago." G-Eazy smirked at the camera as he shared this, so he wasn't convincing many fans that he and Megan were "just friends."
G-Eazy did share some sweet thoughts about the rapper after being asked what he truly thinks of her. He shared, "I think she's incredible. I think she's beautiful and she's talented and she's a very lovely lady." So, whether they were truly "just friends" or something more, the two seem to have a mutual respect for one another.