The Truth About Megan Thee Stallion's Ex-Boyfriend, Moneybagg Yo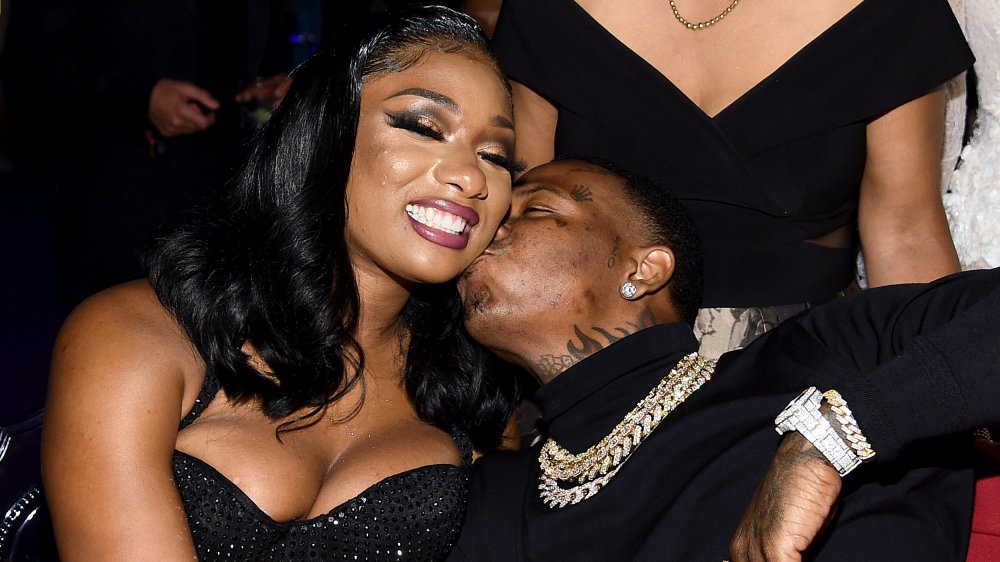 Dimitrios Kambouris/Getty Images
Rumors about Megan Thee Stallion's love life run rampant on the internet, but at least one of her relationships is confirmed. After two collaborations, fans assumed that Megan and Moneybagg Yo were dating in 2019, but the rapper confirmed they had a relationship in a January 2020 interview with Ebro Darden on Apple Music's Beats 1 podcast, Rap Life with Ebro Darden, per Madame Noire. The rapper explained that they broke up, but were still "cool" with each other. That being said, he and Megan couldn't get along. 
"Two strong personalities just bumping heads a lot. It didn't work. You know what I'm sayin? But I always wish her the best. I'm really proud of her. The Megan I know and the Megan y'all know are two different things. Still love. It ain't nothing like that, no bad blood. We just didn't see eye to eye." Moneybagg Yo confirmed that they broke it off before things got bad between them. He also added that their schedules just didn't match up, revealing that he even got her a dog so that when he was away, there was still a part of him with her. Cute, right? 
Megan Thee Stallion and Moneybagg Yo might have subtly shaded each other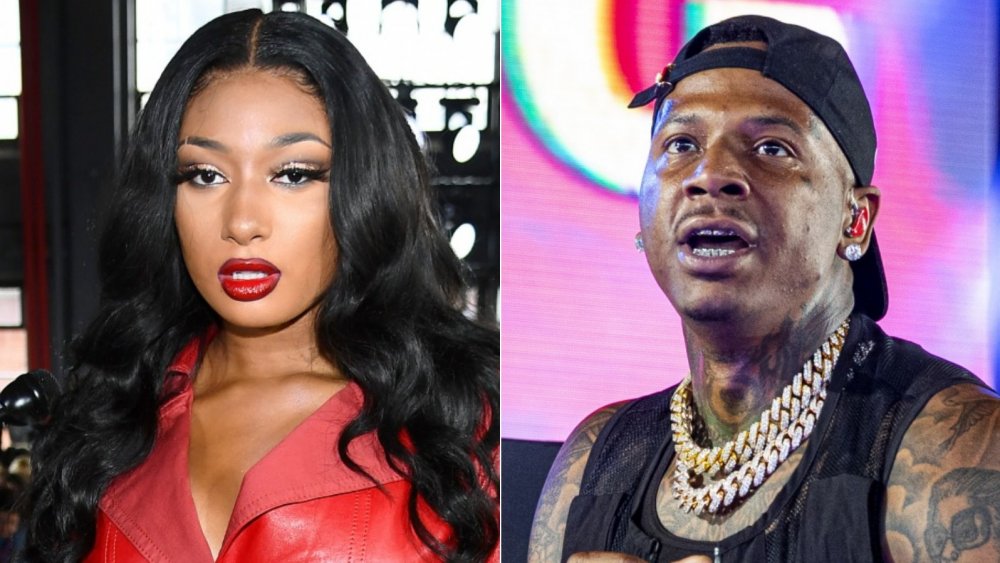 Dimitrios Kambouris, Scott Legato/Getty Images
Although, as of this writing, Megan Thee Stallion has yet to publicly comment on their relationship, fans think that she dissed Moneybagg Yo and addressed cheating rumors in her 2020 single "B.*.*.C.H." with the lines: "You say you want respect, well treat me how you wanna be treated/ You told me, 'Keep it real,' but you don't practice what you preachin'/ — yikes! 
She continues: "You want me to blow your phone up and come a-lookin' for you until I find ya/You really want me to whoop the ho that you f***in' with if I find her/ B***h you ain't that busy, I 'on't give a f**k what you ain't got time for." While Meg hasn't said that the bars were about her ex, fans definitely thought the track was directed toward the "Said Sum" rapper. "megan had some coming for moneybagg lmao. & she snapped. ain't no stopping this woman," one Twitter use wrote. 
According to AceShowbiz, Moneybagg Yo reportedly posted a Snapchat just days after the alleged diss seemingly suggesting that Megan had body odor with a meme that read: "If she's a stallion but musty all the time, do that make her a mustang?" Not very romantic. 
Moneybagg Yo is doing pretty well for himself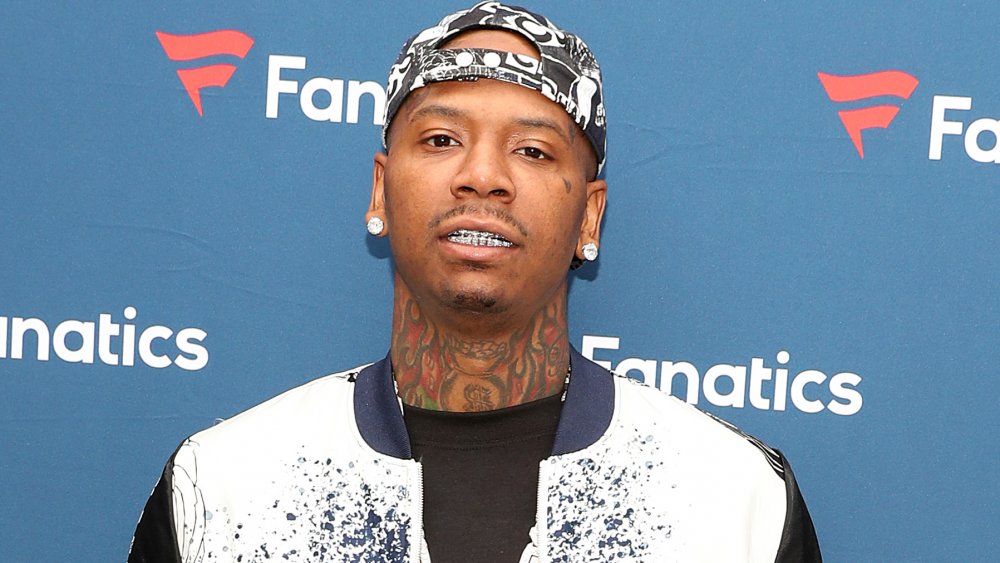 Tasos Katopodis/Getty Images
Despite his alleged Snapchat post in January 2020, judging by his aforementioned interview with Ebro Darden, it seems like these days, Megan Thee Stallion and Moneybagg Yo are at least civil with one another. Since being with Moneybagg Yo, Megan Thee Stallion has been linked with Trey Songz, G-Eazy, Wiz Khalifa, Tory Lanez and a host of other men, but she's shut all of those relationship rumors down. During an Instagram Live in June 2020, she teased that she "[had] a man" but didn't confirm who it was, per The Blast.
For his part, Moneybagg Yo confirmed that he was dating Ariana Fletcher in a 2020 interview with Hot97. The fact that either of them even have time to date is honestly pretty impressive given that both Megan and Moneybagg Yo are seemingly always working. They are both signed to Yo Gotti, and Moneybagg Yo released Time Served in January 2020. The album debuted at No. 3 on the Billboard charts, per Hip Hop DX. Additionally,  Moneybagg Yo reportedly has a film coming out called 24 Hours. He's also working on expanding his BreadGang clothing line, and he reportedly has another album that is slated for release in 2020. 
Of his upcoming projects, the rapper told Hip Hop DX: "I'm trying to take it to a whole other level. I want to go past the moon with it. It's on."