The Cheating Accusations Prince Harry Faced While He Was In School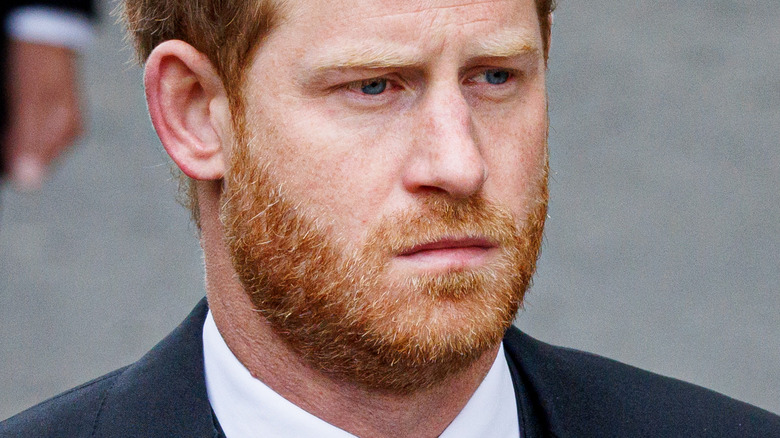 Patrick Van Katwijk/Getty Images
As the youngest of Princess Diana and King Charles' two sons, Prince Harry has always been given more leeway than his brother, Prince William. In 2005, he dressed up as a Nazi at a Halloween party, and his choice of costume quickly went viral. "I am very sorry if I caused any offense or embarrassment to anyone," the young prince later apologized in a statement (via CNN). Throughout his younger years, the Duke of Sussex also cultivated a reputation as a hard partier. In 2012, he was caught playing strip poker in Las Vegas and he once drunkenly fell into a swimming pool with all his clothes on. "Harry loves to party and thinks nothing of boozing in bars and clubs and having one-night stands," royal author Phil Dampier revealed to RadarOnline. "He believes he doesn't have any responsibilities, but if something happens to William, he's next in line to be king."
Perhaps Prince Harry's biggest controversy came when he and his wife Meghan Markle chose to step down as working members of the royal family. The couple allegedly didn't even give the late queen a heads up about their decision, which contributed to the growing division within the Windsor clan. It created a rift between Harry and Prince William, and his relationship with King Charles is equally rocky.
While all of this shady behavior is well-documented, Prince Harry has a few more skeletons in his closet, including a cheating scandal with which fans might not be familiar.
Prince Harry's art teacher allegedly authored his A-level project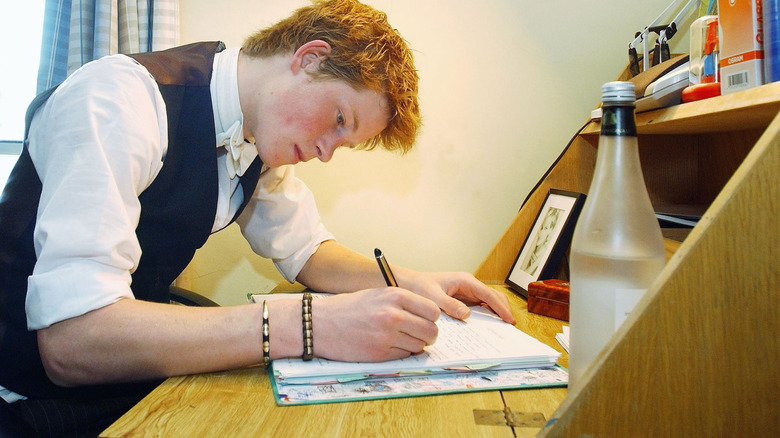 Kirsty Wigglesworth-Pool/Getty Images
As a student at Eton College, Prince Harry was involved in a cheating investigation. According to The Guardian, his former art teacher, Sarah Forsyth, claimed that she'd authored text to accompany an art project that the prince had submitted for his A-levels. This project was key to earning his place at Sandhurst, where Harry trained as a military officer, according to Us Weekly. Forsyth — who was fired in 2002 — consequently sued Eton for her unfair dismissal, and stated in her hearing that the head of the art department had asked her to help Harry with his project.
Forsyth had a tape to back up her accusations, in which Harry could be heard saying, "It was a tiny, tiny bit. I did about a sentence of it" (via CBS News). This quote was in regards to the work that Prince Harry did on the art project, but a spokesperson for King Charles argued that it was taken out of context. "The tape ... contains barely audible half-sentences, and it appears to have been edited," he said. "It is also difficult to tell what Harry is saying and what he is referring to, due to the poor quality of the recording and the disjointed nature of the tape. The fact remains [that] Harry did not cheat." Prince Harry did not comment much on the scandal, and simply alluded to "things people get accused of" in his 21st birthday message (via The Guardian).
Prince Harry may have been given preferential treatment at school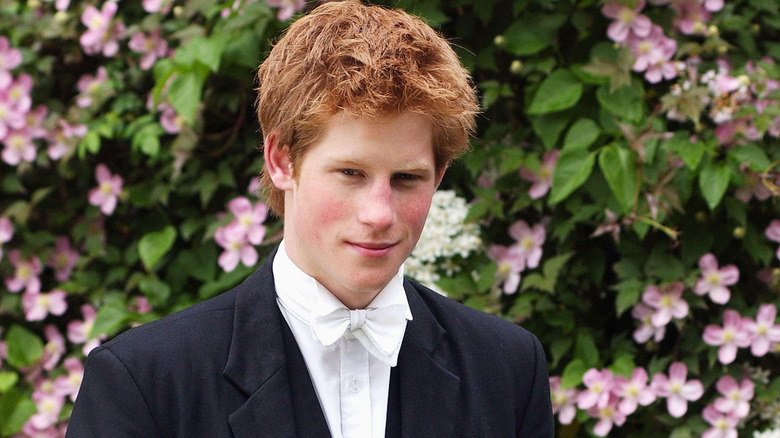 Kirsty Wigglesworth-Pool/Getty Images
Prince Harry was eventually cleared of wrongdoing in the cheating scandal — and Sarah Forsyth was awarded £45,000 in damages — but it seems apparent that Eton College was willing to cover up for the royal however they could. The Guardian reported that the Duke of Sussex was a weak student — which was reportedly well known throughout the institution. Forsyth also accused Eton's Head of Art, Ian Burke, of completing Prince Harry's work for him, as he was one of a group of boys who were Burke's "pet subjects." Burke denied all allegations.
In a piece for The Cut, Prince William and Prince Harry's schoolmates described what it was like to attend Eton with them. One student told the outlet that Prince William had an easier time of things than this younger brother. "I think Harry probably had it harder finding his way," they said. A separate source added that the school did what it could to normalize Prince Harry's experience. "[The school] made a big effort to seem like he was a normal person. Obviously he was from the royal family, but I think the school and all the people there wanted to make him feel included," they explained. "Eton ... has a tradition of having people there from aristocratic backgrounds, they're kind of used to dealing with those people."