How Steve Harvey Really Feels About Kenan Thompson's SNL Impersonation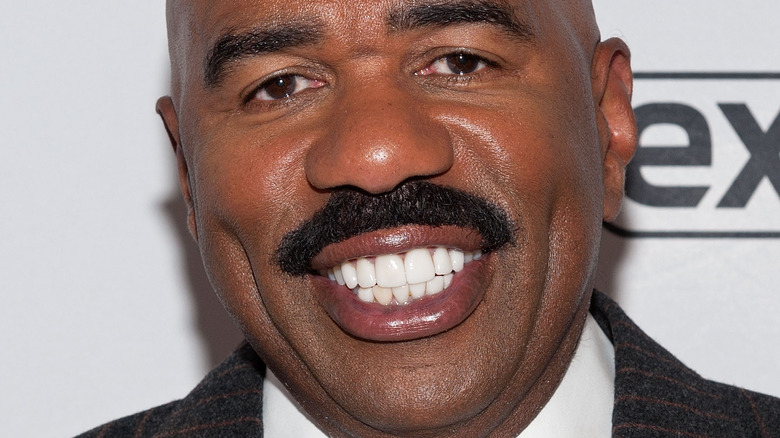 D Dipasupil/Getty Images
In March, Kenan Thompson made history when he appeared in his 1,500th "Saturday Night Live" sketch, according to BuzzFeed. Thompson first joined the long-running show in 2003 after a successful stint on Nickelodeon, which included starring roles in "All That," "Kenan & Kel," and "Good Burger." During Thompson's "SNL" tenure, he's portrayed a variety of characters, including parody versions of Suge Knight, Samuel L. Jackson, and even Donald Trump. And even though "SNL" fans differ when it comes to their favorite Thompson sketch, his recurrent portrayal of Steve Harvey, who hosts "Family Feud" and "Celebrity Family Feud," is definitely one of the comedian's most talked about performances. "Kenan Thompson as Steve Harvey on 'Family Feud' is comedy gold on legs," tweeted lifestyle expert John Basedow. Writer C.J. Toledano once declared, via Twitter, "I would fund a Kenan as Steve Harvey SNL movie."
Although many of the stars who've been roasted by "SNL" have loved it, that isn't always the case. Over the years, many famous faces, including Donald Trump and Carole Baskin, have decried "SNL's" depiction of themselves, which often exaggerate their mannerisms and quirks (via E! News). Given Thompson's spirited take on Harvey's likeness and his unique approach to hosting "Family Feud," no one could really blame him if he were a bit salty about the impersonation. However, Harvey's stance is a bit more layered than that. 
Steve Harvey wasn't always a fan of Kenan Thompson's impersonation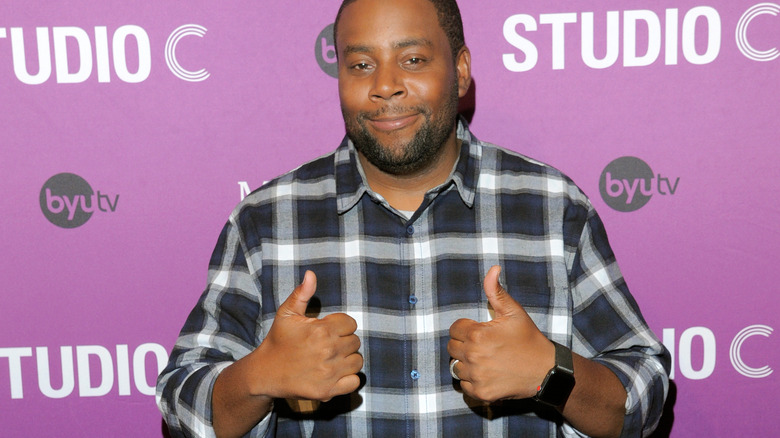 Ron Adar/Shutterstock
Good news: Steve Harvey actually likes Kenan Thompson's "SNL" impersonation of him. Now, at least. During a 2020 comedy round table with The Hollywood Reporter, Thompson spoke about the reaction of celebrities who'd reached out to him over his "SNL" sketches. "It's usually pretty positive," said Thompson. "I mean, Steve wasn't overly excited about it in the beginning, but he grew to love it. I don't do it out of any malice." As for how he knew that Harvey wasn't always a fan? "[Harvey] told me in different ways or he'd say it on his radio show and then people would call me and be like, 'Hey, Steve Harvey's talking about you this morning on the radio,'" shared Thompson. "And I'd be like, 'All right, well, I'm sure he'll settle down once he realizes that I'm not attacking him.'"
Thompson echoed similar sentiments during an appearance on the "SmartLess" podcast. "Steve Harvey didn't love [my impersonation] in the beginning," Thompson shared, adding, "I know him, so he would definitely send messages through mutual friends or just through the press. Like 'Tell the little fat boy to knock it off.'"
Steve Harvey thinks Kenan Thompson should send him half of his check
Even though it may have taken Steve Harvey a little time to come around, he's definitely taken Kenan Thompson's "SNL" impersonation in stride. In 2017, Harvey had Thompson as a guest on his now-defunct talk show, "The Steve Harvey Show." During the segment, Harvey played a clip of Thompson's "SNL" sketch where he repeatedly, as Harvey, mispronounced the word phobias. And while the clip transitioned to Harvey laughing, he jokingly proclaimed, "I oughta knock your a** out," before agreeing with Thompson's pronunciation of the word. "That's damn sure what I would say, though."
During an appearance on Extra TV to promote his Facebook Watch show, "Steve on Watch," Harvey shared an interesting interpretation of Thompson's "SNL" success. "We got Kenan Thompson coming on, who's been the longest-running host of 'Saturday Night Live,'" Harvey said, adding, "we all know that Kenan's career is alive and well because of me." Harvey admitted that he still wants to "kick his a**" but conceded that Thompson's impression of him is "pretty funny." He also claimed that Thompson owed him some money. "And I call Kenan all the time. I say, 'Hey, man, send me half your check because I'm half the reason you're here," he quipped. Despite the jokes, it's clear that Harvey appreciates Thompson's comedic talents — as we all do.