This Celeb Stunned Steve Harvey With NSFW Family Feud Answer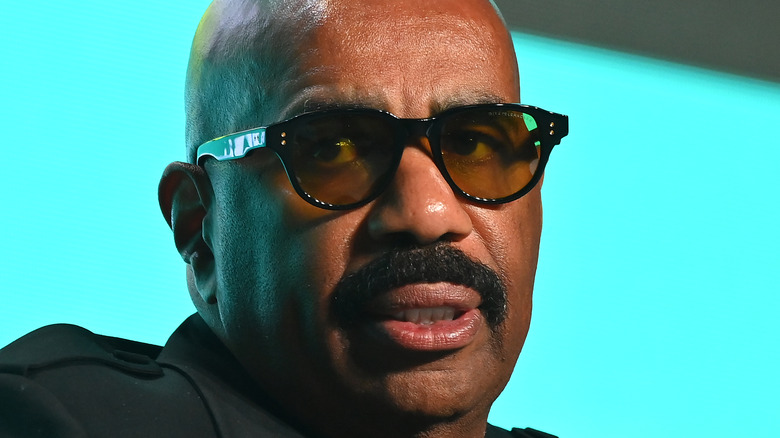 Paras Griffin/Getty Images
Famous game show "Family Feud" has given viewers some good laughs over the years. For example, a woman answered hilariously during a sudden death round question in a 2020 episode of "Family Feud Canada." When asked what Popeye's favorite food was, the woman immediately buzzed in and confidently said "chicken," referring to the fried chicken restaurant Popeyes. The answer, as well as the woman's reaction at the end went viral.
"The answer that's up there is not going to go viral," Steve Harvey, the host of "Family Feud" told People in July. "It's the one that is not up there that's going to go viral." The host also mentioned that he usually knows when an answer will be trending the next day. "I tell people all the time: 'You're going to be on YouTube,'" he added. "I know the moments."
Those moments are what viewers live for, though. Laughter could come from the funny answers, the reaction from Harvey, or a combination of both. And sometimes, the funny answer could come from the contestant that is least expected to give it.
Kristin Chenoweth isn't Glinda the good witch anymore
The spin-off show "Celebrity Family Feud" has become wildly popular as people's favorite celebrities get to play the iconic game in order to win money for a charity of their choice. The show sometimes includes the celebrities' family members, and sometimes includes co-stars of the movie or television show the celebrity is in. On August 14, Broadway star Kristin Chenoweth's answer became the viral answer of the episode.
"After the Lips, what's your favorite part of a man to kiss?" the show's host, Steve Harvey, asked. "Rhymes with heinous," the actor answered. The word was bleeped out in the airing. Chenoweth got laughs and stunned reactions from the audience, the other contestants, and Harvey. "I'm sorry," she said after the gasps and laughs. "I'm a good Christian girl. Forgive me."
The "Wicked" star's answer wasn't the only answer to leave Harvey speechless. The band Boyz II Men had audiences chuckling during their appearance on "Celebrity Family Feud" with a simple spelling mistake. The band had to "name a month of the year with five letters." Wanya Morris answered "July," which has four letters, and Shawn Stockman answered "August," which has six letters. These stars can handle the pressure of performing in front of thousands of people, but apparently that doesn't compare to the pressure of answering a simple question under a time crunch.