Megan Thee Stallion Actually Followed In Her Late Mother's Footsteps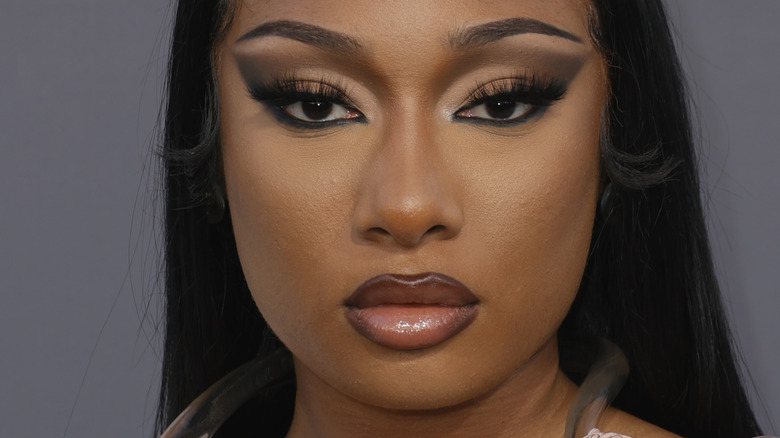 Frazer Harrison/Getty Images
Megan Thee Stallion is one of the most well-known faces in pop culture today. From her signature tongue-out expression to her powerful stage presence, Megan Thee Stallion (real name: Megan Pete) is a bonafide superstar. If you've ever aspired to a "Hot Girl Summer" or danced to her hit song "Savage" you can thank Megan for those. But behind all that is the legacy of her mother, Holly Thomas.  
Tragically, a few months after Megan's hit single "Big Ole Freak" was released in 2019, Thomas passed away after a long bout with brain cancer. A few months later, her grandmother died and Megan already lost her father as a teenager, as reported by Madam Noire. Of course, Megan Thee Stallion's career trajectory has only continued to climb, but that's only due to her dedication to what her mother, who also managed Megan's rap career, wanted for her. With such a strong bond, it's no wonder that Megan Thee Stallion followed in her late mother's footsteps.
Megan Thee Stallion's mom, Holly Thomas, was also a rapper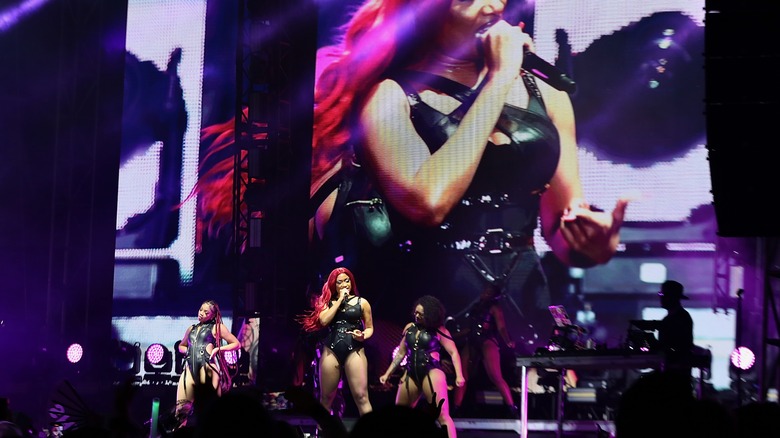 Robin L Marshall/Getty Images
Megan Thee Stallion's rap career was a direct response to her mother's music. "My mom was a rapper. She didn't know I wanted to be a rapper, but I would literally watch her in the studio all day. I'm like, 'This lady is everything,'" Megan told Tyra Banks for Sports Illustrated in July 2021 (via BuzzFeed). "I didn't want to tell her that I could rap until I was 18. I wanted to be perfect to her." Megan said she didn't want her mother to disapprove. 
But when she was 20, Megan showed Holly what she could do. "[Holly] was like, 'No you can't... Let me hear,'" Megan said. "I was like, 'OK, mama. Don't whoop me, but I'm about to curse, OK?' So I started going off, and I'm cursing."Megan, as she told Vulture in an interview one day before her mother's death, she learned to rap by listening to her mother's recording sessions. She released music under the name Holly-Wood in the early 2000s. In September 2019, Megan Thee Stallion tweeted that Holly's memory kept her going. "After my mom passed I promised myself I was going to keep going hard bc not only is music my dream but it was her dream for me too," Megan wrote. "I have days where I want to go hide and cry bc she's not here but i kno that ain't what she would want me to do! I kno she's proud of me !"
Megan Thee Stallion finished college because of her mother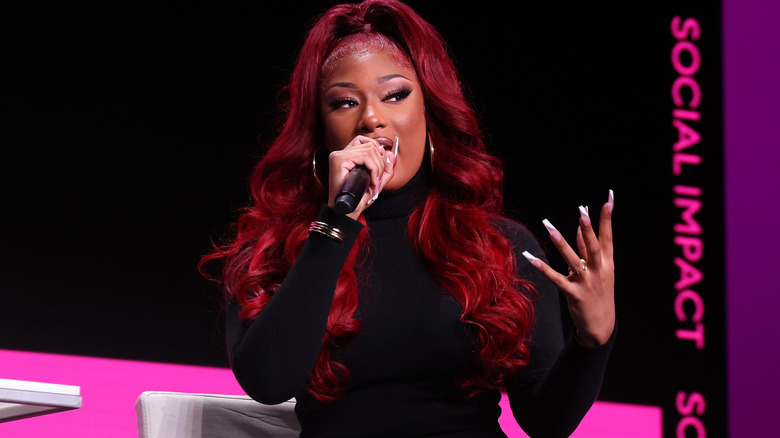 Taylor Hill/Getty Images
Megan Thee Stallion lost her mother and her grandmother not long after. She also lost her father at 15, so it's obviously hard for her at times. "I just be taking it day by day," Megan said during her interview with Ebro and Nadeska on Apple Music 1 in August (via People). Despite her grief, Megan Thee Stallion also vowed to continue her college education in honor of her mother. "I want to get my degree because I really want my mom to be proud," she told People in 2020. "She saw me going to school before she passed." Megan graduated from Texas Southern University in December 2021 with a Bachelor's degree in health administration, as reported by CNN.
Before Holly Thomas died, she told her daughter Megan that she shouldn't slow her career because Holly was sick. "She was like, 'Just because I'm sick that don't mean yous not supposed to be going to do your work,'" Megan told Apple Music 1. Her mother even reminded her of a big show in California she had coming up. Megan Thee Stallion recalled that at the time she didn't realize how little time she had left with her mother, but she lost her quickly after. "I was just like, 'Oh my God, what do I do?'" she recalled asking her mom. "She said, 'Don't stop,' so then I just took that literally. And we're here today."