Michelle Pfeiffer's Daughter Has Grown Up To Be Gorgeous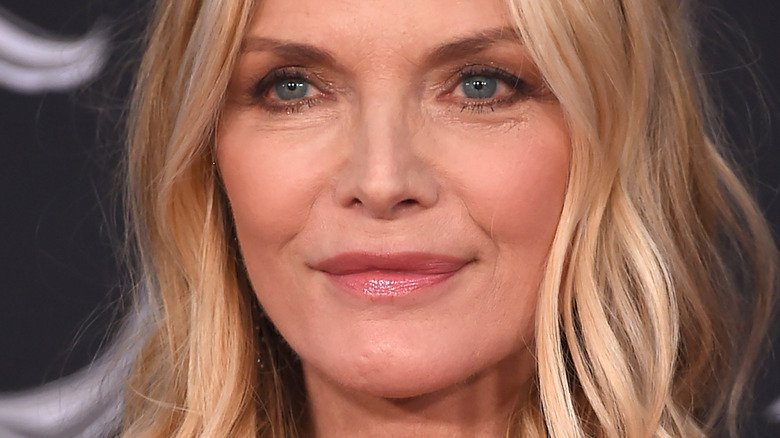 DFree/Shutterstock
When many people think of Michelle Pfeiffer, they think of her roles in films like "Dangerous Minds" and "What Lies Beneath," to name a few. The star married producer David E. Kelley in 1993, and they are of the biggest powerhouse couples in Hollywood. But before Pfeiffer and Kelley linked up, the actor had another thing on her brain — kids. 
In an interview with Good Housekeeping, Pfeiffer opened up about how she started the adoption process before she and Kelley began dating. Shortly after that, she was blessed with her daughter, Claudia Rose Kelley. "When she came, he and I had only been together for about two months," Pfeiffer told the outlet. "So we had this child with us right away, and most people don't have that. But I really got to see him in a situation that certainly would separate the boys from the men. Obviously, he really rose to the occasion." 
In the same interview, Pfeiffer couldn't help but gush about how proud she was of Claudia, calling her a "force to be reckoned with and an amazing human being." Recently, the actor took to social media to share an updated photo of the mother-daughter duo, and fans couldn't believe how stunning Claudia is.
Fans go wild over Michelle Pfeiffer's beautiful daughter
Michelle Pfeiffer keeps a lot of her personal life close to her chest, but on occasion, she'll give fans glimpses into life as a mom. In June 2021, the mother of two shared a sweet snap with her stunning daughter, Claudia Rose Kelley, by her side. Pfeiffer appeared to take to selfie-style shot, extending one hand extended outside the frame. Kelley stood behind her mom and tilted her head to the side as she playfully ran one hand through her long, curly locks and flashed a little grin. The actor kept the caption simple. "Out on the town with my girl," she wrote. 
It is no surprise that Pfeiffer's legion of Instagram followers couldn't help but gush over what a beautiful young woman Claudia has grown up to be. "I think this is one of the greatest pictures I've ever seen on Instagram. Your daughter is absolutely beautiful," one Instagram user gushed. "Beautiful. Mother and daughter!!!" another chimed in, adding a series of red heart emojis. "Michelle, I have been a big fan of you and your movies! This is a beautiful pic of both of you," one more added. It's clear that Claudia has formed a fan base of her own.
Michelle Pfeiffer really enjoys motherhood
Kevin Winter/Getty Images
While it's rare for Michelle Pfeiffer to share photos of her kids, she loves being a mom to her two kids — daughter Claudia Rose Kelley and son John Henry Kelley. In September 2021, the star shared a throwback shot of the three of them, which was a late tribute for National Son and Daughter Day. "I love these two rascals. From the moment they were born, they gave me and continue to give my life a depth of meaning beyond measure," she captioned the photo. 
Pfeiffer also talked about her kids' bond in a 2007 interview with Good Housekeeping. "They've been close their whole lives, and they're close in age," she explained to the outlet while mentioning one caveat. "But don't get me wrong: They have their moments of sibling conflict." Pfeiffer also revealed then that she was "the bad cop in the house" and was more strict than her husband. But hey, it's all out of love!