Megan Fox And Machine Gun Kelly Cause More Halloween Controversy With Second Round Of Costumes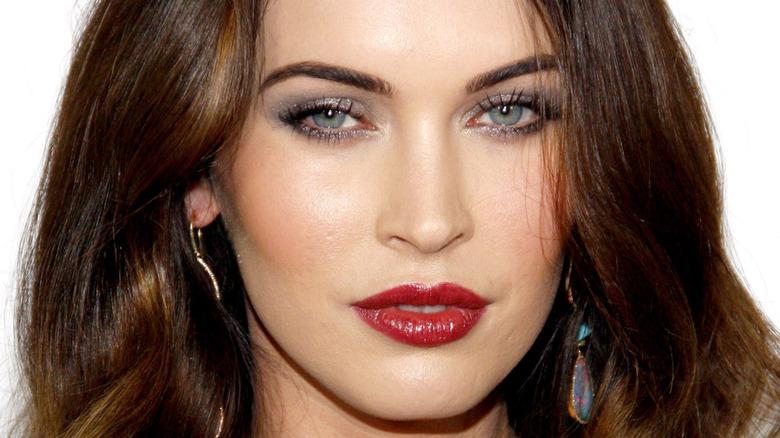 Tinseltown/Shutterstock
What's a Halloween without a controversial celeb couples' costume? Quirky lovebirds Megan Fox and Machine Gun Kelly were in it to win it this year, dressed up as '90s spouses Pamela Anderson and Tommy Lee for the Casamigos Halloween Party on October 28, per Page Six. While Kelly sported Lee's signature white tank and sleeves of tattoos, Fox convincingly donned a blonde wig and spray tan. While the costumes themselves were unproblematic, it was what the couple did in them that stirred up the drama.
Showing off his and Fox's looks, Kelly posted an Instagram video of him snorting what appeared to be fake cocaine off Fox's cleavage. While some followers found the vid tongue-in-cheek funny, others criticized it as glamorizing the use of hard drugs. Fox's own Halloween Instagram post courted serious criticism, as well. "But are these even costumes," the "Jennifer's Body" star captioned her photo carousel. 
In the third shot of the series, Fox and Kelly reenacted a famous image of Lee with his hand seemingly gripping Anderson's neck. Given that Lee received a jail sentence of six months in 1998 for assaulting Anderson, per NME, many found the imagery tone deaf. "Megan this is not the serve u think it is," one such fan commented to Fox.
The backlash didn't seem to deter the couple, as they took on another controversial portrayal in their second round of costumes this year.
Did Megan Fox and Machine Gun Kelly go too far with their costumes?
Fans are growing less and less impressed with Megan Fox and Machine Gun Kelly's Halloween antics. In an October 30 post on Instagram, Fox showed off her and Kelly's latest controversial creations. With the rapper-turned-actor dressed as a Catholic priest, he fed a kneeling Fox, who wore a silver wig and dominatrix outfit, an imitation of a communion wafer. Confirming her and Kelly's religious theme, Fox captioned the post, "On Sundays we take communion." 
It seems this round of costumes went down even worse with Fox's followers than her and Kelly's interpretation of Pamela Anderson and Tommy Lee. It wasn't just Christian followers who found their costumes demeaning — with one commenting, "Where is the example? The respect? Christianity is not a costume." One fan wrote, "This is just distasteful and I'm an atheist." 
Many others were also befuddled at Fox's edgy posts in general of late. Fresh off clapping back at online accusations that she was an absentee mother, per ET, Fox found herself inviting the same questions again. "What happened to that mama that posted about her kids and her strength," one fan wondered.