The Strange First Words Machine Gun Kelly Said To Megan Fox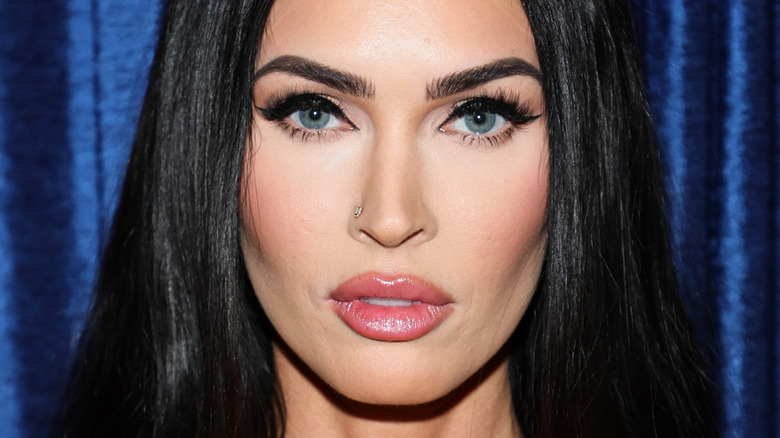 Theo Wargo/Getty Images
Rapper Machine Gun Kelly and actor Megan Fox's relationship has been an otherworldly ride — that is, if you believe in twin flames and cosmic connections the way they do. Since going public with their romance, these two have given Kravis a run for their money when it comes to PDA. "And just as in every lifetime before this one, and as in every lifetime that will follow it, I said yes ... and then we drank each other's blood," Fox wrote on Instagram in January, describing how she and MGK celebrated their engagement. Casual, right?
An engagement hasn't seemed to slow them down one bit, as Fox and Kelly remain committed to flaunting their love all over social media. "I'm honored to love you and to be the recipient of your love," Fox gushed over her fiance in an Instagram post celebrating his April 22 birthday. In May, Fox posted a carousel of images showcasing her time in Vegas with MGK, and one of those slides included a very NSFW text exchange between Fox and her stylist, Maeve Reilly. "Was this blue outfit expensive because we just cut a hole in the crotch so [MGK and I] could have sex," Fox wrote. Well, what happens in Vegas stays in Vegas, right? 
With all their over-the-top declarations of love, you would think that MGK and Fox's first meeting would be full of romantic words, but actually, that's not the case at all.
When did Machine Gun Kelly and Megan Fox first meet?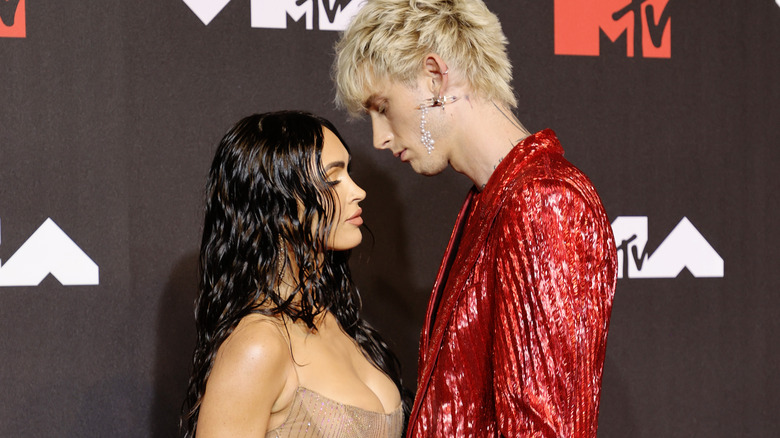 Jamie Mccarthy/Getty Images
It's widely understood that Megan Fox and Machine Gun Kelly first met in 2020 on the set of their movie, "Midnight in the Switchgrass." At the time, Fox was separated from then-husband Brian Austin Green. During his appearance on "The Drew Barrymore Show," Kelly revealed that he and Fox coupled up during their work filming together, and that he had largely taken on the movie role in order to meet the "Jennifer's Body" actor. "I stayed outside the trailer ... I knew she would invite me to lunch," MGK said. As we now know, the rest is history!
However, in an unexpected twist, the duo had actually met prior to "Midnight in the Switchgrass," as they explained in an October 2021 interview with GQ. Both Kelly and Fox had attended the same party in Los Angeles years before, though neither can recall seeing the other's face. Remembering MGK only as a "tall, blond, ghostly creature," Fox told him, "You smell like weed." And in MGK's immortal first words to his future wife, he simply said, "I am weed." The whole thing is bizarre — but would you have expected anything less from the couple who continues to surprise us? According to Fox at least, it's a blessing in disguise that she didn't manage to see Kelly properly. "Thank God, [because] what torture had I known you were there and I couldn't get to you," Fox said. "It's better that I didn't know."
Megan Fox knew that she and Machine Gun Kelly were soulmates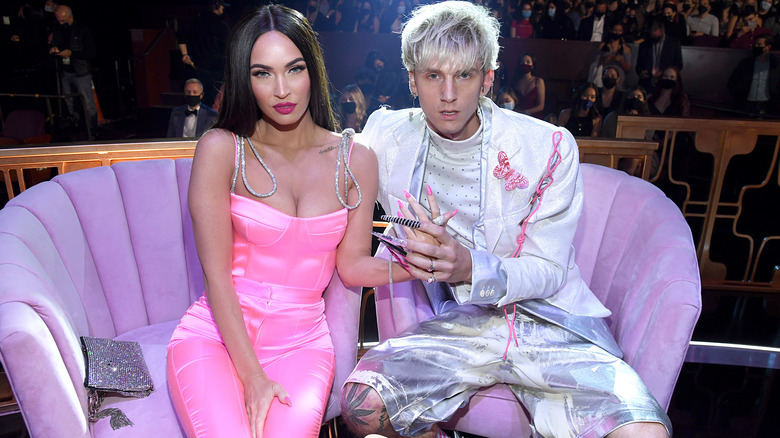 Kevin Mazur/Getty Images
By their own accounts, Megan Fox and Machine Gun Kelly's first emotional connection was so powerful that it caused them to completely reevaluate their lives. "It was obvious from second one what it was going to be," Fox told GQ of her relationship with Kelly, though she maintained that they weren't physical right away. Kelly also shared his take on how Fox immediately impacted him. "She was just like, 'How are you feeling?' And I said, 'I'm lost.' She said, 'Well, let's find you,'" the rapper told the outlet, adding, "That was the first real conversation we had."
Fox believes that their bond is fated and knew from their first real encounter that Kelly was the one for her. "The first time I looked into his eyes, I was like ... I know you. I have known you so many times, in so many different forms, in so many different lives," she told The Washington Post. Fox noted that their electric chemistry was unexpected, adding that she "wasn't expecting it'd be like, 'God you are my soul mate,' instantly." Kelly was less forthcoming about their emotional encounter, and instead alluded to the fact he may have been crushing on Fox for a long time. In a July 2021 interview with GQ, the "Bloody Valentine" singer mentioned that he'd had a poster of Fox hanging in his bedroom when he was a teenager. It seems fate works in mysterious ways!