Megan Fox Proves That Her Relationship With Machine Gun Kelly Is As Strong As Ever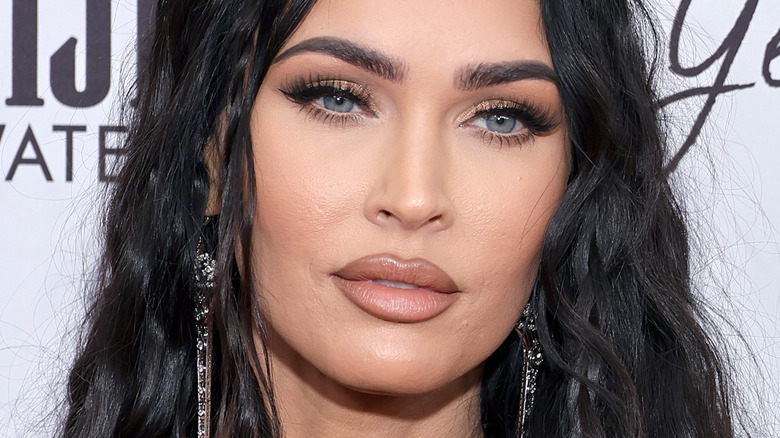 Matt Winkelmeyer/Getty Images
After bursting onto the acting scene in "Transformers" and "Jennifer's Body" in the 2000s, Megan Fox took more of a backseat in subsequent years. That's because Fox — who was branded a sex symbol — has faced sexist criticism for her roles and appearances. "I was brought out and stoned and murdered at one point," she told InStyle in July 2021, about being cut from the second installment of "Transformers." Happily, Fox has experienced a career resurgence in recent years, reemerging as a Hollywood star to be reckoned with. This came after she separated from then-husband Brian Austin Green and met Colson Baker, aka rapper Machine Gun Kelly, while the duo were filming "Midnight In The Switchgrass," per People.
As Fox told The Washington Post in July 2021, she and Kelly shared an instant, electric connection. "The first time I looked into his eyes, I was like ... 'I know you. I have known you so many times, in so many different forms, in so many different lives,'" she explained. Since then, the couple's relationship has only gotten stronger — and more PDA-filled. From making a music video together to wearing vials of each other's blood, Kelly and Fox proved that they don't do courtship the traditional way, and this works just fine for them. As fans suspected he might, Kelly proposed to Fox in 2022, and the two toasted their engagement by drinking each other's blood. Now, as the couple prepares to walk down the aisle, they continue to prove their relationship burns as brightly as twin flames.
Megan Fox reaffirmed her love for Machine Gun Kelly on his birthday
When Machine Gun Kelly turned 32 on April 22, Megan Fox marked the special occasion with a gushing tribute on Instagram. "Today your mom told us that you were born a month early ... and as a baby you were both 'cuddly and fussy at the same time' and I couldn't have imagined a more apt description of you," Fox wrote, alongside a photo of Kelly giving her a piggyback ride. She continued by praising her fiancé's "gentle, beautiful heart," and adding that he "is by far the most unique human I have ever met. If I could get the boy who has everything something special for his birthday — I would lift the veil off of their eyes so they could see what I see. ...Happy birthday love of my life."
According to the Daily Mail, the couple celebrated with a dinner at L.A. hotspot Catch, as well as a party complete with an impressive balloon archway (peep Kelly's Instagram for proof). Kelly's good friend and fellow musician Travis Barker wished Kelly a happy birthday in the comments and in a black-and-white Instagram Story of his own (via the Daily Mail), but it was Fox's romantic social media tribute that won over fans. Per BuzzFeed, the actor hasn't been shy about flaunting her love for Kelly via gushing posts in the past, but this one might just take the (birthday) cake.