Taylor Swift Revisits Her Past In Big Career Announcement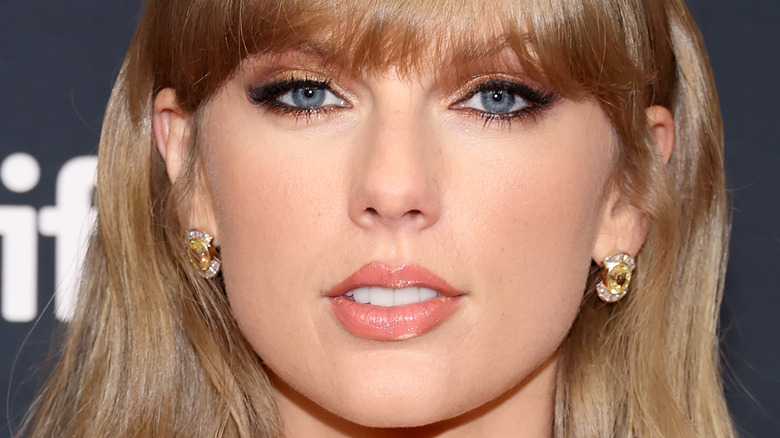 Amy Sussman/Getty Images
The pandemic has not stopped Taylor Swift and her creative juices. In 2020, Swift released two albums, and the following year, she released the first two of her re-recordings. On October 21, Swift dropped her 10th album, "Midnights," a compilation of songs she wrote in the middle of painful and passionate moments in her life.
The fact that Swift has obviously not taken time off at all only added to fans' desire to see the singer on tour. The last time Swift toured was the Reputation Stadium Tour in 2018. Her pattern on releasing an album every two years and touring right after was obviously stalled because of the pandemic. Swift had planned a Lover Fest tour, which she announced at the end of 2019 for 2020 tour dates, but of course COVID-19 halted and then canceled that tour, via Billboard. But luckily for fans, Swift's tour hiatus has ended and the singer finally announced when she'll be touring next.
Taylor Swift announces a one-of-a-kind tour, her first in five years
On November 1, 2022, Taylor Swift announced her "Eras" World Tour, via a new Instagram post. "It's a journey through all of the musical eras of my career," shared the record-breaking singer. "I'm enchanted to announce my next tour," Swift wrote, saying she'll be revisiting her past and present albums. Swift then said she's "feeling like the luckiest person alive" as she announced her outstanding joint acts joining her on different legs of the tour. These performers include Paramore, Phoebe Bridgers, girl in red, MUNA, beabadoobee, HAIM, GAYLE, Gracie Abrams, and OWENN. "I can't WAIT to see your gorgeous faces out there. It's been a long time coming."
As People reported, the first night of the tour begins on March 2023, in Arizona and will go all the way through August 2023 in Los Angeles. The wording of her Instagram could also hint at a "Speak Now" re-release coming soon, with Swift using the word "enchanted," a well-known "Speak Now" tune. But regardless of easter eggs, Swift will be touring with a lot of songs to choose for her setlist. As Rolling Stone reported, that includes 90 new songs from the albums she's released in the five years since her last tour. Considering it includes all of her eras, Swift will have a very full plate to choose from when selecting the songs she'll tour with.