Inside Takeoff's Relationship With Quavo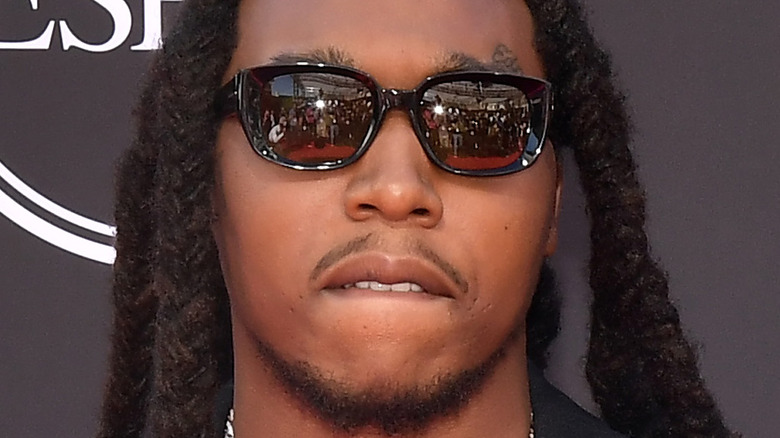 Matt Winkelmeyer/Getty Images
Migos rapper Takeoff has passed away at the age of 28. As reported by TMZ, Takeoff suffered deadly gunshot wounds in the early morning of November 1. The "Bad and Boujee" rapper was reportedly shot during a dice game at a bowling alley in Houston. The news of Takeoff's sudden death has shocked the entire hip-hop community. 
"Please tell me this is just a bad dream pleaseeeeeeee don't want to believe this lil bro please," Teyana Taylor wrote in an Instagram post sharing a picture of the late rapper. "Damn takeoff," Yung Miami tweeted, alongside broken heart emojis. Others called for all the gun violence to stop. "Rip Takeoff... this s**t has to STOP... sending love to friends and family," Ja Rule tweeted.
Offset — who is part of Migos alongside Quavo and Takeoff — has yet to comment on the news. Quavo was present at the time of the tragic incident, though he didn't sustain any injuries. Fans are remembering how close Takeoff and Quavo were — which makes sense partly due to their family ties.
Takeoff was actually Quavo's nephew
Despite being very close in age, Quavo, 31, and Takeoff, 28, they were uncle and nephew respectively. When Quavo was in middle school, his family moved from Athens to Gwinnet, Georgia, where he grew up alongside Takeoff. The two shared everything together, and their relationship was more like a brotherly one. "I don't look at [Quavo] as my uncle, but more as my brother," Takeoff said in a 2013 FADER interview. 
Still, the fact that Quavo was actually his uncle was pretty hilarious to them. "We always have clowned on each other," Takeoff admitted. "He is my uncle, so I gotta clown on him. You gotta be funny." Jokes aside, it seems that Migos would not have happened if it wasn't for Takeoff and Quavo's close relationship. According to Atlanta reporter Jewel Wicker, Takeoff is the one who actually "convinced his uncle (Quavo) to start rapping." 
Following some grievances with fellow Migos member Offset (who's cousins with Quavo), the uncle-and-nephew duo grew even closer, eventually forming their own group.
Takeoff and Quavo released a joint album in October 2022
Christian Vierig/Getty Images
After parting ways with Offset, Takeoff and Quavo released a joint project titled "Only Built for Infinity Links" on October 7. The album was supported by singles "Hotel Lobby" and "Messy," with the latter's music video releasing just one day before Takeoff's passing. 
For Takeoff and Quavo, forming a duo just made sense. "It's in the blood," Takeoff said in an October interview with VIBE. "The way we bounce off [each other], it's God ... It's crazy though. It's a blessing." Quavo felt the same way. "We kind of [like] Siamese twins," he added. "We already just know what we going to say, what we going to feed off each other." The uncle-and-nephew duo was proud about the new project, with Takeoff being particularly excited to perform it live. Takeoff said in the same interview, "I can't wait to perform 'Look at This,' you already know they going to go crazy."