Takeoff's Comments In Last Interview Before His Death Take On Tragic Meaning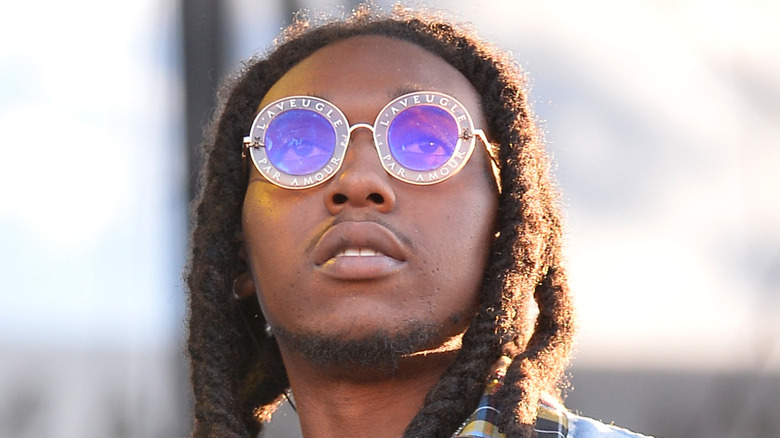 Bryan Steffy/Getty Images
Rapper Takeoff, real name Kirsnick Khari Ball, was shot and killed in the early hours of November 1. The artist, who was best known as one-third of the group Migos, was attending a private party at a bowling alley in Houston. After the event ended, Takeoff was among a group of around 40 people who continued to hang outside the venue which is when shots were fired and he was killed, per KPRC 2. Quavo, a fellow Migos member and uncle to the late rapper, was also present.
The pair had a close bond, and after Migos broke up they released their own project under the moniker Unc and Phew called "Only Built for Infinity Links" on October 7. "It's kind of hard to go find two people that's family, too, like Unc and Phew," Takeoff told Complex on October 6 while discussing his relationship with Quavo. 
News of Takeoff's death had an immediate impact on the hip-hop community, as many took to social media to share their condolences. "Rip Takeoff ... this s*** has to STOP," Ja Rule tweeted. "Oh man, heart weighed down, god help us," Flea of the Red Hot Chili Peppers wrote. "Rest In Peace Takeoff my condolences to his family and close friends, very dope artist gone too soon," Lloyd Banks wrote on Twitter alongside praying hands and flower emoji. The devastating news, and subsequent reactions, added new context to the Migos rapper's final interview.
Takeoff wanted respect while still alive
Erika Goldring/Getty Images
To promote their "Only Built for Infinity Links" project, Takeoff and Quavo appeared on the "Drink Champs" podcast on October 22. During the over two-hour-long interview, co-host and rapper N.O.R.E. spoke to Takeoff about his standout work on the project. "I'm chill, I'm laid back, but it's time to pop it. I want to get into my flow," the "Open It Up" artist responded while discussing his usual relaxed approach. "Time to give me my flowers. I don't want them when I ain't here," he added. Those words obviously took on a new meaning as he died shortly after.
In fact, Takeoff received more than proverbial flowers after his death. "Homicide investigators with Houston police ... are at the downtown bowling alley where Migos rapper Takeoff was killed overnight. At least one fan is here with flowers," KPRC 2's Taisha Walker tweeted on November 1.
Although the Atlanta rapper was gone far too soon, he left behind an expansive body of work including a solo album titled "The Last Rocket" which dropped in 2018. That same year, Takeoff described how each member of the Migos brought their own style to the group. "This the three-headed monster. We all got similarities, but something stand out about each member," he told XXL in 2018. The "Last Memory" artist also discussed why he chose to be the quietest member of the trio. "I give it piece by piece and they want more — they want to hear from you," Takeoff said.