Brittney Griner's Wife Opens Up About Her Devastating Russian Prison Sentence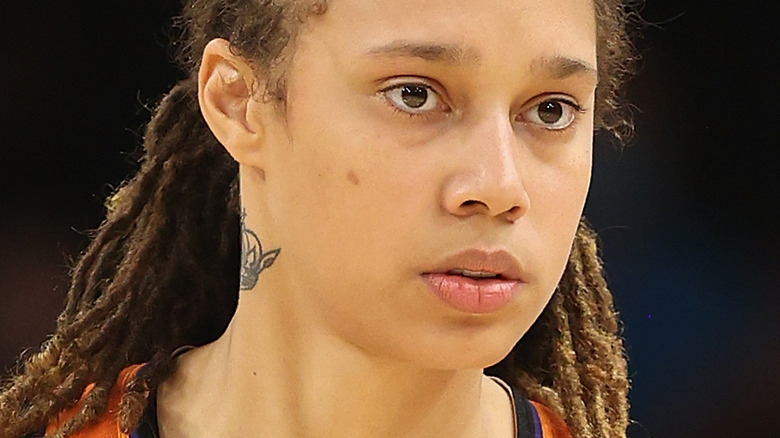 Christian Petersen/Getty Images
After being arrested and detained in Russia for drug possession in February, WNBA star Britney Griner has been fighting to return to the United States, per NBC New York. Griner was officially sentenced to nine years in prison back in August, according to ESPN, but was facing a maximum sentence of 10 years after pleading guilty to the charges in July. At the time, President Biden was attempting to negotiate a prisoner swap with Russia in order to have Griner and another U.S. citizen, Paul Whelan, safely return to the states.
Biden released an official statement and said, "It's unacceptable, and I call on Russia to release her immediately so she can be with her wife, loved ones, friends, and teammates. My administration will continue to work tirelessly and pursue every possible avenue to bring Brittney and Paul Whelan home safely as soon as possible." Griner seemed to be holding onto hope that she could return home to her wife and family soon.
She appealed the sentence and asked the judge to reconsider the court's decision. "I really hope that the court will adjust this sentence because it has been a very very stressful and very traumatic to my mental psyche being away from my family," Griner said. In October, the appeals court in Moscow decided to uphold its nine-year prison sentence, according to NPR. And while there is still a chance of a possible prisoner swap, this situation has been incredibly difficult for Griner and her family.
Brittney Griner's wife opens up about her devastating prison sentence
Brittney Griner's fight to return to the United States has been both emotional and stressful. In an exclusive interview on "The View," Brittney's wife, Cherelle Griner, spoke out to the co-hosts about a Russian court recently denying her wife's appeal to her 9-year prison sentence. Cherelle explained that she was shocked at how the Russian government was handling her wife's case and said, I understand being in the field of law that every state, every country has their own rules, but this is just absurd. The crime and the punishment is disproportionate at its finest," as per The View's Twitter. Cherelle continued, "There are people convicted of murder in Russia who has a sentence way less than B.G., and it just makes absolutely no sense to me."
Cherelle also understandably revealed that it's been very difficult to live without her wife. She told the co-hosts, "BG's my person. We do absolutely everything together and so it has been really hard trying to adjust how to live every day without your favorite person" (via Twitter).
She's been open about her disappointment with Russia ever since Brittney was arrested. Cherelle recently told Gayle King, "To know that our government and the foreign government is sitting down and negotiating for her release? She's a hostage," per NBC News. It's clear that this situation has been not only devastating for Griner, but for her wife and family as well.