Meek Mill And Drake's Entire Feud Explained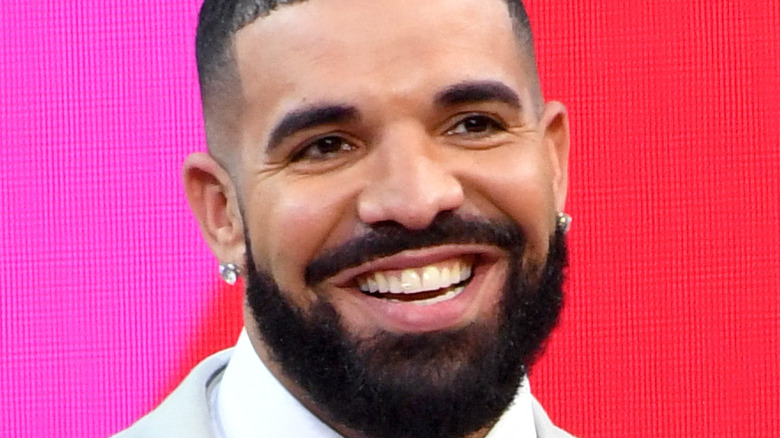 Kevin Mazur/Getty Images
Plenty of rappers have battled it out via diss tracks over the years: Nas and Jay-Z, Nicki Minaj and Remy Ma, Nicki Minaj and Cardi B, Lil Wayne and Birdman, but it's Toronto rapper and former actor Drake who has racked up plenty of beefs over the years.
In 2012, he notably had an altercation with Chris Brown, who apparently wasn't Thrilled that Drake was romantically involved with Rihanna. "His insecurities are the fact that I make better music than him, that I'm more popping than him," Drake reportedly said of Brown, per BBC. "And that at one point in life the woman that he loves fell into my lap."
Drake also got roped into a feud with The Weeknd, whom he helped rise to stardom early on in his career. The Weeknd disclosed to Rolling Stone how he had to give many of his songs to the rapper. "I gave up almost half of my album. It's hard," he told the outlet at the time (via Genius). "I will always be thankful—if it wasn't for the light he shined on me, who knows where I'd be." Drake seemed betrayed anyway, so he dedicated a diss track to his former collaborator. His track, "5 AM In Toronto," is reportedly about his fellow Canadian musician.
While Drake doesn't mind feuding with other artists, there was one fight in particular that he's not proud of — the one involving Meek Mill.
Meek Mill accused Drake of ghostwriting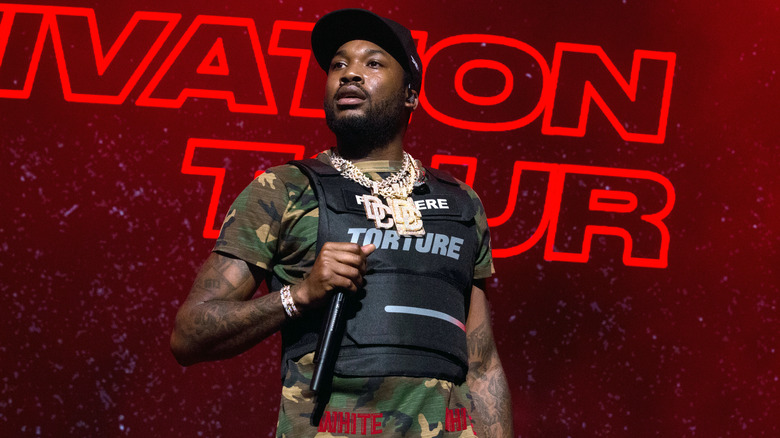 Brian Stukes/Getty Images
For the most part, Drake and Meek Mill seemed to be friends, now. Drake even participated in Meek's album, "Dreams Worth More Than Money," with a song titled "R.I.C.O." But the "God's Plan" rapper apparently didn't participate in any sort of promo during the release, which caused Meek to diss him on Twitter. "Stop comparing drake to me too ... He don't write his own raps! That's why he ain't tweet my album because we found out!" he wrote in a since-deleted tweet (via Vox), and then went on to say that even Drake's verse on R.I.C.O. wasn't written by him. "He ain't even write that verse on my album and if I woulda knew I woulda took it off my album."
Drake remained quiet at the time, but fans noticed that his response was a diss track titled "Charged Up," which was dropped just a few days after Meek's tweet rampage. "I stay silent 'cause we're at war and I'm very patient / 6 God is watching / I just hope you're prepared to face him / I'm charged up," the lyrics read, per Rolling Stone. "Wow, I'm honored you think this is staged / I'm flattered, man / In fact, I'm amazed."
Meek Mill made it seem that he wasn't fazed at all, writing yet another derogatory tweet against Drake. "Baby lotion soft," he wrote on Twitter, via Billboard. "I can tell he wrote that 1 though."
Meek Mill and Drake squashed their beef through a song
At the time, Drake and Meek Mill appeared like they were enjoying their bar exchange, but Drake eventually admitted that he was ashamed that he took part in it in the first place. "Anybody that's been in any room with me, period, knows first of all knows that I am one of the best writers, period," he told DJ Semtek on the "OVO Sound" radio show (via MTV), and then proceeded to address the beef. "It was what it was, and it's not something that I'm proud of because it took just as much of an emotional toll on me."
Meek felt the same way, telling Vulture that he wasn't exactly in the best place when he kickstarted the feud. "I was just out of control at that point in my life," he confessed. "I don't know his writing situation... I just jumped out of anger and what I thought was the truth at the time."
The good news is they were able to put their differences aside and ended their beef by performing together. In 2018, Drake asked Meek to join him on stage during his concert at TD Garden. He later addressed their reconciliation, saying how great it felt to finally end the drama. "This really gave me peace of mind tonight. Healing and moving forward created one of the most electric and gratifying moments of my career," Drake wrote in a now-deleted Instagram post via Us Weekly.