Inside Michael Jordan And Dennis Rodman's Relationship Today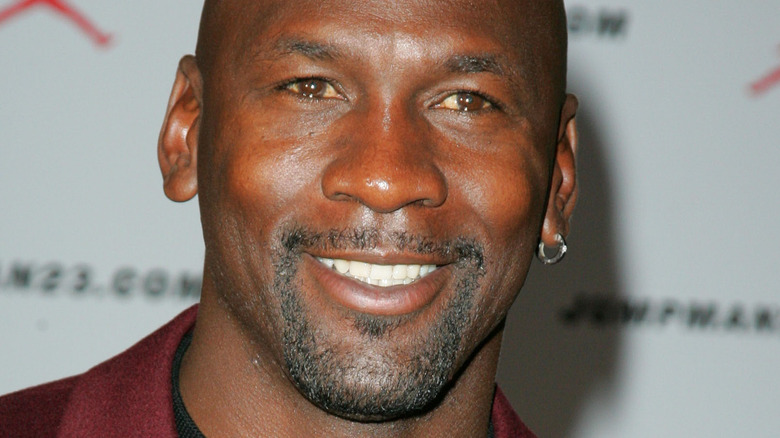 landmarkmedia/Shutterstock
Michael Jordan and Dennis Rodman – along with Scottie Pippen — were a part of the Chicago Bulls' dream team of the 1990s. Rodman was a two-time NBA champion when he joined the team in 1995, after previous stints with the Detroit Pistons and San Antonio Spurs. That year, the Bulls traded Will Perdue in exchange for the athlete, according to Bleacher Report. Together, the three formed what is often hailed as one of the most successful trios in basketball history. Their reign was the subject of a 2020 ESPN documentary, "The Last Dance," which focused largely on Jordan's triumphant career.
Following the release of the series, Pippen slammed Jordan for the documentary, and suggested that the "Space Jam" actor depicted the other members of the Chicago Bulls as accessories. In his memoir "Unguarded," he wrote, "Even in the second episode, which focused for a while on my difficult upbringing and unlikely path to the NBA, the narrative returned to MJ and his determination to win" (via GQ). Pippen went on to add that Jordan "couldn't have been more condescending if he tried."
It's clear that there may still be lingering feelings of dismay between Pippen and Jordan, leaving some to question whether their trio partner Rodman is friends with Jordan today.
Michael Jordan and Dennis Rodman are good friends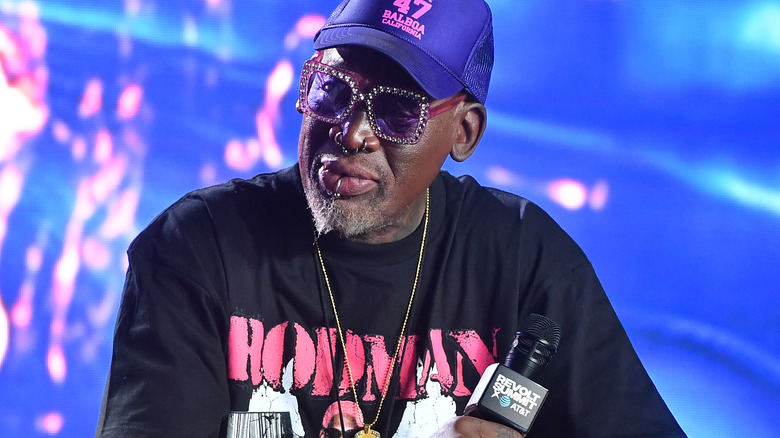 Paras Griffin/Getty Images
Dennis Rodman is seemingly aware of the rift between Scottie Pippen and Michael Jordan, and even came to Pippen's defense after the premiere of "The Last Dance." He told ESPN, "I wish he didn't give a s*** like me about what people say ... No one could ever quite see him. He was too quiet, and he was always standing next to Michael Jordan." However, despite the feud between his former teammates, Rodman has made it clear that he harbors no ill feelings towards Jordan.
During a 2021 appearance on the "Full Send" podcast, Rodman was asked about his current relationship with Jordan, and he revealed that the pair are a lot closer than some may think. "We stay in touch. I saw him the other day," Rodman exclaimed. "He was in Maryland, I was in Maryland. When I go back to Fort Lauderdale, I am probably going to hang out at his house for a couple of days to see what's up." In addition, Rodman regularly posts throwback photos of himself and Jordan on Instagram.
Michael Jordan and Dennis Rodman reunited at the 2022 NBA All-Star Game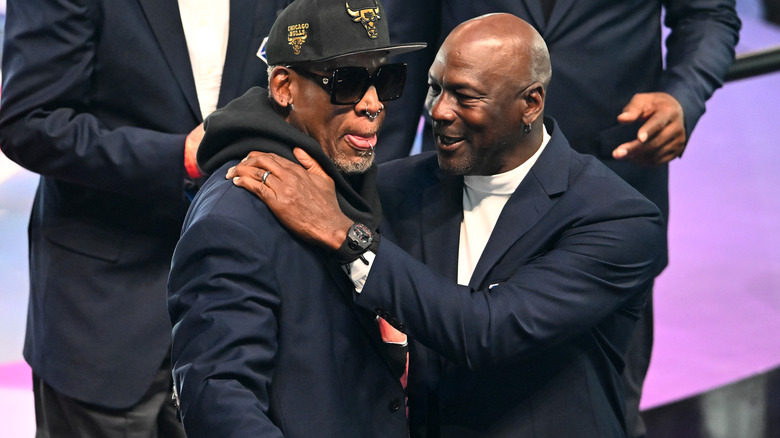 Jason Miller/Getty Images
Dennis Rodman previously revealed that upon initially joining the Chicago Bulls, his relationship with Michael Jordan was far less cordial than it is today. "We never talked to each other," Rodman said during an appearance on the "Pardon My Take" podcast. "The only time we talked to each other was while we were on the court. Off the court, we never talked to each other." Rodman went on to explain that the pair never hung out after games but were still able to maintain a healthy working relationship.
These days, their relationship is very different. Jordan and Rodman reunited for the 2022 All-Star Game in Cleveland, being among the 75 athletes honored as the NBA's greatest players of all time. Hola reported that Pippen was also invited to the special occasion but declined an appearance at the event, as he hoped to avoid a potential run-in with Jordan. The outlet also revealed that Jordan and Rodman were overheard making plans to hang out after the event.