Bono Recalls Unforgettable Trip To The White House In New Book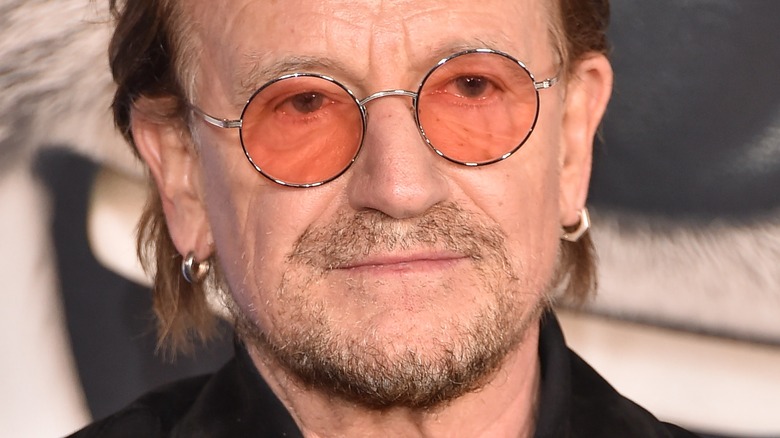 DFree/Shutterstock
When it comes to celebrity memoirs, you never really know what you're gonna get. For example, Nick Offerman's memoir "Paddle Your Own Canoe" is a collection of his greatest life's lessons through comedic filter. The same goes for Amy Schumer's memoir, sarcastically titled, "The Girl With The Lower Back Tattoo." Of course, there are those celebrity memoirs that have shaken us to our core — such as Jennette McCurdy's memoir, which is a heartbreaking account of her Nickelodeon days and the abuse she allegedly faced at the hands of her mother.
Now, Bono, beloved philanthropist and lead singer of U2, has released his highly-anticipated memoir "Surrender: 40 Songs, One Story," which is the "story of the remarkable life he's lived, the challenges he's faced, and the friends and family who have shaped and sustained him," according to the Goodreads listing. During a promo stop on "Good Morning America," Bono also shared that much of the memoir is about love — specifically, the love he feels for his wife of 40 years, Ali Hewsman. Within the book, which Bono dubbed as "a love letter to Ali," he wrote about how his love for Hewsman once impeded his ability to write her a love song. "Ali, she does not want to be patronized," shared Bono. He also gave fans a deeper look into some things we may not know about Bono, including one very interesting White House visit with Barack Obama.
Bono fell asleep in the Lincoln bedroom after drinking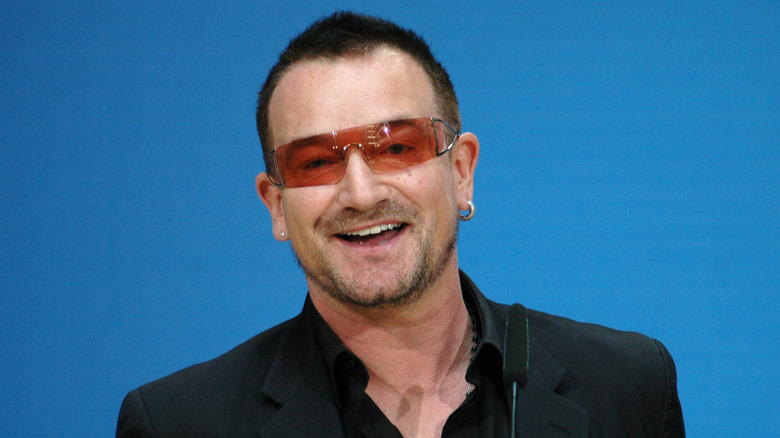 360b/Shutterstock
During an interview on BBC Radio 2's "The Zoe Ball Breakfast Show," Bono dished on the time he visited then-President Barack Obama at the White House. "He's the most extraordinary man and the most extraordinary family," shared the "New Year's Day" singer. He added, "The 44th president of the United States, he mixes cocktails; he doesn't have too many, he's very measured." However, "measured" isn't exactly how one would describe Bono's demeanor following a private dinner with Obama. 
Bono has an allergy to salicylates, which are often in red wine, and had a negative reaction to his drink at dinner. "I had them and the wine and the allergy and I ended up slipping out for a kip. And the president said to Ali after about 10 minutes, 'Where's Bono gone?'" Apparently, Bono's wife suggested that he may be sleeping, prompting a confused reaction from the former president. And despite Hewsman asserting that he'd be back soon, Obama insisted that he go find him. "He goes, 'No, no, no.' And he comes with her and he said 'Where can he be?'" Lo and behold, Obama then found him taking a nap in the Lincoln bedroom. "And there I was in Lincoln's bedroom, asleep," continued Bono, adding, "He just woke me up and laughed. President laughed his head off."
Per People, Bono also recalls a similar version of the story in "Surrender: 40 Songs, One Story."