Matthew Perry Once Had A Short-Lived Romance With Neve Campbell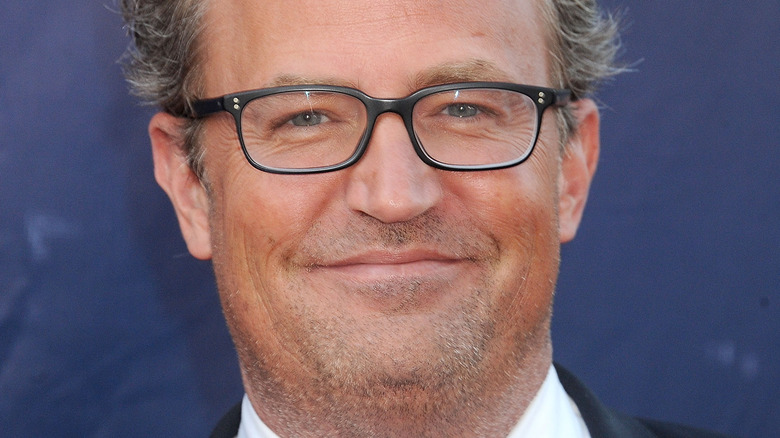 Gregg Deguire/Getty Images
In "Friends" star Matthew Perry's forthcoming memoir, "Friends, Lovers, and the Big Terrible Thing," he vulnerably reveals the details of his struggles with addiction. According to Buzzfeed, a short rundown of some of his shocking personal revelations include his consumption of 55 Vicodin a day, the fact that he was in a coma for two weeks after his colon burst, and that he spent nearly $9 million on rehab. Co-star Jennifer Aniston even confronted him behind the scenes about his alcohol dependency.
The book also highlights the stories of many of the gals he's loved before. From big loves to small make-out sessions, Perry dishes on everything. Like the time he played tonsil hockey with Valerie Bertinelli when her then-hubby Eddie Van Halen was passed out next to them. Yikes! And then there's the time he went on a date with Cameron Diaz where she accidentally slugged him right in the kisser. He also admits to making out with Gwyneth Paltrow in a broom closet before they were famous, according to Page Six. Could our jaws be any more on the floor?
Oddly though, one love of his life is only mentioned in passing and not by name, leaving some to speculate if it has to do with his reported tryst with "Party of Five" legend Neve Campbell.
Matthew Perry and Neve Campbell reportedly dated while filming Three To Tango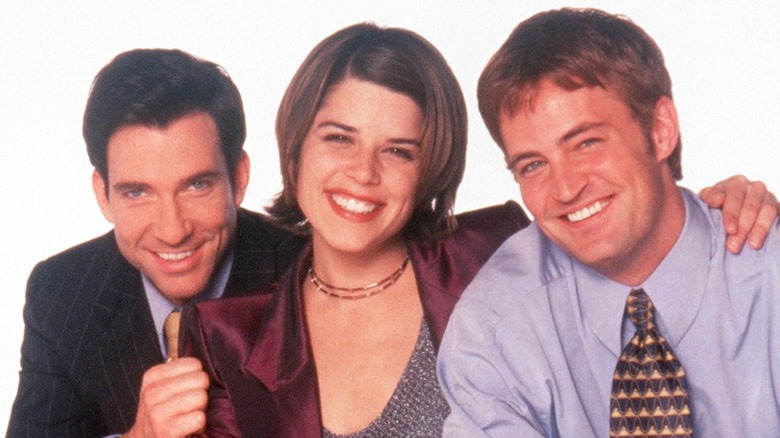 Getty Images/Getty Images
In 1999, Canadian actor Matthew Perry (who actually went to school with Canadian Prime Minister Justin Trudeau) found himself back in Toronto filming the romantic comedy "Three To Tango" alongside a fellow Canadian TV star, Neve Campbell. According to Us Weekly, it was rumored the two were dating during filming, but that the relationship was over by the time the movie premiered. Neither Perry nor Campbell have ever publicly addressed this reported relationship. However, in his new memoir, the "Fools Rush In" star does say something rather telling about a romance around this time that shook him to his core.
Page Six reports that Perry dedicates a portion of his book to a former love and the subsequent breakup that "still hurts" to this day. The outlet reports that Perry wrote that this unnamed love made it clear his "drinking was a problem." He also gave readers a clue about the person's identity. They met on a film set in 1999 — the same year Perry and Campbell happened to film "Three to Tango."
Matthew Perry admits he's lonely now while his exes have moved on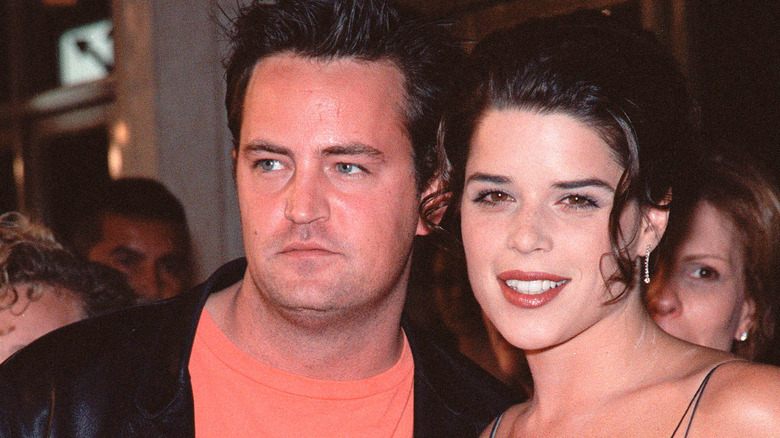 Featureflash Photo Agency/Shutterstock
Matthew Perry is no stranger to losing out on love, though he admits that it is often by his own hand. Speaking with GQ, he vulnerably admitted that he breaks up with women as a preemptive strike, fearful they will end things with him first. "I break up with them because I'm deathly afraid that they will find out that I'm not enough, that I don't matter, and that I'm too needy, and they'll break up with me," he told the outlet.
He went on to admit that there are 10 women that he "would kill to be married to," but then lamented that after he unceremoniously dumped them, they moved on to wonderful lives with marriage and kids. "They're all gone. They're all happy, which is great, but I'm the one who's sitting in a screening room by myself," he revealed. "And there's no lonelier moment than that." That includes Neve Campbell, who has been with her long-term partner, actor JJ Feild, for over a decade. The couple also has two children, per Hollywood Life. 
According to Page Six, Perry also writes something similar about his whirlwind romance with Julia Roberts, where he describes breaking up with her because of his own feelings of inadequacy. He would later watch her win an Oscar for "Erin Brockovich" while he was alone in rehab.