Nick Cannon Seemingly Confirms He's Welcoming Another Child With Alyssa Scott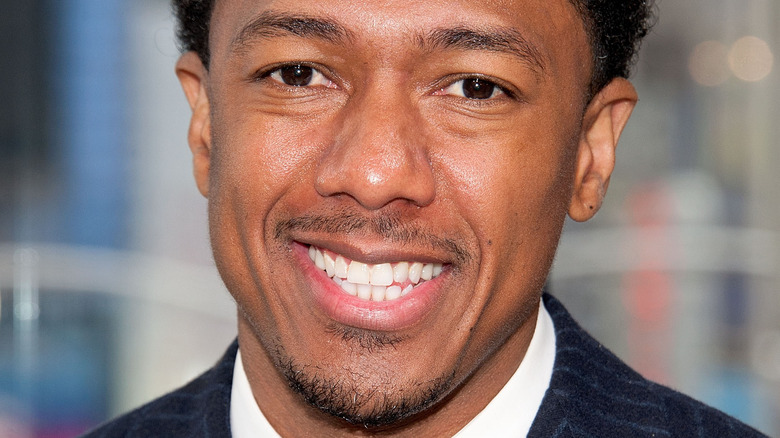 D Dipasupil/Getty Images
Nick Cannon either really loves kids or he's planning on starting his own football team. The "Wild 'N Out" host had a very busy year after it was reported that he welcomed four children with three different women back in 2021, according to Parade. And, if that wasn't enough, Cannon is gearing up to surpass that number as he continues to father more children this year. Model Breana Tiesi, who is also known as Johnny Manziel's ex-wife, gave birth to her first child Legendary Love — Cannon's eighth — in July. 
Nearly two months after welcoming his son, the "Drumline" star welcomed a baby girl with photographer LaNisha Cole. Nine days after Cole gave birth, Cannon added another bundle of joy to his family after Brittany Bell gave birth to their third child together — his tenth, per People. While having children is always a blessing, the actor has often faced serious backlash for his decision to continue to reproduce. Some have even gone as far as accusing Cannon and the mothers of his children of being a part of some sort of cult. 
"Everybody's under this weird bizarre thing thinking I got some combine, cult thing going on," he said on the "The Hottee Talkshow Podcast" (via Insider). "Every dynamic is different, but they're all positive and they're all healthy." Now, Cannon has another major family announcement to share. 
Nick Cannon has more kids on the way
Nick Cannon is giving "be fruitful and multiply" a whole new meaning. Alyssa Scott and the radio personality shared on social media that they are expecting another child together. "This is a MIRACLE & a BLESSING," she wrote on Instagram, per People. Last week, the model revealed she had a bun in the oven and social media users speculated whether "The Masked Singer" host was the father. However, the pair seemingly confirmed they were expecting together after posting their latest maternity shoot photos.
Cannon and Scott's announcement comes nearly a year after their five-month-old son Zen died of a brain tumor. "We could have had that existence where he would've had to live in the hospital, hooked up to machines, for the rest of the time," the actor said during an interview with People in December 2021. "From someone who's had to deal with chemotherapy before, I know that pain. To see that happen to a 2-month-old, I didn't want that. I didn't want him to suffer."
In addition to Scott and Cannon expecting another baby, the "Love Don't Cost A Thing" star is also anticipating the arrival of his next child with Abby De La Rosa which will be their third together, per ET. "The world can say what they want but you go ABOVE AND BEYOND for us and for that we're forever grateful for you," Rosa wrote on Instagram.