Drake's Lyric About Roe V. Wade In Spin Bout U Has Twitter Calling Him Out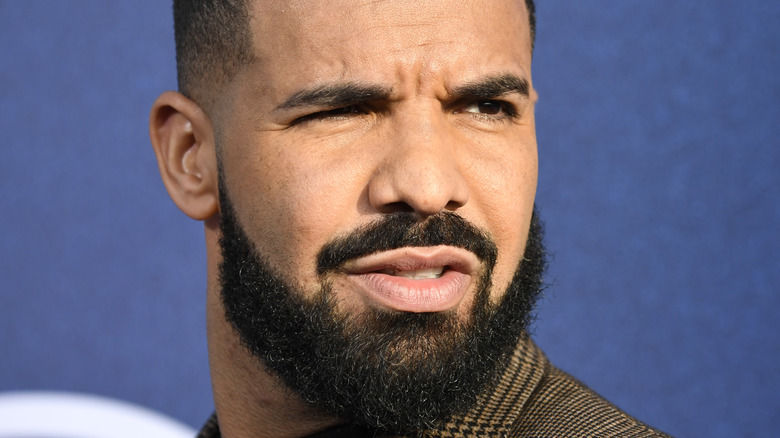 Frazer Harrison/Getty Images
Drake's new collaboration with 21 Savage has arrived, and with the new album came endless lines and disses for fans to analyze. The 16-track release, "Her Loss," had listeners swarming to Twitter with their favorite lines and early takes. It seemed that many were taken with Drake's lyricism and style, noting that his collaborator brought out the best in him. "21 savage got Drake out here rapping like rent is due," wrote one fan. "2015 Drizzy is back."
The drop may seem like a return to an earlier era for Drake, but the issues and beefs referenced in his songs are nothing if not modern. The rapper doesn't shy away from hot-button topics, even going so far as to get political in one instance. In "BackOutsideBoyz," he sings (via Genius), "Who the president? I never voted once / If I did, I would vote Teanna Trump." Okay — it's less of a political endorsement than a word of appreciation for an adult actress, but the idea is there. However, the Toronto native's attempt to address a more serious political topic has many people calling him out for hypocrisy.
Drake defended and dissed women in the same album
Prince Williams & Noam Galai/Getty
Drake's lyrics in "Spin Bout U" certainly made heads turn. Alluding to the controversial Supreme Court decision to overturn Roe v. Wade, the Canadian rapper wrote (via Genius), "D***, just turned on the news and seen that men who never got p**** in school / Are makin' laws about what women can do." The line immediately sparked controversy ... but not for the reasons you might expect.
For many, Drake's governmental diss fell flat when paired against his other targeted attacks toward women throughout the album. In particular, he took aim at Megan Thee Stallion in "Circo Loco," accusing her of lying about a high-profile altercation with Tory Lanez. "This b**** lie 'bout getting shots," he sings, via Genius. "But she still a stallion." The lyric seems to have a double meaning: They're referencing an attractive woman who is lying about getting injections and alluding to Megan's account of Lanez shooting her.
"Drake using roe v wade for a trendy lyric and then accuse Meg of lying," one listener tweeted in disbelief. Another called on rappers to "quit this performative bulls***." Megan herself took to Twitter to defend her name and contribute her own diss: "I know I'm very popular but y'all gotta stop attaching weak a** conspiracy theories in bars to my name."