Inside Taylor Swift's Friendship With Margot Robbie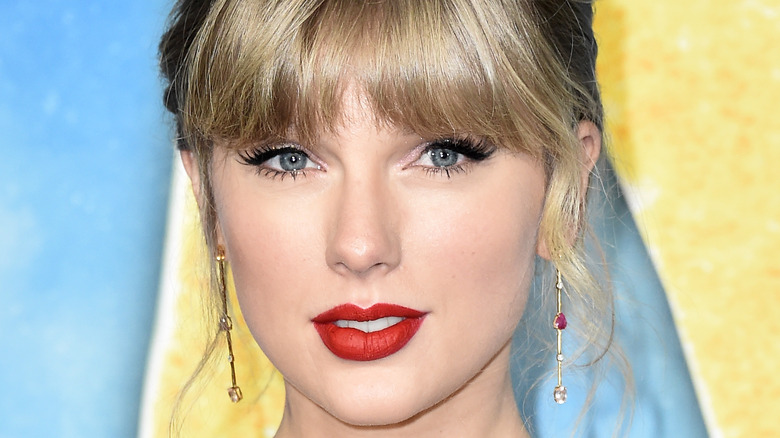 Steven Ferdman/Getty Images
Taylor Swift has one of Hollywood's most impressive circles of friends, and, much like her career, it just seems to keep getting bigger and better. The elite members of this exclusive club include a number of actors who have played characters in the DC and Marvel cinematic universes.
There's "Green Lantern" star Blake Lively, who isn't just a friend of Swift, but also a fan of her music. After the singer dropped "Folklore" in 2020, Lively took to Instagram to gush, "Can we all please crawl inside that piano with you and live in this album" (via People). "The Amazing Spider-Man" star Emma Stone revealed that her friendship with Swift began via email, and Stone described what she likes about her pal to MTV News, saying, "She has such a sick sense of humor."
Swift and "The Batman" actor Zoë Kravitz were part of the same pandemic pod (via WWD), and former "Batwoman" star Ruby Rose told "Today" that people consider her friendship with Swift a bigger feather in her cap than her SAG award. Swift showed some of her other famous friends how much she appreciates their acting abilities by offering them roles in her "Bad Blood" music video in 2015. They included "Hawkeye" actor Hailee Steinfeld, "Spider-Man: No Way Home" star Zendaya and model Cara Delevingne, who isn't the only member of "The Suicide Squad" who can boast membership in Swift's girl squad, too: The singer is also close pals with Margot Robbie.
Margot Robbie's male friends coveted her Taylor Swift merch
Batman baddie Harley Quinn is outed as a Swiftie in the "New Suicide Squad" comic books, so she'd most definitely be jealous of the star who plays her in "The Suicide Squad" movie. After getting in touch with her inner feline in "Cats" (something squad member Zoë Kravitz would also do as Catwoman), Taylor Swift's next movie project was the comedic crime caper, "Amsterdam." It's star-studded cast includes Chris Rock, Christian Bale, Zoe Saldana, and Harley Quinn actor Margot Robbie, who told CapitalFM that she wasn't starstruck over Swift because they already knew each other. "It wasn't a fangirl moment; it was more of a 'Yay I get to work with another friend, this is so so nice,'" she explained.
One perk of being besties with Swift? Her generosity when it comes to her highly coveted merch. Swift released "Folklore" while "Amsterdam" was filming, so Robbie was the lucky recipient of a vinyl copy of the album and other merch. "When I took it home, it wasn't my girlfriends that freaked out," Robbie recalled. "It was my guy friends that were all like, 'Oh, can I please keep the 'Folklore' T-shirt? Can I keep the 'Folklore' hoodie?'" So she ended up giving her gifts up. By befriending the "Barbie" star, Swift inadvertently thumbed her nose at The Hollywood Reporter writer Camille Paglia, who once caused a stir by deeming the singer "Nazi Barbie" for having a girl squad.
Margot Robbie and Taylor Swift's boyfriend played lovers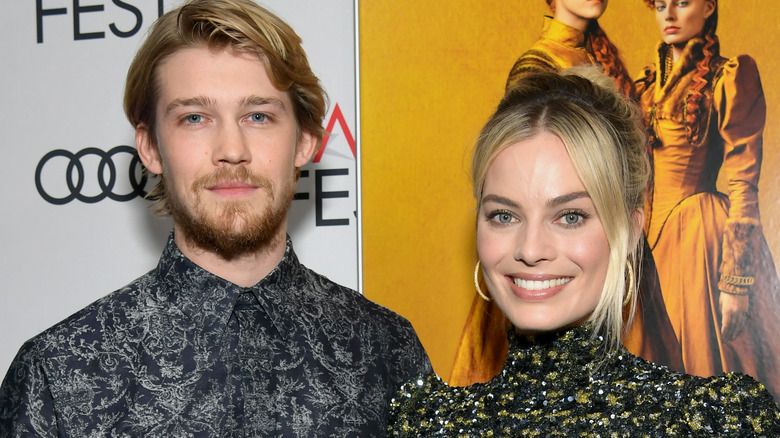 Emma Mcintyre/Getty Images
Margot Robbie and Taylor Swift have a mutual friend in Cara Delevingne, who actually lived with Swift for an entire summer, per Variety, but this isn't their only connection — Swift's longtime love, Joe Alwyn, played Robbie's on-screen love interest in the 2018 movie "Mary Queen Of Scots." However, Robbie made a confession about the couple, telling Net-a-Porter, "I didn't know they were together." 
Alwyn made his own admission about Robbie during an appearance on "Live with Kelly and Ryan." She underwent a dramatic transformation to portray Queen Elizabeth I in the period piece, and Alwyn said they spent an hour together in the same trailer without him realizing that the other actor getting her makeup applied was Robbie. "It was amazing to see someone so recognizable completely disappear ... She becomes someone new," Alwyn told E! "She's such a talented actress, and also such a good, fun person to be around."
We don't know whether Swift and Alwyn have gone on any double dates with Robbie and her husband, "Barbie" producer Tom Ackerley, but we do know that Robbie would love to work with Swift again. She told CapitalFM that she wants to appear in one of singer's music videos, and she lavished her pal with praise. "[Swift is] so lovely, a real girl's girl," she said, later adding, "She's a humble, nice businesswoman. I love it." Who could ask for a better girl squad member?