The Big Issue Zoë Kravitz Had With Her Catwoman Suit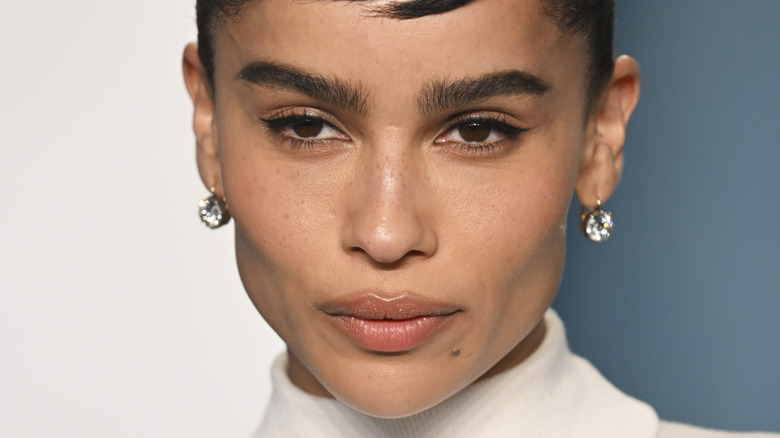 Karwai Tang/Getty Images
Of the seven actors to don the Catwoman suit so far, Zoë Kravitz might just be the most badass of them all. Superhero movies often relegate female characters to supporting players, but Kravitz's take on the iconic Selina Kyle character had fans hailing her as "one of my fav[e] part[s] of the movie" (via Twitter). "100% most authentic, organic, true-to-comics live-action selina kyle i've ever seen. [Z]oë is so effortless," another fan tweeted. So, what was it that made Kravitz shine in the role?
Perhaps it was the "Big Little Lies" alum's unique take on Catwoman herself. In an interview with Pedestrian, Kravitz noted that she had interpreted Selina Kyle as bisexual, which tracks with the character's comic book history. In a 2015 storyline, the character even kisses another iteration of Catwoman. But, although it's comic book canon, Catwoman had yet to be portrayed as bisexual on-screen... before Kravitz, that is. Another reason the actor made such a compelling Catwoman could be the Catwoman suit itself. Per PopSugar, Kravitz favored "dominatrix-inspired outfits" and platform boots, along with a bold repertoire of beauty looks, including wigs and sharp nails. 
Breaking with the tradition of the more feline and feminine Catwoman suit, Kravitz's version was functional. Not only was it motorbike gear-inspired, but it also featured lots of lived-in leather to depict what Selina Kyle actually went through on a daily basis. But, cool factor aside, Kravitz was open about one major problem that she had with the suit.
Zoë Kravitz struggled to use the restroom in her Catwoman suit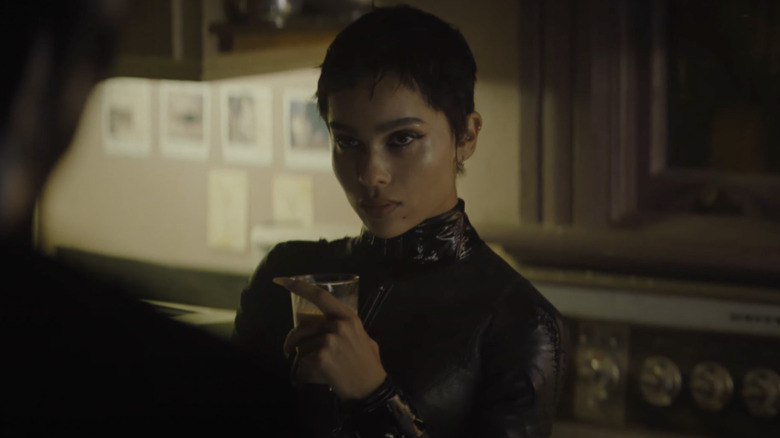 YouTube
Fans loved Zoë Kravitz in her pared-down Catwoman suit, but the actor's feelings toward her costume were more complicated. Apparently, she found it to be "undignified," as she joked to The Guardian. "I was like a two-year-old. If I needed the toilet, someone had to escort me in and out," she said. While it's hard to imagine Catwoman needing help with anything (let alone something as mundane as using the restroom), another DC alum hinted that the Catwoman suit could present some logistical challenges.
Michelle Pfeiffer, who was Catwoman in the 1992 film "Batman Returns," shared some words of wisdom for Kravitz during a 2019 appearance on "Good Morning America." "Make sure, while designing the costume, they consider how you're gonna go to the bathroom," Pfeiffer said. "Minor detail, but it's an important one." Per Metro, the actor spent long hours on-set in the suit with "just one toilet break during the six-month shoot." Is it any wonder she wasn't exactly a fan of the latex get-up? "It was the most uncomfortable costume I've ever been in," Pfeiffer added (via CinemaBlend). "They had to powder me down, help me inside and then vacuum-pack the suit. ... The face mask was smashing my face and choking me ... we had a lot of bugs to work out."
Another "Catwoman" who struggled with her "Catwoman" suit? "The Dark Knight Rises'" star Anne Hathaway, who told Allure (via HuffPost) that the outfit was "a psychological terrorist."
Zoë Kravitz embraced the role of Catwoman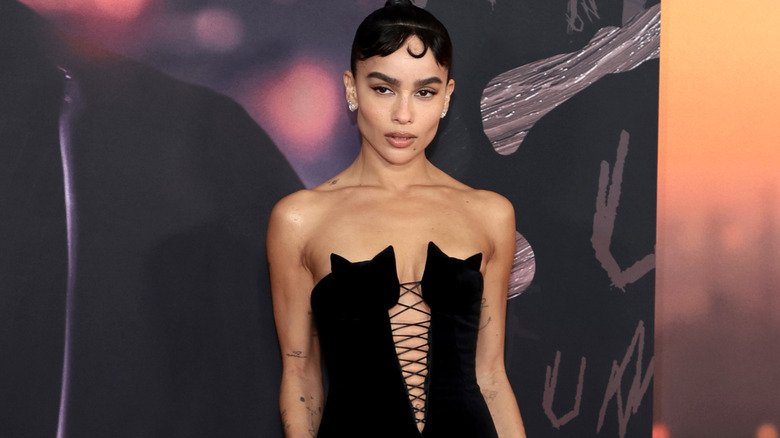 Dimitrios Kambouris/Getty Images
Despite the challenges of donning the iconic "Catwoman" suit, Zoë Kravitz was thrilled to land the part. Previously, she had attempted to audition for Christopher Nolan's "The Dark Knight Rises," where the "Catwoman" role ended up going to Anne Hathaway. In a 2015 interview with Nylon, Kravitz — who identifies as biracial — explained, "They told me that I couldn't get an audition for a small role they were casting because they weren't 'going urban.' It was like, 'What does that have to do with anything?' I have to play the role like, 'Yo, what's up, Batman? What's going on wit chu?'" The "Mad Max: Fury Road" star also posted on Instagram Stories (via The Hollywood Reporter) to say she placed no blame on Nolan for the decision. "I did not mention this to point any fingers or make anyone seem racist ... I was simply giving an example of what it was like to be a woman of color in the industry at that time," she wrote.
In "The Batman," Kravitz embraced all aspects of her character. Even after filming wrapped, she hit the red carpet premiere decked out in an Oscar de la Renta dress featuring cat motifs, according to W Magazine. In keeping with the Catwoman aesthetic, Kravitz additionally rocked a Saint Laurent dress in the shape of her character's mask. On-screen and off, fans aren't likely to forget Kravitz's take on Selina Kyle anytime soon.