Zoe Kravitz's Interpretation Of Catwoman's Sexuality Has Everyone Talking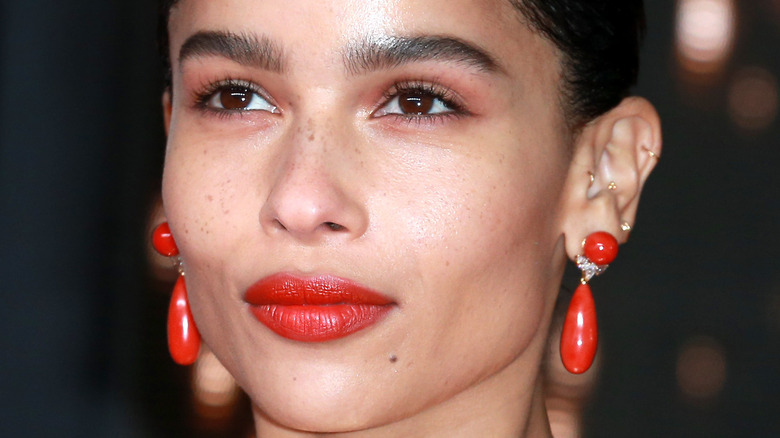 Cubankite/Shutterstock
It seems Zoë Kravitz is finally getting a real taste of the limelight. She's been in Hollywood for a while now and is racking up credits like there's no tomorrow. Known for her work portraying Bonnie in "Big Little Lies," Angel in "X-Men: First Class," or the voice of Catwoman in "The Lego Batman Movie" (which now feels like destiny), her star is steadily rising. Now with the premiere of "The Batman" with Robert Pattinson finally dawning, Kravitz is opening up about reprising a role that has been held by powerful women before.
Seven other women have played the feisty feline foe before her, including Eartha Kitt and Michelle Pfeiffer. Even so, Kravitz isn't shying away from making the character her own. She even showed up to the New York City premiere in a cat-inspired Oscar de la Renta gown, per Vogue. When it comes to representation on-screen, Kravitz is poised to pounce on anyone who dares say that Catwoman is just pure sex appeal.
Zoë Kravitz knows Catwoman is bisexual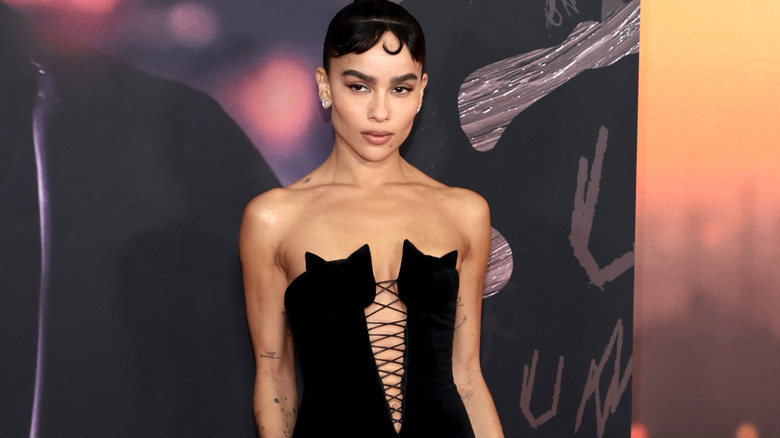 Dimitrios Kambouris/Getty Images
When long-held rumors that Catwoman was bisexual were finally confirmed in 2015 with the release of the "Catwoman #39" comic book, writer Genevieve Valentine spoke up. She wrote on her blog, "[Selina Kyle/Catwoman] flirted around it — often quite literally — for years now; for me, this wasn't a revelation so much as a confirmation." The Guardian notes that the reveal wasn't the first time DC had made a character a member of the LGBTQ community. 
But, as reporter Zack Sharf notes for Variety, Catwoman's bisexuality has never been seen in any of the film adaptations — that is, until now. When speaking with Pedestrian, Zoë Kravitz said she interpreted her Selina/Catwoman as a bisexual woman, especially in her relationship with the character Anika in the new "The Batman" film. When asked by the outlet if she saw the Anika relationship as sexual she agreed. "That's definitely the way I interpreted that, that they had some kind of romantic relationship," she shared.
"The Batman" director Matt Reeves agreed with Kravitz, saying that it wasn't a direct choice to build Selina/Catwoman as bisexual, but he appreciates how Kravitz connected with Selina's relationship with Anika. "...one of the things [Kravitz] said which I loved was that: 'She's drawn to strays because she was a stray and so she really wants to care for these strays because she doesn't want to be that way anymore and Anika is like a stray and she loves her," he told Pedestrian.