The Singing Competition Show Where Miranda Lambert Got Her Start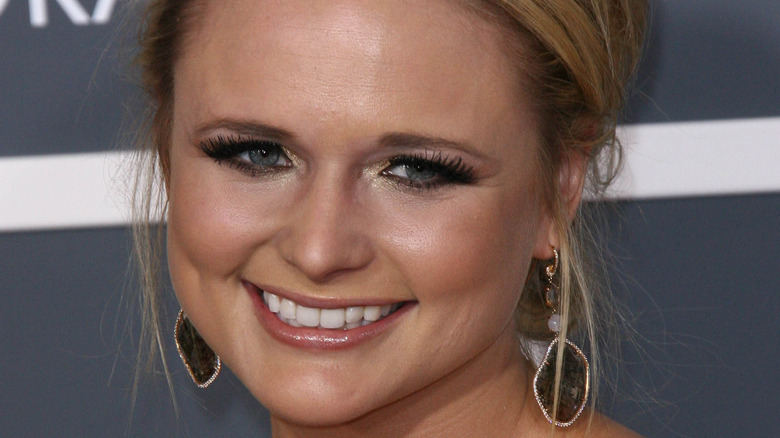 s_bukley/Shutterstock
Miranda Lambert and Carrie Underwood have a whole lot in common. Of course, they're both two of the biggest stars in country music, they're both insanely talented, both stunning blonde bombshells, both multiple award winners, and both total besties.
They've had each other's backs on multiple occasions, including back in 2019 when Lambert voiced her support for Underwood to win the prestigious CMA Entertainer of the Year award. "She put out her first single in 2005 and from then on country music was changed for good. That iconic voice has been classin' up our stages, charts and televisions for a decade and a half. The Voice. The legs. The songs. The brand. The mom. The wife. The okie. The Jesus lover. The blonde bombshell that is Carrie," Lambert wrote on Instagram. Underwood then returned the favor in March after Lambert won Entertainer of the Year at the 2022 ACM Awards. "Miranda is long overdue for winning this award so I couldn't be more proud of her as a sister in this genre of music and in this industry," Underwood said at the time during a backstage press conference (via Hello!).
But there's one big thing in common these two have that you may have forgotten. They both got their starts on TV singing competitions! Of course, everyone knows Underwood competed on and won "American Idol" in 2005, but did you know Lambert was competing two years before that on a very similar show?
Miranda Lambert got her start on Nashville Star
It may be hard to believe because Miranda Lambert has gone on to be a superstar in country music in her own right, but it turns out she got her foot in the door via a very similar show to "American Idol." That show was called "Nashville Star" and it ran for six seasons from 2003 until 2008, originally airing on the USA Network before the final season made the jump to NBC.
Lambert appeared on the very first season of the singing competition, though the most shocking part is she didn't actually win! The Texas native made it all the way to the finale, but ended up in third place behind runner-up John Arthur Martinez and winner Buddy Jewell (though Lambert certainly got the last laugh by becoming the much bigger star than both). Though she's no doubt the biggest name to ever come out of the series, it also gave a platform to the likes of Chris Young (who appeared on Season 4), as well as both Kacey Musgraves and Whitney Duncan (who appeared on Season 4).
And how's this for even more of a connection to the show? In 2007 for Season 5, Lambert's now former husband, Blake Shelton, actually popped up on the show to test out the judging skills he'd eventually show off on "The Voice," as he appeared as a judge for a single season.
Nashville Star felt like college for Miranda Lambert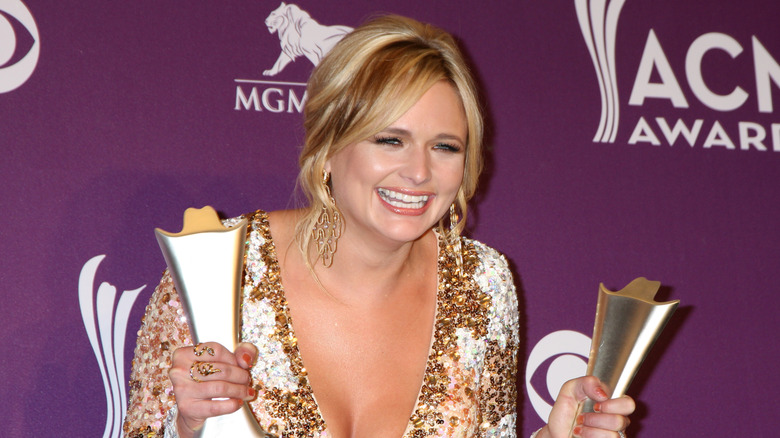 Kathy Hutchins/Shutterstock
Miranda Lambert opened up about her time on "Nashville Star" in 2020, explaining during a Country Radio Seminar chat that going off to compete in the singing competition was like her version of going off to college. "I was so scared of the [Dallas-Fort Worth airport]. How am I going to navigate this? I have to land in Nashville and live in a house with 10 strangers. I basically treated it like moving into a dorm, I guess," Lambert, was who then just 19 years old, shared (via The Boot). "That's what it was. I just thought, 'I have to give it my all. I'm here, I've made it, I'm going to try.'"
But while she didn't win, Lambert clearly captured the hearts of the judges and viewers. One of her most notable performances came via an original song, "Greyhound Bound for Nowhere," which she revealed in a VT she co-wrote with her dad. It was performances like that which garnered the attention of Sony music executives, which led her on the path to be one of the biggest stars to ever grace country music. "All my grit from the bars, all the moments where nobody was listening, people were clanking balls, people on the stage, and booing you, requesting waltzes 24/7 — it was like everything that had culminated came to that moment," she shared of performing in front of the nation. "That was what set me on this journey."