Zach Braff Played A Crucial Role In Donald Faison's Marriage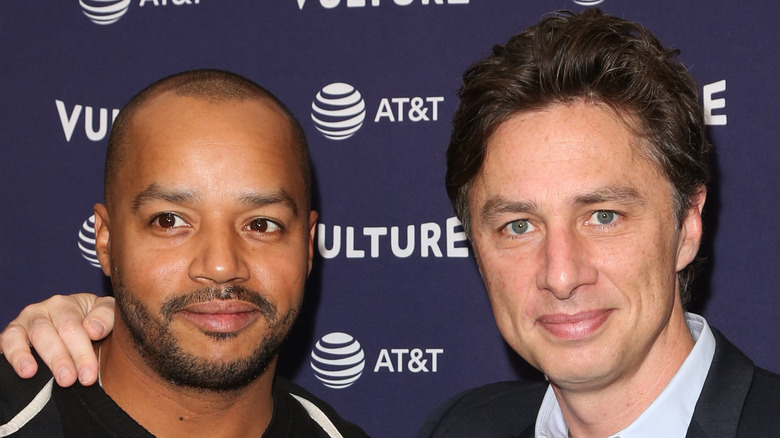 Paul Archuleta/Getty Images
Donald Faison is happily married to CaCee Cobb, with the super cute couple tying the knot back in 2012 after around six years of dating, per People – and they haven't been able to stop gushing over one another since. Celebrating their ninth wedding anniversary in December 2021, Cobb shared an adorable photo on Instagram which appeared to show them all dressed up in 80s gear, gushing in the caption, "9 years married to this handsome beau! Happy Anniversary my love, I love you always and forever." The former "Scrubs" star returned the favor on his own Instagram page, posting a video from their wedding day and writing in part, "On this day, 9 years ago. The love of my life and I had a soul meets southern (we totally leaned into the curve) wedding... It's STILL the best party I've ever thrown. December 15, 2012 to infinity @caceecobb I love you. Happy anniversary!!" Aww!
Faison also made sure to thank a few friends and family members who helped put the wedding together, including his longtime pal Zach Braff, but did you know the two might never have gotten together at all if it wasn't for Faison's beloved "Scrubs" co-star?
Donald Faison met his wife at Zach Braff's birthday party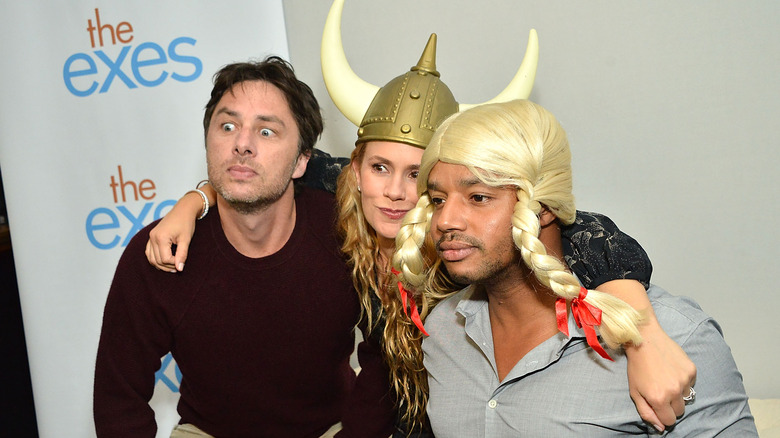 Araya Doheny/Getty Images
It's true. We have Zach Braff to thank for the jealousy inducing romance of Donald Faison and CaCee Cobb, as the couple actually met at his 30th birthday back in 2015, according to Martha Stewart Weddings. Several years later, Faison popped the question to his love, and the two recalled the adorable yet non-traditional proposal on Faison and Braff's podcast, "Fake Doctors, Real Friends with Zach and Donald" in 2022. "In my mind I'm like, 'I'm going to Tiffany's to get this ring.' She was like,' What?! Don't you do that,'" Faison recalled, to which Cobb admitted, "Because, in my mind, I knew if he went to Tiffany's I'd get a ring and nothing else." They then went ring hunting together, and found the perfect one. "I don't remember if he got down on one knee, but I remember the box had a light in it and the ring was spinning," Cobb shared. "And it was the bigger diamond! The best part was he was like, 'I love you! I love you!' and I was like, 'Oh my god!'"
When the big day then finally came a few years later, Faison's BFF Braff was on hand to help there too. Proving they really are super close besties just like JD and Turk, Faison and Cobb actually tied the knot at Braff's Los Angeles home and he served as the best man, per People.
CaCee Cobb has another celebrity connection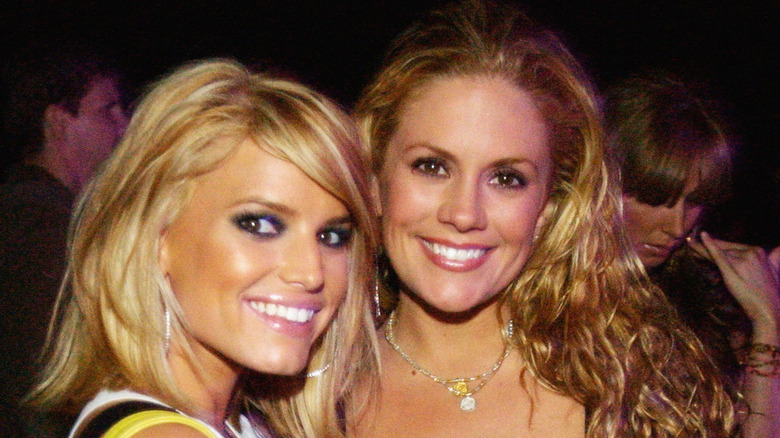 Tim Mosenfelder/Getty Images
So we know Donald Faison and CaCee Cobb have Zack Braff to thank for their years-long romance, but he's not the only familiar face who had a hand in playing cupid here. Oh, no. None other than Jessica Simpson also deserves a little credit for this long-lasting love as well, as the reason Cobb was at Braff's party that night was because she attended alongside Simpson. As the "With You" hitmaker revealed in her candid memoir, "Open Book," she first met when Cobb was assigned as her A&R person by her record label in the early days of her career. Cobb later went on to take on the role of her assistant and the more personal job of being her longtime best friend.
The two are still close friends to this day too, with People reporting that Simpson served as Maid of Honor when she and Faison tied the knot. Then, two years later, Cobb returned the favor by being a bridesmaid when Simpson got married to Eric Johnson, and she dished all the details to E! News.
Cobb and Faison have since gone on to welcome to beautiful children into the world, proving Braff and Simpson clearly know what they're doing when they play cupid.