Who Is Phillies Pitcher Aaron Nola's Fiancee, Hunter Jayde Harrington?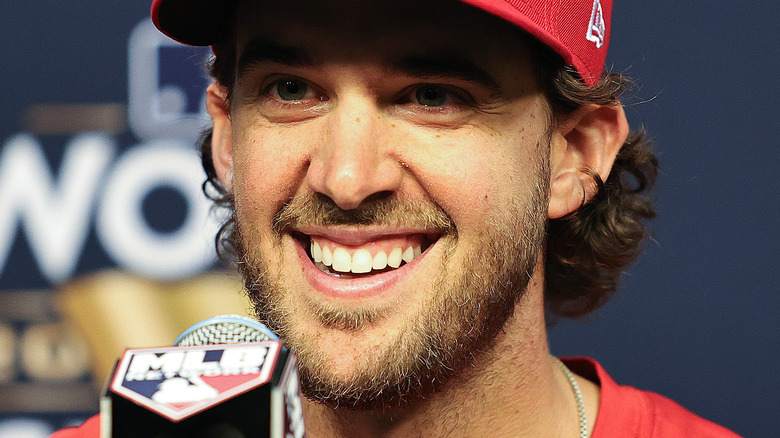 Bob Levey/Getty Images
Philadelphia Phillies pitcher Aaron Nola's family was faced with quite the predicament during the National League Championship Series. Aaron's brother, Austin Nola, is also a Major League Baseball star — and the catcher was playing on the opposing team, the San Diego Padres. Only one of them would be going to the World Series. "It breaks my heart that someone has to lose. But it'll be a good brotherly fight. We'll see who wins," their mother, Stacie Nola, told The Philadelphia Inquirer.
Aaron ended up being the one who the entire Nola family found themselves rooting for, as the Phillies faced off against the Houston Astros, and the Louisiana natives were joined by another person near and dear to the pitcher: his fiancée, Hunter Jayde Harrington. On October 24, she celebrated the Phillies' NLCS victory on Instagram, sharing a carousel that included a video of her and Aaron on the field sharing a hug and kiss. "Trying to let it sink in. ... WE ARE GOING TO THE WORLD SERIES!" she wrote.
Like Aaron's baseball-loving blood relatives, Harrington is obviously one of his biggest cheerleaders, and she also has quite a bit in common with the MLB star.
Aaron Nola and Hunter Jayde Harrington love the great outdoors
In 2020, Aaron Nola told NBCSports Philadelphia that he was spending some of his downtime kayaking and fishing, and Hunter Jayde Harrington's Instagram page provides ample evidence that the pitcher's fiancée also loves the great outdoors. "Fly fishing has quickly become one of my favorite things to do ... even in the pouring rain," the Georgia native captioned one of her posts. Other photos show her perched atop a four-wheeler and posing with skis. However, she described horseback riding as her favorite activity, and it's something she and Nola did together during a February trip to Imperial Beach, California. That same month, Nola shared a post about the couple experiencing the freedom of "van life."
The couple also made the most of Nola's free time in 2020 when they found themselves riding out the early days of the pandemic in Clearwater, Florida. "The weather has been outstanding here, so you try to cherish those good days with your loved ones," Nola told ESPN. He also revealed that he and Harrington got hooked on the reality series "Ultimate Survival Alaska."
Harrington attended the University of North Georgia from 2017 to 2021, according to her LinkedIn page. As of this writing, she doesn't have her field of study or any job experience listed, but she has shared some promotional posts on Instagram, including one offering a discount code like those influencers use to entice their followers to purchase products.
Aaron Nola popped the question atop a mountain
On December 23, 2021, Hunter Jayde Harrington announced she and Aaron Nola were engaged. "My fiancé & best friend forever!!!!! An answer to many prayers, and a dream come true. I Can't wait to marry you, Aaron Michael," she wrote on Instagram. The post included photos of Harrington showing off her engagement ring by grabbing the sides of her fiancé's face and kissing him in front of a scenic mountain backdrop. According to her geotag, Nola popped the question atop Georgia's Yonah Mountain. For the special occasion, the couple was joined by their miniature bernedoodle, Boone. Harrington also runs an Instagram page for the beloved fur baby and his sibling, Boudreaux, a standard bernedoodle.
Harrington and Nola set the date for their wedding, December 31, 2022, according to Registry Finder. Nola asked one of his teammates, fellow pitcher Zach Eflin, to be one his groomsmen, and Elfin made a surprising discovery when he got his tuxedo. "I went to Men's Wearhouse and then I came in here and gave [Nola] crap because they said he didn't even come in yet to get fitted," Eflin said in an October interview with The Philadelphia Inquirer. "I beat him to that." According to her Instagram account, Harrington got her wedding dress on September 1. "Can't wait for you to see, @aaronnola_27," she wrote.