Phillies Pitcher Aaron Nola's Brother Is Also An MLB Star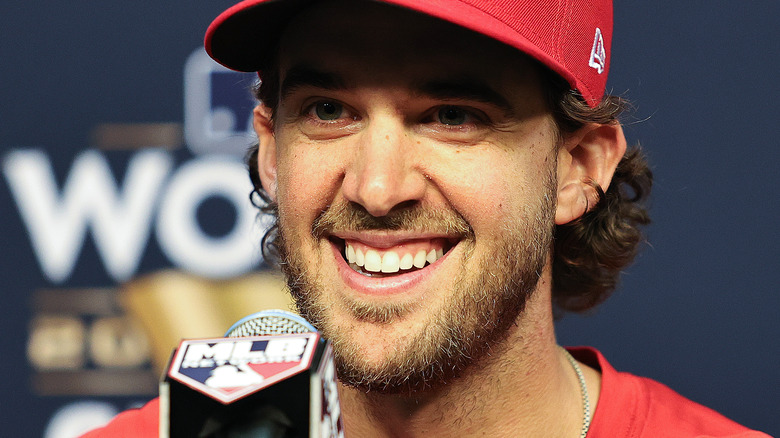 Bob Levey/Getty Images
Baseball isn't just America's pastime, it's a family tradition, handed down through generations. There's Yankees legend Aaron Judge, who married his high school sweetheart Samantha Bracksieck and is super close with his parents. There's also "La Tormenta," or Jeremy Peña, the Houston Astros star whose father was also a famous MLB player.
Family is a major part of the baseball world. Peña's father, Geronimo Peña, proudly admitted that he passed on both his love of baseball and his wisdom in an interview after his son hit a home run. "We try, we try hard," Geronimo said of his and his son's long lives in the baseball world. He's obviously a really proud parent. There are also sibling rivalries in Major Leauge Baseball, like brothers Aaron and Austin Nola, who play for different teams. Talk about a fun family feud!
Austin Nola says baseball is 'where my heart is'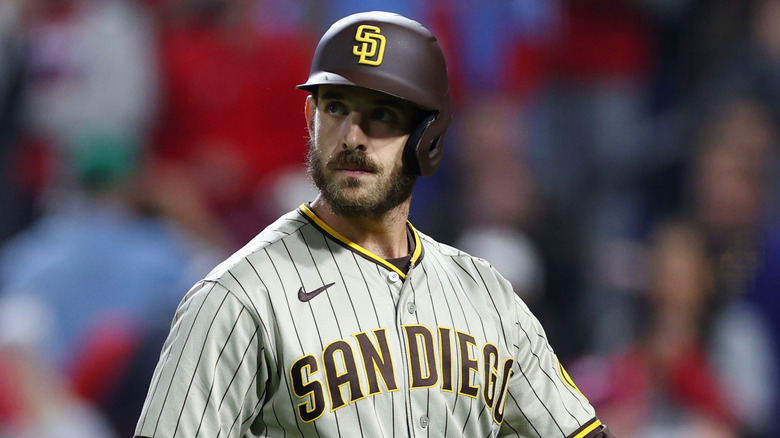 Elsa/Getty Images
Austin Nola was picked by the Miami Marlins in 2012 after playing baseball for Louisiana State University. "It's an honor to be drafted, and it's always been a goal of mine to play pro ball, but my focus right now is on helping LSU get to the College World Series," Nola explained, according to WAFB9. "It's been an incredible experience to have been a part of this program for the past four seasons. It doesn't get any better than LSU Baseball — this is where my heart is."
Then in 2018, Nola signed on with the Seattle Mariners, and then in August 2020, he signed as a catcher with the San Diego Padres in a seven-player deal with the Mariners, according to MLB. While this is impressive in and of itself, Nola's brother, Aaron Nola, plays as a pitcher for the Philadelphia Phillies, and the two have gone head-to-head in some games. Clearly, baseball runs in the family!
Dad A.J. Nola doesn't know who to clap for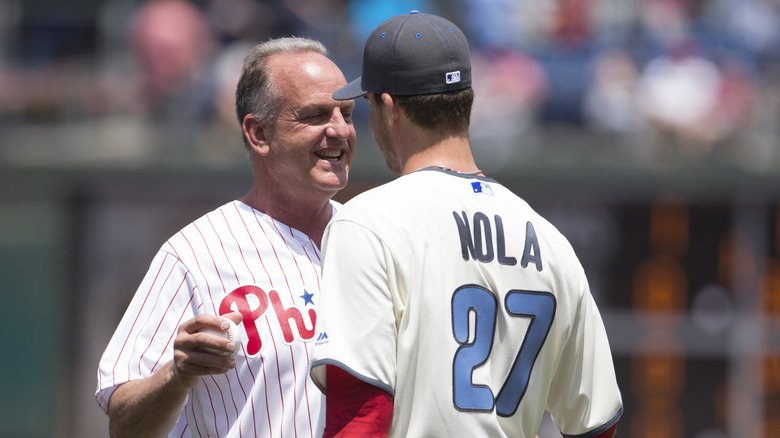 Mitchell Leff/Getty Images
Older brother Austin Nola of the San Diego Padres has had to play younger brother Aaron Nola, of the Philadelphia Phillies, several times. Their hilarious sibling rivalry is actually historical. As FTW pointed out in August 2021, Aaron was "the first player in Phillies history to face a position-playing brother" and the play was sweet for Aaron, who struck out Austin in three pitches, as captured by fans on Twitter.
To make it all even more entertaining, their dad, A.J. Nola, has been in the uncomfortable position of cheering on his sons. Who do you clap for? In a very precious moment, fans caught a photo of A.J. at a game wearing a Padres shirt underneath an open Phillies shirt while watching with his wife Stacie Nola. It's a fair compromise.
It happened again a year later when the two brothers faced each other in the National League Championship Series and A.J. told Today how unusual it was to watch his sons play against each other. "It's very surreal for us," he said. "I could hardly hear the crowd," A.J. added. "I was so locked in. It went so fast." A.J. also spoke to The Philadelphia Inquirer about his resistance to show emotion, lest one son think he's picking favorites. "I'm going to get kicked in the leg all night by my wife like 'Why didn't you clap?'" A.J. said.