Inside Jason Momoa's Real-Life Friendship With Henry Cavill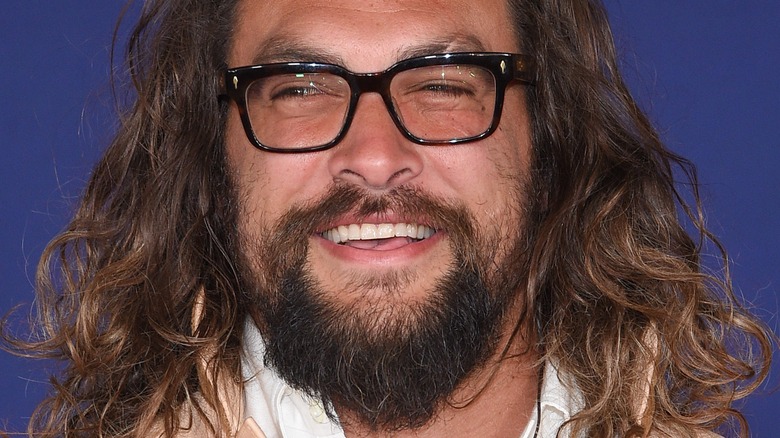 DFree/Shutterstock
Hollywood may be full of drama, but it's also (surprisingly) a place where enduring celebrity friendships can blossom. Whether it be Adele and Jennifer Lawrence's tight friendship, Bradley Cooper's strong bond with Leonardo DiCaprio, or John Mayer's surprising camaraderie with Andy Cohen, some A-listers have formed unshakable bonds with fellow celebs. Among them are two of the world's biggest superheroes: Jason Momoa and Henry Cavill.
While the pair technically co-starred in the DCEU previously, they met in-person for the first time when they collaborated on 2017's "Justice League." They hit it off and a real-life friendship ensued. In fact, InStyle went as far as to dub theirs an "epic bromance" after Momoa snuck up on Cavill at the London premiere of "Suicide Squad" and gave him a massive hug on the red carpet. Momoa then posted a snap of them embracing to Instagram and gushed, "Everyone loves supes @henrycavill" before calling him his "partner in crime."
It's true that Momoa has been incredibly complimentary about the entire cast — he's called them his brothers and sisters on Instagram — but his connection with Cavill goes beyond. Since filming wrapped, they've continued to hang out and Momoa even visited his pal in Budapest, Hungary when he was filming "The Witcher" in 2019. In a video posted to his Instagram Stories (via Box Office), Momoa showed himself, then panned the camera to show Cavill and quips, "Godd***, he looks good." Here's your look inside Aquaman and Superman's real-life friendship.
Jason Momoa will always stand up for Henry Cavill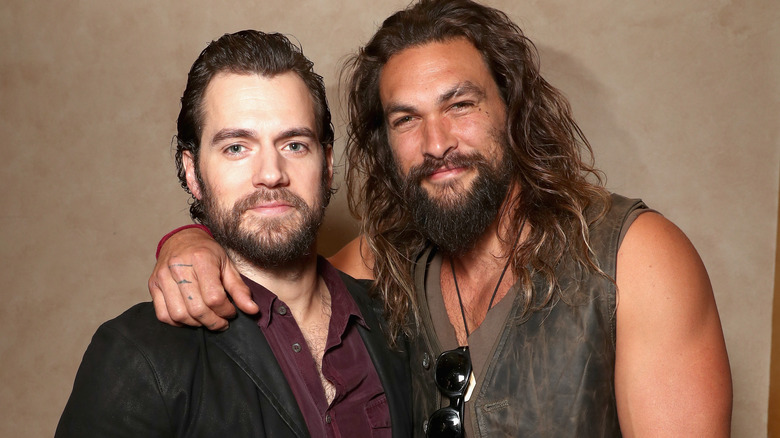 Todd Williamson/Getty Images
Superheroes who fight together, stick together! That's an adage Jason Momoa clearly believes in, as he has no qualms about defending costar Henry Cavill. The "Aquaman" star first proved he has his buddy's back at Puerto Rico Comic Con in 2015 when he literally stood up for him. According to Cinema Blend, a fan in the audience critiqued Cavill's portrayal of Superman and Momoa quickly shut that down. In the clip that has since gone viral, Momoa can be heard challenging the hater and asking, "How come you didn't like the Superman?" While the answer is inaudible, Momoa follows up his question by pushing away the table he's sitting behind and standing up. He then shows off his full height and muscle as the audience laughs and cheers. "No, no, no, no, no, by all means, speak your mind," he says, before quipping, "You got a problem with my boy?" Fans on Twitter loved the exchange. "Legends support Legends," gushed one user, while another praised, "I LOVE HOW HE'LL DEFEND EVERY ONE IN THE DCEU."
Jump to 2018 and Momoa stood up for his BFF again by shutting down rumors that Cavill was done playing Superman. Speaking with Entertainment Tonight at the "Aquaman" premiere, Momoa appeared ticked off, as he adamantly proclaimed, "He's absolutely not [leaving]." Driving the point home, he added, "He loves the character. He's not. One hundred percent."
Henry Cavill is Jason Momoa's No. 1 fan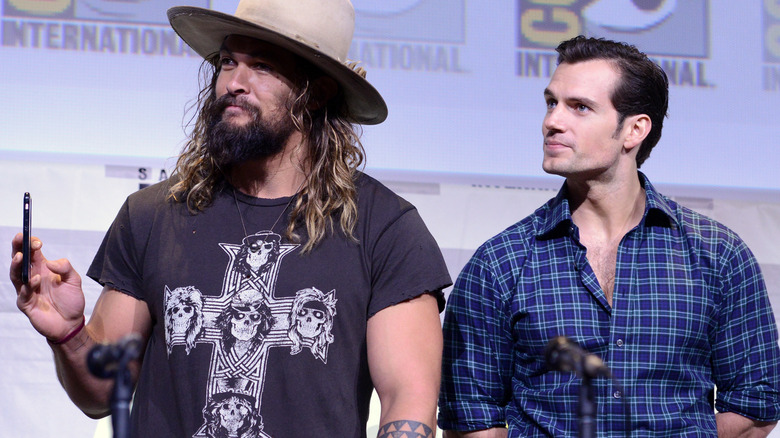 Albert L. Ortega/Getty Images
Sure, Jason Momoa has over 17 million Instagram fans and counting, but his top supporter might just be Henry Cavill. Following the release of 2018's "Aquaman," which marked Momoa's first solo film for the DCEU, he received a huge dose of love and support from his fellow actor. Taking to Instagram, Cavill decided to let the world know just how proud he was of his friend and went all out for the occasion with a cheeky impersonation. Showing off his best Aquaman impression, he took off his shirt, submerged himself in water up to his nose, and held up... a fork! "Channeling the man of the hour, the man of big hugs, big laughs and big pints of Guinness, my man Jason Momoa," he wrote in the funny but totally sweet caption.
The actor then shared that he was still working in Hungary, but that he had managed to watch the film and loved it. Praising the entire cast and crew, Cavill encouraged his followers to go watch the flick, before offering some more love to his bestie. "Jason, love you bro, you crushed it," he gushed. Fans were all for the camaraderie as they praised Cavill's sense of humor and wondered if an on-screen reunion might be in the works. "Can we please see Aquaman and Superman on screen together again," asked one fan, voicing what we've all been thinking and hoping for.