Who Is Joel McHale's Wife, Sarah Williams?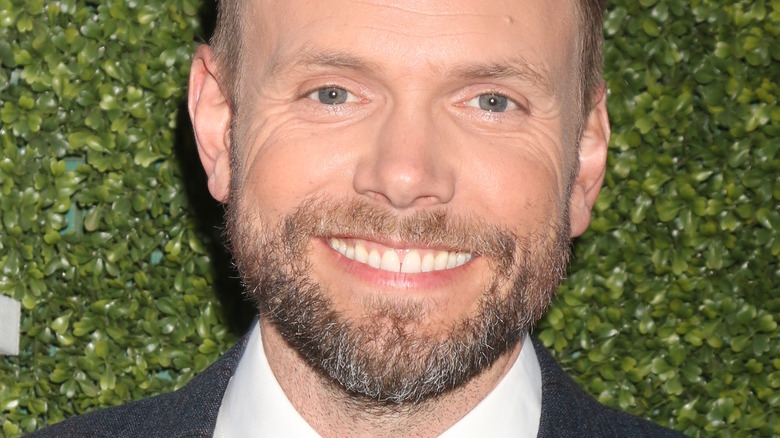 Kathy Hutchins/Shutterstock
Joel McHale is truly a triple threat. The actor, television host, and comedian has worked hard to become a successful star. One of the most important roles McHale has taken on is that of husband to longtime sweetheart Sarah Williams.
In a Wired interview, McHale revealed the couple met back when they were mere youngins in college. The comedian shared how he met his future wife, not once, but twice. The first time McHale recalled being a freshman in college and Williams was a senior. Joking about liking an "older woman" he revealed his wife was actually only one year older than him.
Despite meeting her and thinking that she was an attractive woman, he never talked to her. It wasn't until years later that the two reconnected by pure chance. McHale was shooting a film, and Williams' mother happened to be an extra on set. It was not easy for McHale to score a date with Williams as he shared the lengths he had to go through. He explained, "I called my friend Kim and said, 'Hey do you think you can put a good word for me with Sarah Williams?'" McHale joked that Sarah "took pity" on him and went on a date with him. The comedian shared that "he wore her down" before the two decided to tie the knot. Although the two have been married since 1996, very little is known about Williams because of her private life. So, who is Sarah Williams?
Sarah Williams lost her father at a young age
Unfortunately, as many people may want to, there is no way to avoid tragedy in life. Many celebrities have had to deal with unfortunate instances that have shaped who they are. For Sarah Williams, her tragedy struck at a young age. Heavy reports she was just 10 years old when she lost her father in a car accident.
In a heartfelt Instagram post on father's day, Williams shared a sweet story about her father. The post showed Williams in a team photo with her basketball team and her dad as the coach. She shared, "My dad knew how much I loved the game so I'm sure he agreed to be my coach to appease me." Williams explained how her team had won several games, but her dad's life was cut short when he died in an accident towards the end of the season.
Williams described her father as a "larger-than-life" individual that was "taken from this world too soon." She shared, "I miss him every day, but know he is with me always. I am keenly aware how very lucky I was to have a dad like I did." Williams even revealed she kept and sometimes wears the shirt he is pictured wearing in the photo. Since her father's death, Williams and her brother have been raised by their single mother, Sally Williams. Sally has continued to live a long and happy life and 
Sarah Williams is an artist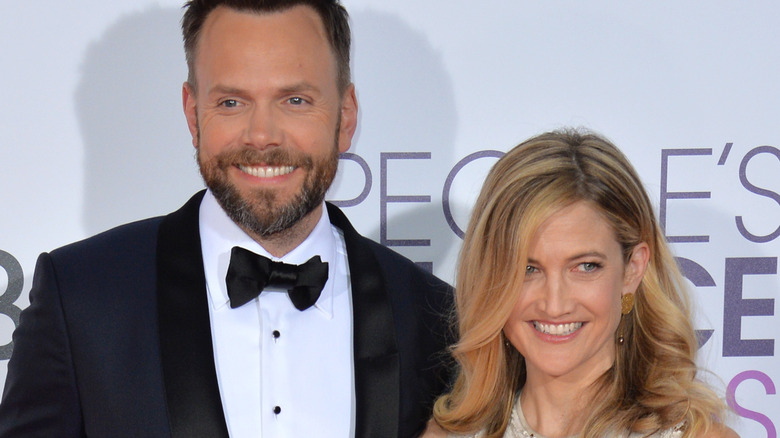 Featureflash Photo Agency/Shutterstock
While Joel McHale pursued a career in the entertainment industry, his wife went into another artistic field. Heavy reports that Sarah Williams' career evolved into her becoming a professional artist. In a now-deleted profile for Carrington Arts Gallery, Williams shared that she feared taking art classes while in college. Williams was like many celebrities and didn't pursue a career in what she majored in. According to Legit, she had worked to get her undergraduate degree in psychology. 
Williams held several jobs after college — none of which had to do with the arts. Williams took the leap of faith into the arts when McHale's career drove the family to move to Los Angeles. Heavy reports that it was in California that Williams took courses at Barnsdall Art Park and later studied alongside artist Franklyn Liegel while she was in art college. In the deleted profile, Williams shared the art pieces she had created for a gallery. All of which, were inspired by "nature and biology in its multitude of forms." 
She had created a total of three pieces on display where she explained the process of her work. She talked about the meaning behind one piece titled "Boundary Issues," which "delves a little deeper into what happens when things start to break down in the brain as is the case with Alzheimer's Disease." Williams still works on her art to this day as fans will see in different social media posts.