Who Is Buying Beverly Hills Star, Melissa Platt?
There's a new real estate reality TV series in town! While there are plenty of reality television shows that highlight luxury real estate, this new one takes on the glamorous world of Beverly Hills in Netflix's "Buying Beverly Hills."
Hitting the streamer on November 4, "Buying Beverly Hills" follows the real estate firm The Agency and 11 of its agents. Included in that lineup? Their boss, who's none other than "The Real Housewives of Beverly Hills" star Kyle Richards' husband Mauricio Umansky. Alongside Umansky are his two daughters who work for the firm, Farrah Brittany and Alexia Umansky. The show also follows the real estate agents Santiago Arana, Ben Belack, Joey Ben-Zvi, Jon Grauman, Brandon Graves, Allie Lutz Rosenberger, Melissa Platt, and Sonika Vaid, per Bustle.
When you combine these differing personalities with family clashes, along with high-valued homes and their clients, you've got the perfect recipe for drama. For example, in the trailer alone, it doesn't take long for the agents to talk about betrayal, their colleagues messing with their careers, and intertwining relationships. With all that juicy drama, following the premiere, it didn't take long for fans to share how much they are loving the new show. But, one fan noted the "Buying Beverly Hills" cast is simply nepotism at its best — leaving fans to wonder more about the cast, including one of the agents, Melissa Platt.
Melissa Platt has years of experience in real estate
Melissa Platt isn't one to mess with on Netflix's new series, "Buying Beverly Hills." Not only when it comes to the drama, but also when it comes to her expertise in selling to high-value clients.
Platt has more than a decade of experience in real estate. What makes her such a force to be reckoned with is her expertise in architecture, as well as real estate. It's her experience with both that allows her to sell to clients like NBA player Chandler Parsons, per House Beautiful. According to Platt's biography, her background helps her excel at her job. Platt attended the University of Arizona, where she received a degree in family studies and human development. 
That background, alongside her work in fashion and public relations, allows Platt to know exactly what her clients are looking for and to pick out the best of the best for them. "I love art and interior design. I love the design process and being able to see a vision come to life," Platt told House Beautiful. And those exact skills are what pit Platt and her fellow co-stars against one another on "Buying Beverly Hills," as Platt sees herself as an expert compared to those around her. 
What to expect from Melissa Platt and the cast of Buying Beverly Hills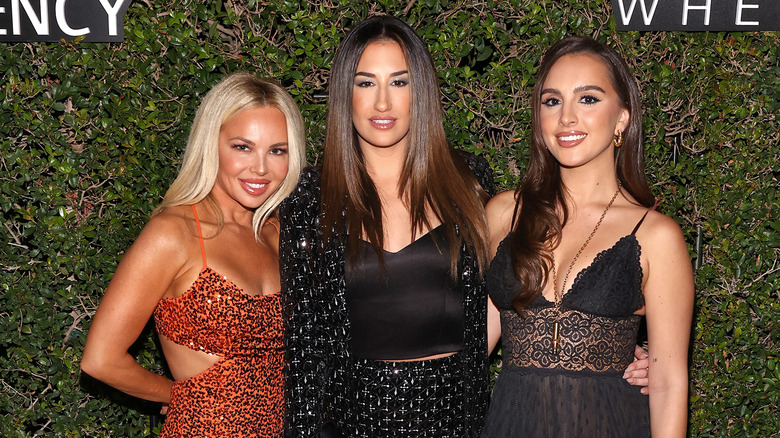 Tommaso Boddi/Getty Images
It comes as no surprise that there's plenty of drama on "Buying Beverly Hills." And when it comes to agent Melissa Platt, the real estate agent finds herself embroiled in a clash with the boss's daughter, Alexia Umansky, over who's real estate skills are really up to par. 
Without giving too much away — if you haven't finished the season — Platt and Umansky find themselves at odds with one another after Umansky gives a presentation that Platt doesn't particularly like. In fact, Platt tells her fellow colleagues she would give Umansky a "C"-level grade on the presentation, per TheCinemaholic. Obviously, that doesn't sit well with Umansky and the two find themselves embroiled in controversy throughout the season. 
But that's not the only drama you'll find on "Buying Beverly Hills." In fact, before the show even premiered, fans said they wouldn't be tuning in after the boss, Mauricio Umansky, came under fire, per ScreenRant. At the time, a video surfaced of Mauricio seemingly laughing at Garcelle Beauvais' son — members of "The Real Housewives of Beverly Hills," alongside Mauricio's wife, Kyle Richards. The clip didn't sit well with fans, despite Mauricio claiming he had no idea what was going on and apologizing. But now, as fans begin bingeing "Buying Beverly Hills," it seems there will be more drama where that came from across the board.