Who Is Buying Beverly Hills Star, Allie Lutz Rosenberger?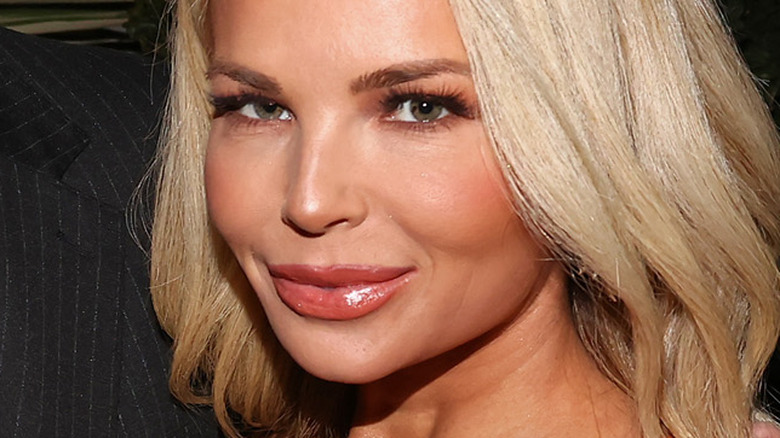 Tommaso Boddi/Getty Images
Throughout the years, "The Real Housewives of Beverly Hills" has given fans an inside look at the star-studded families of the luxurious Los Angeles location. Housewife Kyle Richards' husband, Mauricio Umansky, has famously found immense success with his billion-dollar real estate firm, The Agency, where his daughter and step daughter Alexia and Farrah serve as agents. Now, "Housewives" fanatics have the opportunity to witness plenty of business, family, and relationship drama on Umansky's new reality TV show. In the Netflix series "Buying Beverly Hills," The Agency's realtors compete to sell multi-million dollar home listings and rise to the top.
Unsurprisingly, "Buying Beverly Hills" has no shortage of real estate go-getters. One of these bold go-getters is Allie Lutz Rosenberger, an experienced and accomplished team member of The Agency. In an Instagram post in June 2022, Rosenberger revealed, "Just heard that I've been ranked in the top 1.5% of agents in the entire country (out of 1.6M agents)!" As far as her education, Rosenberger holds a Bachelor's Degree in Health Sciences from the University of Southern California, per her bio on The Agency website. So, what else is there to know about "Buying Beverly Hills" star Rosenberger?
Allie Lutz Rosenberger appeared on another reality TV show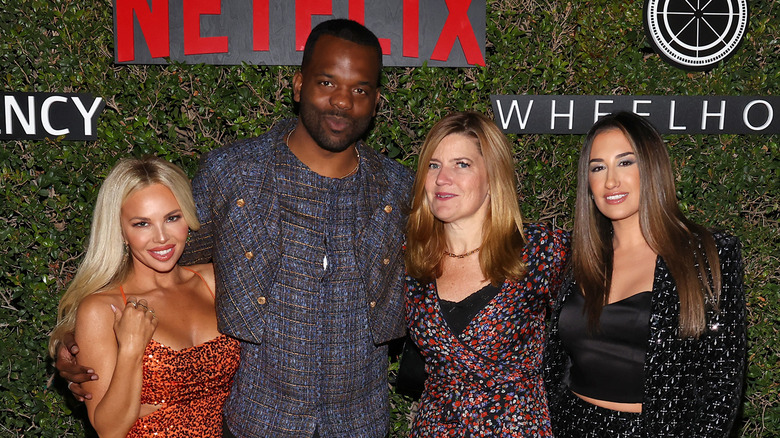 Tommaso Boddi/Getty Images
Allie Lutz Rosenberger is no stranger to being in front of the camera. Besides being a real estate agent, Rosenberger has done her share of hosting gigs. As shown in her hosting reel, she once conducted casual interviews for lifestyle and pop culture program "TheInnerBeaut," which focused on — you guessed it — inner beauty. In another hosting reel, Rosenberger introduced herself as "your health and nutrition specialist." In the same clip, she said, "Welcome to the best of Brentwood. Today we're uncovering secret spots of the local celebs."
Rosenberger, who was born in Orange County, California, is also no stranger to reality television. According to her IMDb page, the former host appeared as herself in a few episodes of MTV's "The Hills" in 2010. According to a HuffPost article, Rosenberger was a high school enemy of reality TV star Kristin Cavallari. Rosenberger was also formerly engaged to Doug Reinhardt, her high school lover who starred on "The Hills." As reported by TMZ, the couple never actually got married.
Allie Lutz Rosenberger is married with three daughters
So, what does Allie Lutz Rosenberger's love life look like as of this writing? According to Distractify, Allie's husband is Keegan Rosenberger. He is the co-founder and CEO of entertainment company Cavalry Media, which has produced popular films such as the "Fifty Shades" trilogy and "The Social Network." Allie seems to have found true love at last. Besides posting listings of stunning real estate properties, the "Buying Beverly Hills" star's Instagram page is packed with adorable photos and videos of her husband and three daughters Georgia, Teddie, and Scottie.
In one post in March 2022, Allie shared a heartwarming video montage of her and her husband, captioning the footage, "Happy Wedding Anniversary to my Hubby and PIC!!! I caught a vibe with you. Thank you for the perfect weekend away! LOVE YOU!! #5 years." In another post shared in January 2022, Allie, her husband, and kids posed in a family photo with matching black attire. She wrote, "More family photos ... still can't believe we're a family of 5 and Scottie is almost 4 months already!" When she's not partaking in drama on "Buying Beverly Hills," Allie appears to spend lots of quality time with her family.