Why Kate Winslet Didn't Like Kissing Leonardo DiCaprio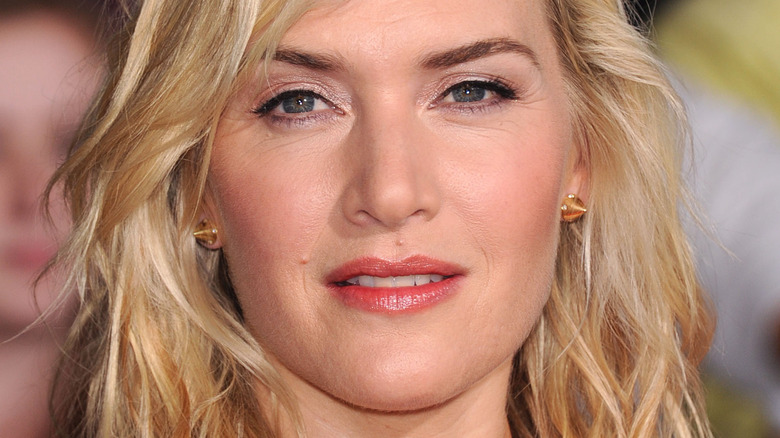 DFree/Shutterstock
Kate Winslet and Leonardo DiCaprio shot to stardom when they starred in the classic "Titanic" in 1997. Through their portrayal of Rose and Jack, Winslet and DiCaprio created one of the most memorable love stories of all time. But they almost didn't play the iconic roles. Just a couple of years before landing the part, Winslet was making turkey sandwiches at a deli in a small English town, she told "The Late Show with Stephen Colbert" in 2017.
Cameron, understandably, wanted someone a bit more experienced for his megaproduction. But Winslet had no doubt in her mind that she was the perfect match for Rose. She got the director's car phone number and called him up. "I think he pulled over, and I said, 'I just have to do this, and you are really mad if you don't cast me,'" Winslet told Rolling Stone in 1998. DiCaprio, on the other hand, was the one who was hesitant. "My initial reaction when I first heard about the film was ... 'It's going to be strictly about the special effects. I'm not interested,'" he told E! News.
Thankfully, it all worked out and we don't have to live in a world where Leo and Kate don't play Jack and Rose. Winslet and DiCaprio reunited on the big screen a decade later, once again playing love interests in "Revolutionary Road." Winslet and DiCaprio's on-screen chemistry is nearly palpable. But how they feel about having to kiss in real life is a different story.
Kate Winslet kissed Leonardo DiCaprio in front of her husband
Kate Winslet was just 20 in "Titanic," when she first co-starred with Leonardo DiCaprio. Winslet was more inexperienced than DiCaprio, who was already a familiar face in Hollywood thanks to his role in the 1993 coming-of-age drama "What's Eating Gilbert Grape" and the 1996 Shakespeare-inspired "Romeo + Juliet." Winslet was a bag of nerves. "I was like probably how all the women in this audience are, about Leonardo DiCaprio," Winslet told Oprah Winfrey in 1998 (via Harper's Bazaar). "Initially, I thought, 'Ugh, how am I gonna work with this beautiful man who's such a brilliant actor?'"
But it ultimately made the experience easier. When they co-starred as husband and wife in "Revolutionary Road" 11 years later, Winslet felt a lot more self-conscious about doing romantic scenes with DiCaprio, not only because she had known DiCaprio for years, but because the film's director was none other than Sam Mendes, Winslet's husband at the time. "I was like, 'Is it just me who feels a bit weird about this? You know. My friend. My husband,'" Winslet told the Mirror in 2008.
Winslet's feelings differed from DiCaprio's — and even from Mendes', for that matter. "Neither Sam nor Leo seemed the slightest bit bothered," she quipped. Her husband, in fact, didn't even seem to register it. "You can see this look of absolute intensity on his face and I knew all he was thinking about at that moment was the frame of the shot."
Kate Winslet is Leonardo DiCaprio's favorite kissing partner
When an audience member at a 2004 Oprah Winfrey show asked the star who his favorite kissing buddy was, Leonardo DiCaprio showed no hesitation. "There's going to be some mad actresses ... I'm just going to go with Kate Winslet, good old classic," he responded (via MTV). But Winslet wasn't so keen to believe DiCaprio's words. When the pair was filming "Titanic," the British actor got the opposite vibes from her co-star during their kissing scenes. "I can tell you right now, he hated it," she told Extra in a 2004 joint interview. "And he would complain bitterly."
DiCaprio denied all accusations. It was something else that bothered him. "I would have a different color base than she did and then our makeup would swap," he explained. With Jack being an adventurer and Rose a socialite, DiCaprio's darker foundation found its way onto Winslet's pale complexion every time they locked lips. "I would end up with this kind of really unattractive browny, orangy color," she laughed.
However, none of their kissing, backseat love-making, and charcoal drawing onscreen translated into romantic feelings behind the scenes. Instead, Winslet and DiCaprio developed a friendship on the "Titanic" set that endures to this day. "If it wasn't for her making that film, we would have been shrapnel at this point," DiCaprio told Oprah Winfrey in 1998 (via Harper's Bazaar). "It was just the toughest film we ever had to make and we were partners together."