What Really Happened Between Liam Hemsworth And Nina Dobrev?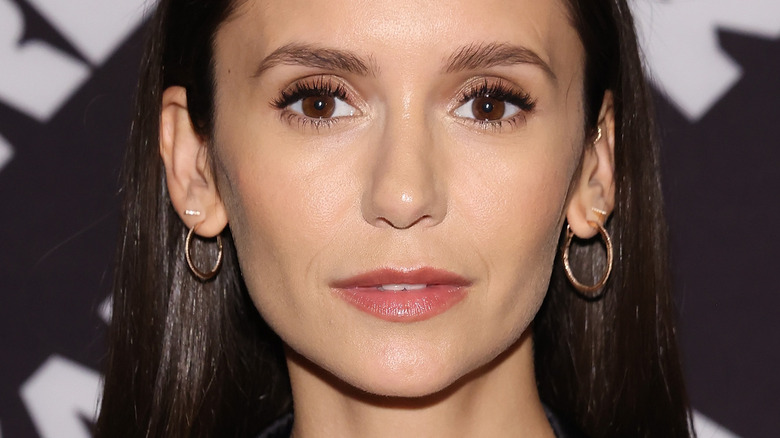 Taylor Hill/Getty Images
Hollywood is full of beautiful people, so it only makes sense that gorgeous A-listers couple up. For a time, Nina Dobrev and Ian Somerhalder were one of those pretty pairings. Life imitated art for the duo who played love interests on the CW drama "The Vampire Diaries" and dated off-screen for three years. In 2013, the co-stars-turned-couple pulled the plug on their relationship, supposedly because they were in different life stages, according to Us Weekly. Dobrev wasn't quite ready to settle down, while Somerhalder was jonesing to get married — something that was apparent by the speed with which he moved on with actor Nikki Reed. As of this writing, the two have been married since 2015.
Another beautiful couple making the red carpet rounds around the same time as "Nian" was Miley Cyrus and Liam Hemsworth. They shared a tumultuous decade-long history, involving an infamous VMAs performance with a foam finger, and a failed engagement that left Cyrus swinging around nude on a "Wrecking Ball." That was in 2013, but Cyrus and Hemsworth would later go on to reconcile, marry, and divorce — but during Hemsworth's hiatus from the former Disney star, he (briefly) found love with Eiza Gonzalez and a then-single Dobrev. In 2014, Hemsworth and Dobrev were spotted getting up close and personal at a bar in Atlanta, but did things ever go further than that? Here's what really happened between these two swoon-worthy stars.
Accounts differ on Liam Hemsworth and Nina Dobrev's date night
Michael Buckner/Getty Images
Maybe it was fate that found Nina Dobrev and Liam Hemsworth in Atlanta at the same time. She was filming her hit TV series, "The Vampire Diaries," while Hemsworth was shooting the final two installments of "The Hunger Games." During their down time, the pair apparently found time to hang out at the Corner Tavern alongside a group of friends, per Hello! A source told Celebuzz (via Hello!) that Hemsworth and Dobrev — "who were definitely acting couple-y" — shared a romantic moment. "They stayed around two to three hours and Nina left before Liam, and as she was leaving they gave each other a good night kiss," the insider reporter. "The kisses were on the lips publicly outside of the bar ... and it was three sensual kisses on the lips."
However, a separate source had a different take on the interaction. "[Dobrev and Hemsworth] were talking to each other mostly, but they didn't look flirtatious," they told E! News, adding that "it didn't seem like a date" and "there was no PDA going on." Still another onlooker spoke with People and said that "Nina was sitting on [Hemsworth's] lap and they were staring into each other's eyes while talking." The takeaway? There may or may not have been a spark between Dobrev and Hemsworth, but the chemistry wasn't enough for them to pursue a relationship. Today, Dobrev is happily dating Olympic snowboarder Shaun White, while Hemsworth was linked to Gabriella Brooks for several years before they split in August, per J-14.
It wasn't meant to be for Nina Dobrev and Liam Hemsworth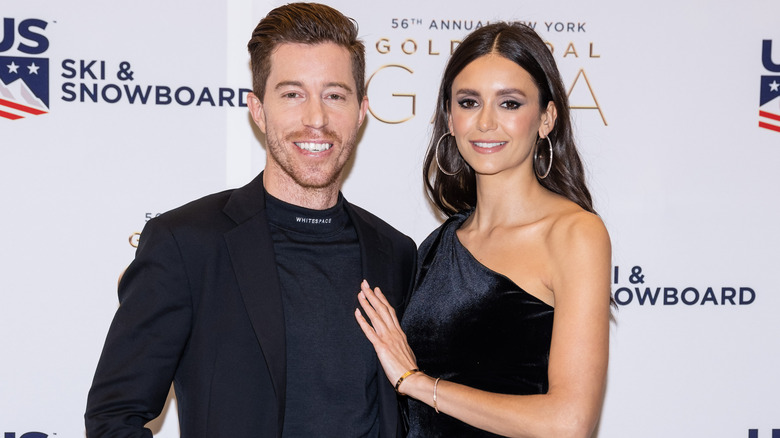 Gotham/Getty Images
A fringe theory could be that Nina Dobrev and Liam Hemsworth never hit it off because of Dobrev's ex, Ian Somerhalder. According to CelebDirtyLaundry, an unconfirmed source revealed that Somerhalder told Hemsworth to "stay away" from Dobrev. Somerhalder apparently had concerns over Hemsworth's character after the former may have cheated on Miley Cyrus ... though this was never confirmed. What's more likely is that the timing didn't work out for Hemsworth and Dobrev, or they simply weren't right for each other. In 2013, Dobrev spoke to Cosmopolitan about what she looks for in a romantic partner. "You either have chemistry or you don't, but a lot of what attracts me is a guy's mind and humor and talent," the "Vampire Diaries" alum shared. "I need to get to know all those things before I fall for someone. I'm not a one-night-stand kind of girl. I'm a relationship girl."
In other words, you need to be funny, smart, and down-to-earth to get Dobrev's attention. Hemsworth might not have fit the bill, but Shaun White does. The couple took a big step forward when they moved into a new place in New York City, as of September. Living there will be a first for Dobrev and White, but "they're excited to explore the city together," as an insider told Us Weekly. "They're trying to soak up all the alone time they can."