Why Jennifer Aniston Once Had Beef With Kanye West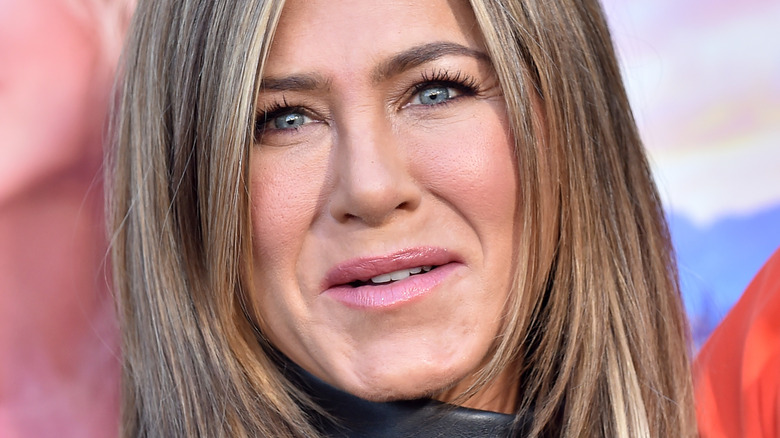 DFree/Shutterstock
The list of celebrities whom Kanye "Ye" West has feuded with has grown ridiculously long. Ye's most famous feud is undoubtedly with Taylor Swift, which kicked off in 2009 when he decided to interrupt her VMA acceptance speech for "Best Video." Over the years, Ye has also been involved in public feuds with Kid Cudi, Justin Timberlake, and even Vogue's Anna Wintour — and that's not even scratching the surface. 
The "Runaway" rapper has even feuded with the various entities he's done business with, including GAP and Vogue, many of which have cut ties with him following a series of hateful tirades directed at the Jewish community. In a statement posted to their website, Adidas, which produced Ye's Yeezy sneakers, said they "do not tolerate antisemitism and any other sort of hate speech." They continued, "Ye's recent comments and actions have been unacceptable, hateful and dangerous, and they violate the company's values of diversity and inclusion, mutual respect and fairness." According to Deadline, on Instagram, Ye claimed that he's since lost $2 billion. 
Given Ye's penchant for high-profile fallouts with... virtually everybody... it's easy to forget about some of the Grammy award-winning musician's lesser-covered feuds. For instance, Ye was once at odds with "Friends" alum Jennifer Aniston and the reason isn't super surprising. 
Jennifer Aniston urged people not to vote for Kanye West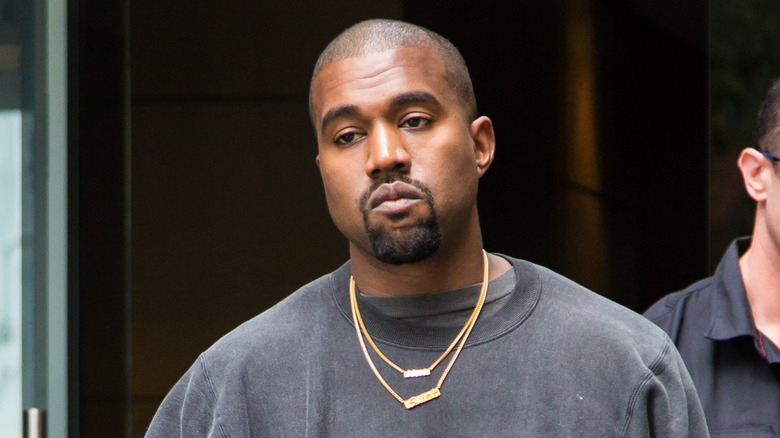 Liam Goodner/Shutterstock
Given Kanye "Ye" West's recent antics, his previous presidential bid seems like a tiny blip on the radar. However, the rapper made genuine strides toward becoming president during the 2020 election cycle. According to Billboard, Ye spent around $9 million during his campaign efforts, although he only ended up garnering around 60,000 votes. Despite his lack of political experience, the publication noted that Ye also missed the deadline to register in the majority of states, thereby shrinking his voting pool, so it's no surprise that he didn't make greater strides. 
Still, Jennifer Aniston was not pleased with Ye's efforts. Prior to Election Day, Aniston took to Instagram and posted a photo of herself casting an early ballot for Joe Biden and Kamala Harris. "I voted for them because right now this country is more divided than ever," Aniston wrote. And after urging her followers to consider those "most affected by the election" when casting their ballot, Aniston ended her post with a jab at Ye: "PS – It's not funny to vote for Kanye. I don't know how else to say it. Please be responsible." In true Ye fashion, he didn't take Aniston's dig lying down. The hitmaker, in a now-deleted post to Instagram, posted a screenshot of Aniston's statement, commenting, "Wow that Rogan interview got em shook Let's gooooooooo" (via Page Six). Ye also hit back at Aniston on Twitter, saying, "Friends wasn't funny either," though he later admitted he'd borrowed the words from an unnamed person (via Yahoo). 
Jennifer Aniston slammed Kanye West's antisemitic comments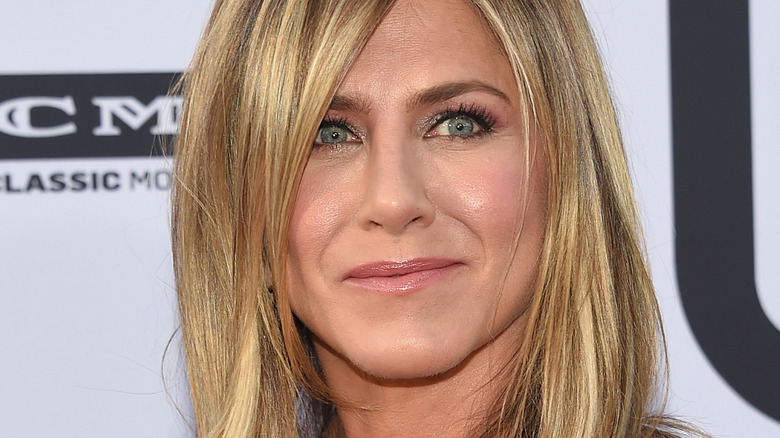 DFree/Shutterstock
Jennifer Aniston's still not here for Kanye "Ye" West. Following Ye's recent antisemitic rants, Aniston took a firm stance and made it clear she didn't support Ye's behavior. In early October, Aniston shared a series of posts speaking out against Ye to her Instagram Stories. According to GEO TV, the Emmy award-winning actor reposted posts from Rabbi Danya Ruttenberg, Anna Navarro-Cárdenas, and Jessica Seinfeld, the latter of which read: "I support my Jewish friends and the Jewish people."
Aniston's former "Friends" co-star David Schwimmer also spoke out against Ye on Instagram. "Jews make up only 2.4% of the population of the United States but are the victims of more than  60% of all religious hate crimes," wrote Schwimmer. "Whether or not Kanye West is mentally ill, there's no question he is a bigot. His hate speech calls for violence against Jews. If you interpret his words any other way and defend him, guess what? You are racist." According to NME, Aniston showed her support by liking Schwimmer's post.