Miley Cyrus And Cher Have A Complicated History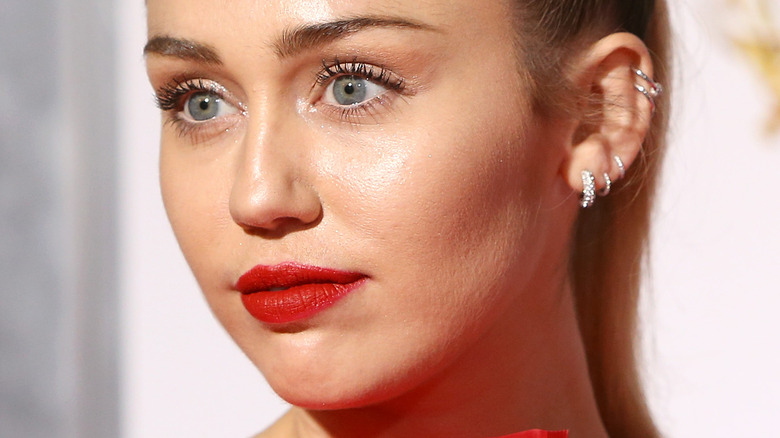 Kathy Hutchins/Shutterstock
To say Cher and Miley Cyrus have a complicated history would be the understatement of the century — but where did their tumultuous dynamic even begin?
Back in 2013 Cyrus was in the middle of her "Bangerz" era. Cue a penchant for twerking, one infamous performance with Robin Thicke at that year's VMAs — and a whole lot of controversy. Countless stars weighed in on the Disney Channel alum's risqué new persona. P!nk, for one, was not impressed. As she told E! News, "I'm a performer and I take my craft very, very seriously ... I believe that if people are gonna get up, and get out of bed, and go to work and then spend their hard-earned money on me to entertain their family, I'm gonna do it well." Likewise, Cyrus' "Hannah Montana" cast mate and TV mom, Brooke Shields, told "Today" that she felt the entire performance was "a bit desperate." 
Also adding her voice to the mix was none other than Cher — but that only marked the start of their complex relationship. So, what happened from that moment onward, and where do these singers stand today?
Cher slammed Miley's set — then (kind of) backed down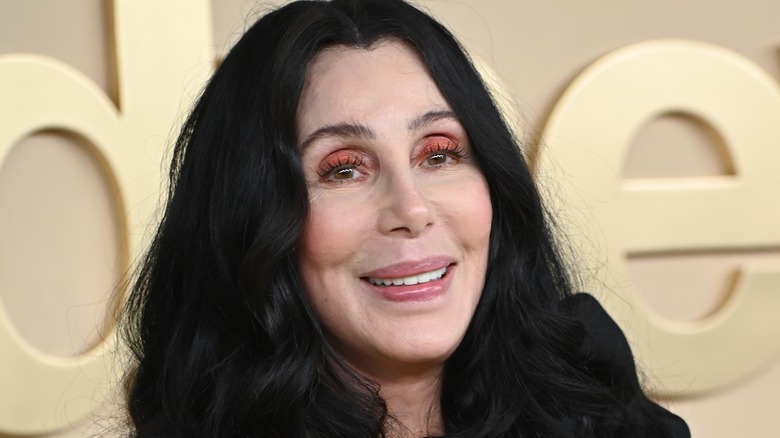 Featureflash Photo Agency/Shutterstock
Cher certainly had a strong opinion of Miley Cyrus' 2013 VMA performance — but don't get it twisted, because the "Believe" singer's reservations had nothing to do with being conservative. Far from it, Cher told USA Today that she simply didn't think it was up to scratch. 
"[Cyrus] could have come out naked, and if she'd just rocked the house, I would have said, 'You go, girl.' It just wasn't done well. She can't dance, her body looked like hell, the song wasn't great, one cheek was hanging out. And, chick, don't stick out your tongue if it's coated," she complained. Sheesh, Cher! However, it's worth noting that soon after voicing her opinion, the "Turn Back Time" singer took to Twitter to say she was "ashamed" for having been so opinionated. As part of the thread, she added that she wished she'd simply said the performance just wasn't for her, but that the set was genius, regardless. After all, she wrote, "WE'RE STILL TALKING ABOUT IT." To clarify, Cher also noted that the change of heart was "Not an apology 4 what I Thought." Rather, it was an instance of her living by her principles. Close enough, we guess? 
As for Miley's take, it turns out she was actually all for it. In SiriusXM's 2020 "Live Transmission Christmas," Cyrus quipped, "I'm like, 'Yo, I p***ed Cher off, I really made it'" (via E! News).
Years later, both have covered each other's songs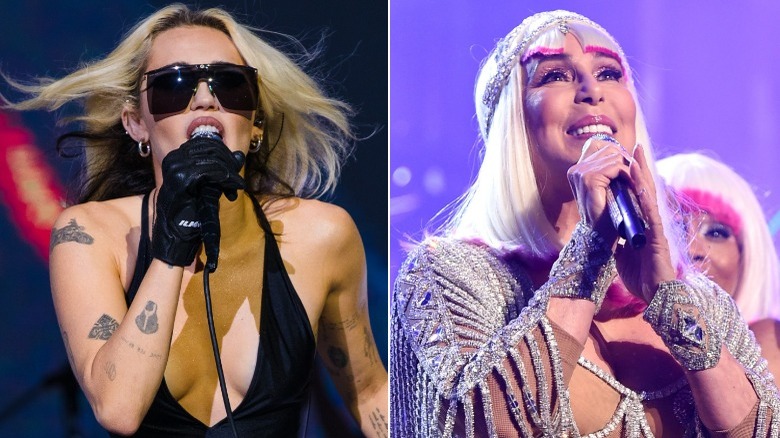 Mauricio Santana & John Shearer/bbma2017/Getty
Provoking Cher's disdain may have been one of Miley Cyrus' highest honors, but it turned out to be short-lived. 
Mere days after taking her thoughts on Cyrus' VMA performance to Twitter, Cher released a new single from her album, "Closer to the Truth" — and HuffPost was quick to point something out. That is, "I Hope You Find It" just so happened to be a song Cyrus performed first, in the 2010 film, "The Last Song." To date, neither Cyrus nor Cher have addressed the cover. However, that was just the first song these singers had in common. In 2021, Cyrus performed Cher's "Believe" as part of her Pride special, "Miley Cyrus Presents Stand By You," and it's safe to say the "Strong Enough" singer was impressed. On top of issuing a shoutout to everyone involved, Cher made special mention of her one-time target. "SHE WAS PERFECT," she tweeted. The singer also added that the video made her entire day: "DIDN'T EXPECT TO WAKE UP THIS MORNING & SEE SOMETHING THAT WOULD PUT A BIG SMILE ON MY FACE." As it turns out, while Cyrus may have loved knowing that Cher was once "p***ed off" by her (via E! News), the praise hit different. "I just wanted to make you PROUD!" she tweeted in response. 
Miley Cyrus and Cher certainly have a complicated history, but going forward, it's clear there's a ton of mutual admiration between the two.