Selena Gomez Responds To Accusations She Shaded Her Kidney Donor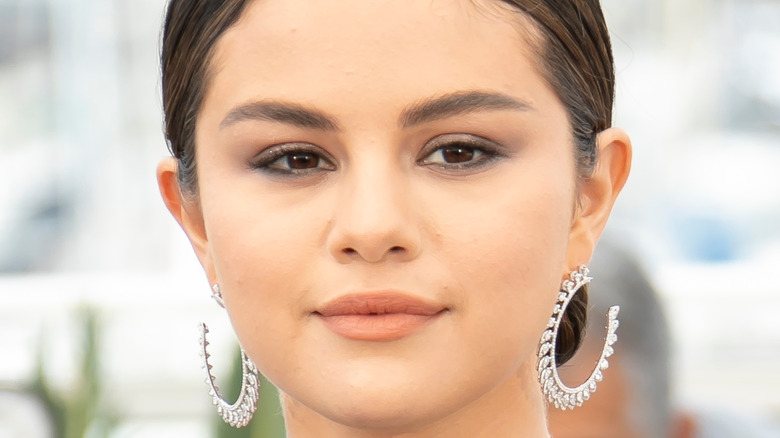 BAKOUNINE/Shutterstock
The following article contains mention of depression, suicidal ideation and other mental health issues.
Among the topics explored in Selena Gomez's new Apple TV+ documentary, "Selena Gomez: My Mind & Me," the perils of her fame take center stage. The doc partly chronicles her 2016 "Revival" tour, during which Gomez had an apparent psychotic break, per Page Six. As her then-assistant recalled, Gomez had told her, "I don't want to be alive right now" with a "pitch-black" gaze in her eyes. Experiencing auditory hallucinations by 2018, Gomez was later diagnosed with bipolar disorder.
As the "Calm Down" crooner told the November issue of Rolling Stone, many of her mental health triggers were induced by her life in the spotlight. Questioning the worth of her material luxuries and social clout, Gomez confessed that a successful showbiz career didn't seem to suit her emotionally as well as it did many around her. "I never fit in with a cool group of girls that were celebrities," she told the outlet. "My only friend in the industry really is Taylor [Swift], so I remember feeling like I didn't belong." While Swift and Gomez's best-friendship has been well-documented over the years, her statement that the "Anti-Hero" singer was her only showbiz friend raised a few eyebrows, including that of longtime friend Francia Raísa. The actor, who famously donated a kidney to Gomez in 2017, wrote in a since-deleted comment, "interesting," on an Instagram post repeating the quote. 
As fans began chiming in with theories over this perceived drama, Gomez has already responded back to the speculation.
Selena Gomez denies dig at Francia Raísa
Is there drama, or are we the drama? After Francia Raísa pointedly reacted to Taylor Swift being Selena Gomez's one celebrity friend, Gomez suggested that some took her too literally. "Sorry I didn't mention every person I know," Gomez wrote underneath a TikTok video discussing Raísa's comment. 
There is evidence, however, to suggest bad blood between the longtime friends. Although Gomez is still following her, media site Pop Crave noted on Twitter that, as of November 5, Raísa no longer follows the "Lose You to Love Me" singer's Instagram. Moreover, even though Gomez's Apple TV+ documentary, "Selena Gomez: My Mind & Me," spans intimate details over the last six years of her life, Raísa was not mentioned anywhere, per Page Six. 
That is an eyebrow-raising exclusion, given that the two were close enough for Raísa to donate a kidney to Gomez in 2017. After Gomez experienced complications from lupus, the "How I Met Your Father" actor made headlines for the potentially life-saving donation. At the time, Gomez wrote, alongside an Instagram photo of her and Raísa in adjacent hospital beds, "There aren't words to describe how I can possibly thank my beautiful friend Francia Raisa. She gave me the ultimate gift and sacrifice... I love you so much sis."
Although reports surfaced in 2018 that the once-friends were at odds, Gomez temporarily quieted those rumors when Raísa appeared alongside her in a chummy July TikTok.
If you or someone you know needs help with mental health, please contact the Crisis Text Line by texting HOME to 741741, call the National Alliance on Mental Illness helpline at 1-800-950-NAMI (6264), or visit the National Institute of Mental Health website.