Selena Gomez Goes Into Detail About Life With Bipolar Disorder
DFree/Shutterstock
Selena Gomez has grown up in front of our very own eyes. From watching her on "Barney" with former BFF Demi Lovato to moving to the Disney channel on the hit show "Wizards of Waverly Place," to her career in music and, most recently, one of her most sophisticated roles yet — starring alongside Martin Short and Steve Martin in "Only Murders in the Building" — her professional career has been one to watch. But aside from fame, the star has also faced a lot of adversity off-camera, especially regarding her mental health.
In April, the actor made an appearance on "Good Morning America," where she revealed several details about her diagnosis with bipolar disorder and why it was a big relief for her to have some answers finally. "It was really freeing to have the information [of being diagnosed with bipolar disorder]," she said on the show. "It made me really happy because I started to have a relationship with myself, and I think that's the best part. Like, I've probably been the happiest I've ever been." Gomez also talked about her company, Wondermind, which she launched with her mom. The multimedia company provides resources to others struggling with the same thing. "I really want people to be understood and seen and heard. It's okay to not be okay," Gomez added in the interview.
Now, Gomez is getting vulnerable about the topic in a new documentary.
Selena Gomez opens up about her journey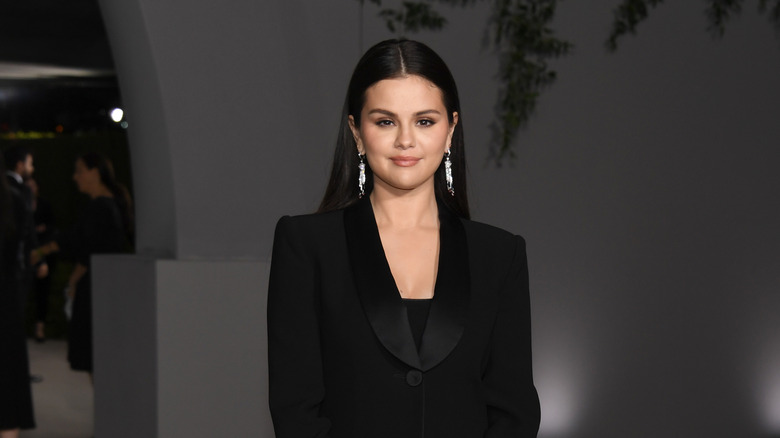 Jon Kopaloff/Getty Images
Selena Gomez is not one to shy away from talking about hard-hitting topics, and her experience with bipolar disorder is no exception. The singer gets candid on the topic in her documentary, "My Mind & Me." In a clip shared by Vanity Fair on TikTok, Gomez shared her memory about what it was like to be diagnosed with bipolar disorder. 
"When I first got out, I didn't know how I'd cope with my diagnosis. What if it happened again? What if the next time, I couldn't come back?" she confessed, adding that she needed to take her time learning about it and taking "it day by day." As Gomez sat in bed and wrote notes in her journal, she confessed that when she was a kid growing up in Texas, she was terrified of thunderstorms. She said that she immediately thought thunder and lightning meant a tornado. But, her mother gave her books to educate her on the topic, and she said it really helped her learn things about it and not be scared, which is the same with her bipolar diagnosis.
There's also a preview clip from "My Mind & Me" on YouTube, where Gomez says she's "grateful to be alive." The documentary will also highlight Gomez's struggles with lupus, depression, and anxiety. While Gomez breaks down about not wanting to be "super famous," she says she wants to use her platform to do good.
If you or someone you know needs help with mental health, please contact the Crisis Text Line by texting HOME to 741741, call the National Alliance on Mental Illness helpline at 1-800-950-NAMI (6264), or visit the National Institute of Mental Health website.