The Game's Fond Memory Of Aaron Carter Is Breaking Fans' Hearts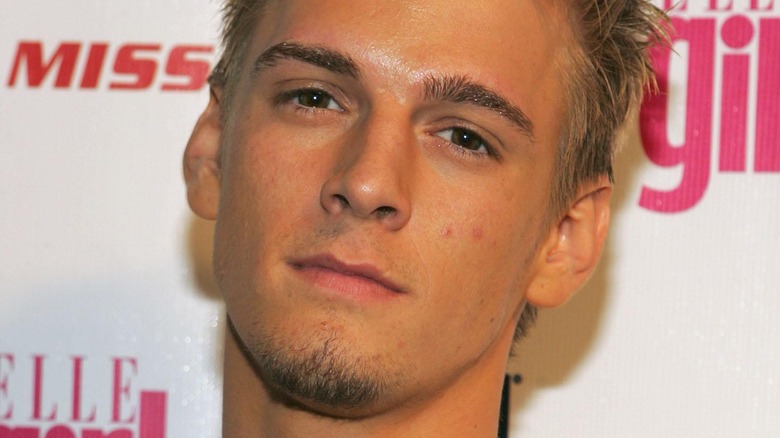 Everett Collection/Shutterstock
Following the heartbreaking news of Aaron Carter's death, many of his loved ones have been paying tribute to the late entertainer. Hilary Duff, who dated Carter in the early aughts, shared on her Instagram feed, "For Aaron – I'm deeply sorry that life was so hard for you and that you had to struggle in-front of the whole world. You had a charm that was absolutely effervescent...boy did my teenage self love you deeply. Sending love to your family at this time. Rest easy." Paris Hilton also shared a touching tribute to Aaron. "Sad to hear about the news of @aaroncarter. He was always kind to my family and I. He had a good heart. Gone way too soon. Sending my thoughts and condolences to his loved ones and family. RIP," she tweeted.
Aaron's brother, Nick Carter wrote a message on his Instagram feed that touched people deeply. "My heart is broken. Even though my brother and I have had a complicated relationship, my love for him has never ever faded. I have always held on to the hope that he would somehow, someday want to walk a healthy path and eventually find the help that he so desperately needed," he wrote. Nick went on to acknowledge mental illness and addiction, ending his post with, "God, Please take care of my baby brother." Now, another one of Aaron's close friends has shared a tribute that has many fans tearing up.
The Game was inspired by Nick Carter's tribute
Graham Denholm/Getty Images
The Game was so touched by Nick Carter's Instagram post that it inspired him to share his own fond recollection of Aaron Carter. "It was mid year 2005 and I boarded a flight to New York with my now 19 year old son @harlemtaylorr & his mom @___alseska to do 106 & park and we were 1st class so we thought... turns out they over booked & we were one seat short," he wrote. The Game revealed that Aaron was sitting across the aisle and recognized the then-relatively new rapper. "Hey, you guys can have little man.. you can have my seat Game," Aaron had said. He then left his seat and proceeded to sit in coach.
The Game shared how he felt bad that Aaron had given up his first-class seat and went to sit with him. "We ended up talking the entire damn near 6 hour flight & I can remember thinking how kool it was to be talking to a guy I seen on MTV a million times who my lil sister loved to death cause again I had just become a star so this was super dope." The Game ended his heartfelt post with condolences to Aaron's family and told them they can reach out to him for "whenever, FOREVER."
Aaron is survived by his 11-month-old son Prince, whom he shared with his ex-fiancee Melanie Martin, per In Touch Weekly.