Hilary Duff's Vulnerable Tribute To Aaron Carter Has Fans In Their Feelings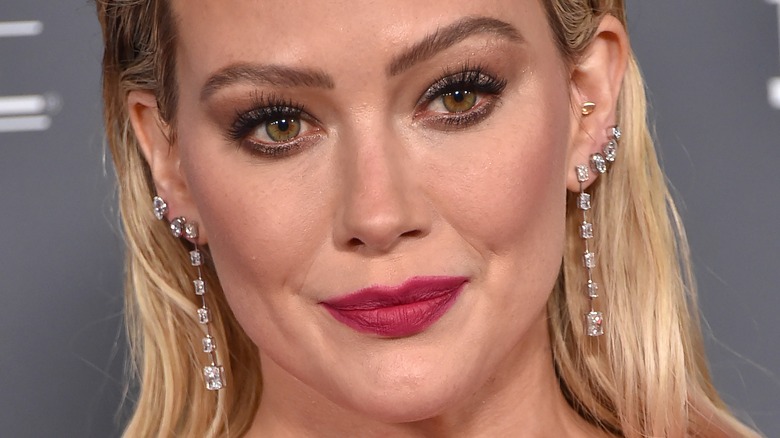 DFree/Shutterstock
Whenever someone thinks of Aaron Carter and the prime years of his career, there's no doubt that Hilary Duff's name comes to mind as well. With the tragic news of Carter's death sending shockwaves throughout the celebrity and entertainment world, a lot of people can't help but wonder how his family, his friends, and his loved ones are taking the news. 
Soon after it was announced that Carter had passed away, Twitter users reached into their time vaults and began posting videos of Carter's holiday appearance on the much beloved "Lizzie McGuire" series, which starred Duff. Suffice to say, no one will ever forget the moment Lizzie met the pop star for the first time. Many Twitter fans commented on the throwback clips, with one user tweeting, "I'm gutted to hear about Aaron Carter. Every millennial girl remembers his iconic guest appearance on Lizzie McGuire." Another wrote, "Having grown up watching Disney Channel, the news of Aaron Carter's death is really shocking to hear. Goofy stuff like 'How I Beat Shaq' and his version of 'I Want Candy' from Lizzie McGuire live rent free in my mind to this day."
Well, all of that 2000s nostalgia has gotten fans thinking about Carter's past with Duff. And just like the rest of the world, Duff had something to say about Carter's death, too.
Hilary Duff says she loved Aaron Carter deeply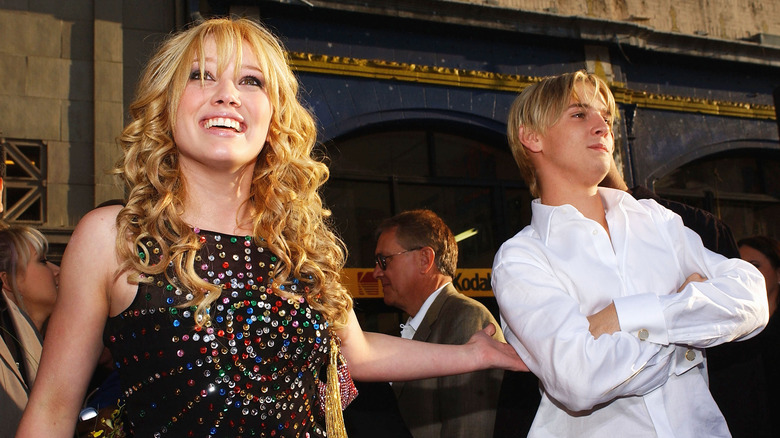 Lucy Nicholson/Getty Images
A few short hours after Aaron Carter's death was reported, Hilary Duff opened up about the boy that she had a major crush on — just like so many young teens her age back in the 2000s. Unlike the other fan girls, Duff was in a brief relationship with Aaron, albeit one that ended in some alleged cheating drama.
Years after they went their separate ways, Duff took to her Instagram account to address Aaron's tragic death. "I'm deeply sorry that life was so hard for you and that you had to struggle in-front of the whole world," she wrote. "You had a charm that was absolutely effervescent... boy did my teenage self love you deeply." Duff's post certainly left a lot of fans in their feelings in her comments section, too. "Beautiful said Hilary," one fan said. "The episode of Aaron on lizze McGuire is forever one of the best memories of my childhood!!!!"
Other celebrities along with Aaron's family members like his brother Nick Carter and his twin sister Angel Carter have also paid tribute to him on social media. Lindsay Lohan, who dated Aaron soon after he broke up with Duff, is yet to comment about his death as of the time of this writing, which has raised some eyebrows among Lohan's fans. As many people can recall, Lohan and Duff supposedly had a feud over Carter back in 2004, as detailed by Buzzfeed. Love triangle aside, there's now no doubt Aaron touched Duff's life in a lasting way.