Inside Chadwick Boseman's Relationship With Letitia Wright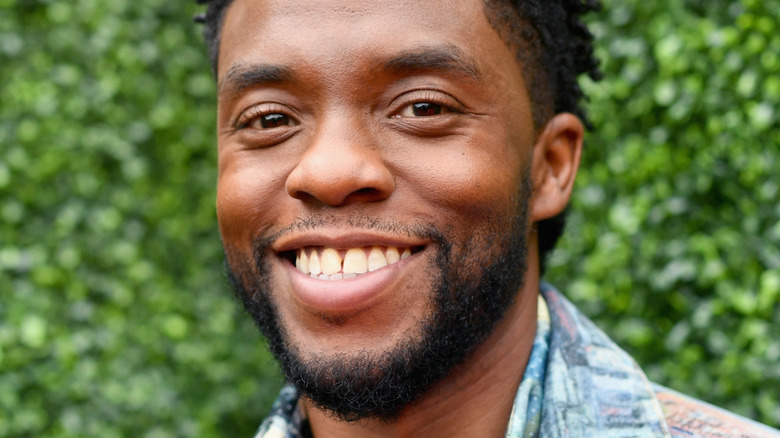 Emma Mcintyre/Getty Images
Letitia Wright captured everyone's attention when she starred in "Black Panther" alongside industry greats Chadwick Boseman, Lupita Nyong'o, Angela Bassett, and Daniel Kaluuya. In the film, she portrayed Shuri, the brainy and fascinatingly witty scientist with a talent for wielding deadly weapons for her older brother, the king of Wakanda and titular Black Panther, played by Boseman. And, although she was relatively new to the business, Wright was undoubtedly a scene-stealer.
Aside from Wright's brilliant portrayal of Shuri, she was also praised for her undeniable chemistry with Boseman. Their on-screen, brother-sister dynamic was not something you see every day. As it turns out, it's because she had already been a big fan of the actor from the get-go. She even manifested that she would play his sister. "I was very, very confident that he would be my big brother from the moment I met him," Wright told Cassius Life. "Sipping on his smoothie, looking at me up and down, sizing me up, I was like, 'you finna be my big brother.'"
When Boseman died in 2020, Wright paid him a touching tribute that made it clear that their brother-sister relationship transcended the screen. Over the years, the two had managed to form a bond that she will forever cherish.
Letitia Wright treated Chadwick Boseman like her real brother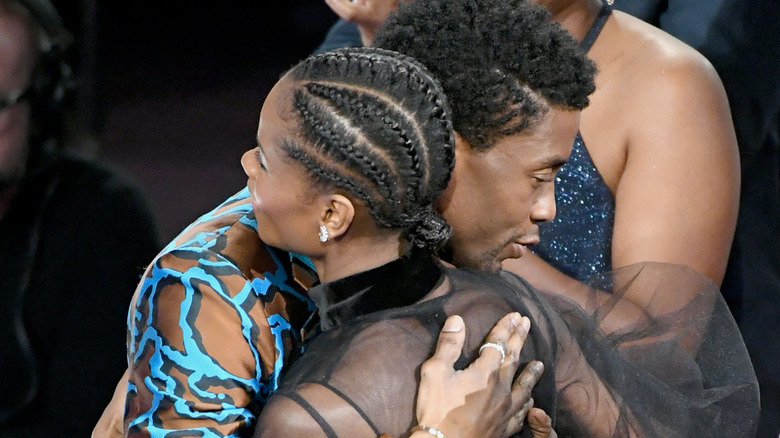 Kevin Winter/Getty Images
According to Letitia Wright, she already loved Chadwick Boseman from the very first moment they met. "I heard God speak to my heart; that he would be my brother, and that I was to love him as such. As we read our lines, playing siblings for the first time, my hand reflexively went to his chest, over his heart, surprising me," she wrote in her tribute to the actor for British Vogue. "It became more than an audition scene. I felt I had found the big brother I never had."
They quickly became close, and not long after, Wright shared that she treated Boseman as her actual brother. "I would just go to him, give him a hug, tell him I love him. And then he'll just be like giggling in the corner or smile. And that's how we are. He does it for me too," she told The Hollywood Reporter of their relationship, adding that God probably intended for them to be that close. "What you guys see on screen is literally, it's pretty much like, 'Oh, man, this is ordained.'"
Wright also had nothing but praise for her late friend. She said that, in the years they'd known each other, Boseman taught her an important lesson. "When he listened, he gave you his full attention," she wrote. "He taught me the power of stillness: knowing who you are and letting that speak for you."
Letitia Wright believes Chadwick Boseman is still with her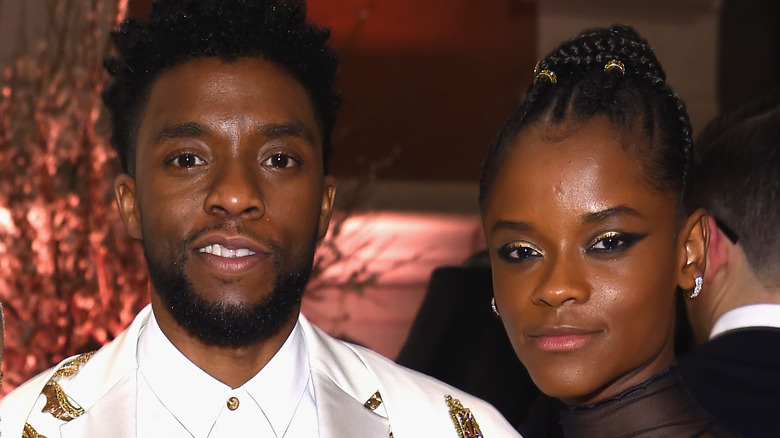 Dimitrios Kambouris/mg18/Getty Images
Even though it's been years since Chadwick Boseman passed, Letitia Wright said that she can still feel his presence, especially when she's on set. Speaking with People, the actor shared that whenever she was struggling during the filming of "Black Panther: Wakanda Forever," she would call on Boseman to help her power through. "I will always have moments on set of doubt, and I'll be like, 'Oh man, I don't know if I can do this.' I could just hear [Boseman] be like, 'Sister, you're great. You got this. I'm proud of you,'" she recalled.
She also did everything in her power to put on a good performance in the sequel to honor Boseman. "I feel like it's a love letter to him," she said of the film on "The Tonight Show Starring Jimmy Fallon." "I know every day that I went on set, I focused my energy each scene to dedicate it to him. I wanted to dedicate excellence to this film so that he could be proud."
Perhaps Wright's biggest regret was not being able to tell Boseman how much she looked up to him. "I wish I had got to say goodbye. I wish that I could tell him how much he inspired me," she wrote in her British Vogue tribute. "How cherished he is by the world. How grateful I am to him for seeing me, a young Black woman from Guyana... How his yes for me to be a part of his world changed my life forever."