Rob Kardashian's Rare Appearance With His Family Didn't Go Unnoticed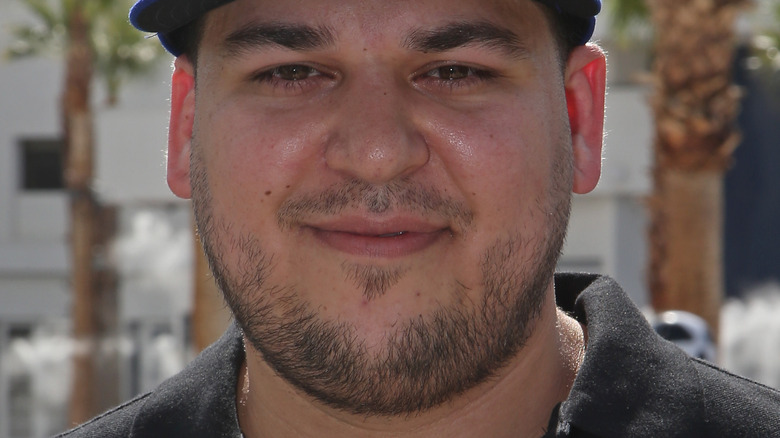 Gabe Ginsberg/Getty Images
When it comes to famous Hollywood families, the Kardashians rank among the most popular. There's no doubt that the ladies of the squad steal the spotlight at most events, and they all boast a wild number of social media followers. Still, we can't forget about the only male member of the Kris Jenner-headed crew — Rob Kardashian. As fans know, Rob appeared in a few seasons of "Keeping Up With the Kardashians" before he started to fly under the radar to build his Arthur George sock empire.
Still, Rob made plenty of headlines for his marriage to Blac Chyna, and they even appeared in the short-lived reality show, "Rob & Chyna." According to IMDb, the series ran for just one season in 2016. When the Kardashians began their new reality show on Hulu, Rob didn't take the bait and join along. "Rob will NOT be appearing in their Hulu show because he does not want his life or the life of his daughter to be a part of it. Everyone respects this decision," an insider told Hollywood Life. "Doing the show with E! caused him nothing but pain and hardships as he had several hospitalizations." So, it makes sense why reality TV isn't at the top of his list. 
But, it seems like the reality star isn't totally done with the spotlight, and a recent appearance with his mother and sisters proves that Rob's alive and well. 
Rob Kardashian celebrates Kris Jenner's birthday
Rob Kardashian is a pro at ducking out of the spotlight, which is the exact opposite of his famous sisters. But every once in a while, the father of one will make an appearance in public, generating a lot of buzz from fans. In November, Kim Kardashian took to Instagram to share a photo from Kris Jenner's 67th birthday bash. Included in the black-and-white snap were Kim, Kris, Kourtney Kardashian, Khloe Kardashian, Rob, and their grandmother, Mary Jo "MJ" Campbell. Rob looked casual in a baseball cap and a black graphic t-shirt, while his sisters and mom got a little more glammed up.
Kim penned a lengthy caption in honor of their mother's special day, gushing over how fun it was to celebrate her. While the post itself was super sweet, most fans couldn't help but acknowledge Rob's presence in the comments section of the upload. "We love to see Rob !!" one social media user gushed. "We want more rob content!" another fan pleaded, adding a single red heart emoji to the end of their comment. "Finally a photo with Rob," a third Instagram user chimed in.
Rob's most recent social media post is from July 9, when he shared a sweet shot of his daughter, Dream Kardashian, posing on a tropical getaway. The update included a few other photos, including a shot of Rob, but sadly it was only of his legs.