The Touching Way LeBron James Remembered Takeoff Before His NBA Game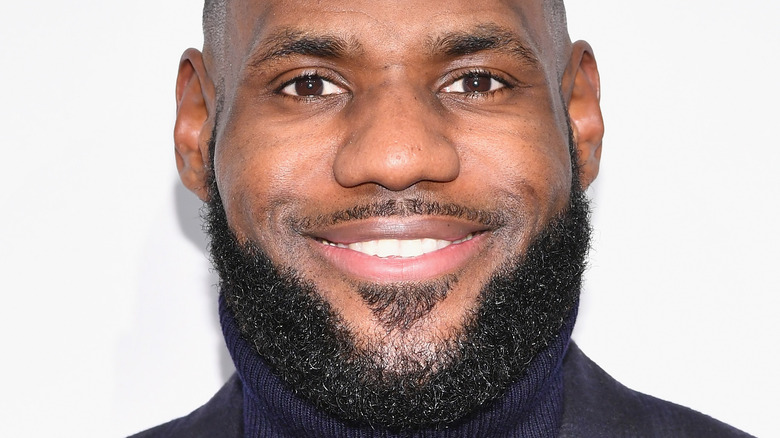 Slaven Vlasic/Getty Images
The hip-hop world took a major blow on November 1, 2022, when it was announced that Migos rapper Takeoff — real name Kirsnick Khari Ball — was shot and killed at only 28 years old. He had attended a Halloween party at a bowling alley in Houston and was shot two times, including in the head, when a group of people had congregated outside the venue once the party was over, per KPRC 2. The tragic news triggered not only an outpouring of reactions from the music community but from the sports world as well.
Migos, the chart-topping hip-hop trio that Takeoff was best known for, had a special bond with sports teams in their home base of Atlanta. In fact, the Atlanta Braves, the Atlanta Falcons, and the Atlanta Hawks all took to social media to mourn the rapper. "We are heartbroken over the passing of Takeoff, a passionate Hawks fan and pillar of Atlanta culture," the Hawks tweeted on November 1. Trae Young, the team's star player, was blindsided by the "Us vs. Them" rapper's death. "No F***ing way," he tweeted on November 1. Speaking to the media days later, Young discussed how Takeoff's death had taught him gratitude. "[You learn] just how short this life can be and how you can't take any moments for granted," the point guard said on November 6, via Alive11.
Meanwhile, LeBron James paid tribute to Takeoff by first updating his Instagram profile photo to honor the slain rapper on November 3. A few days later James made an especially touching gesture to remember the young artist.
LeBron James dressed as Takeoff pre-game
Prior to his game on November 6, LeBron James paid tribute to Takeoff by dressing up in an outfit inspired by the rapper. The Los Angeles Lakers forward rocked a black suit, with a white shirt, and matching black tie. James completed the look with an eye-catching Jesus chain. On Instagram, the NBA star posted a snap of himself in the outfit and added a slide of Takeoff wearing the same look. "If you know me any then you know how much I love @yrntakeoff!!" James wrote in the heartfelt caption. "Still doesn't feel real to me! 😢. Rest in Paradise Rocket Man," he added while including a rocket emoji which was synonymous with the Migos rapper. The comment section was littered with both praying hand emoji and rocket emoji as followers took notice of the Takeoff tribute.
James's relationship with Migos had been well-publicized over the years. In 2020, the rap trio sampled various Instagram posts from the NBA All-Star for their "Taco Tuesday" track that dropped just before that year's Cinco de Mayo, per LeBron Wire. Around that time, James had made several viral Taco Tuesday-related posts online. After the Migos tune was released, James posted a video of himself rocking out to the song on social media.
When James joined the Lakers in 2018, Migos rapper Quavo honored the occasion by crafting a song for ESPN. He posted a snippet to Instagram but despite his good intentions, James received online backlash when fans fact-checked a claim about his Migos fandom.
Fans think LeBron James lied about Migos
After the November 6 game where LeBron James wore an outfit inspired by Takeoff, he continued to wear the suit during his post-game presser. During this, James claimed that he had been listening to Migos since the early days of his tenure with the Miami Heat before the Atlanta trio blew up. "I was listening to those guys my first year with the Heat in 2010," he said, via Clutch Points's Michael Corvo. "You can ask any of my teammates back then who had no idea who Migos was," James added. That seemingly innocuous claim sparked backlash from fans in the hip-hop community.
Multiple fans pointed out that The King could not have been listening to Migos during his first year with the Heat, as he joined the team in 2010 and Migos was not founded until 2011. Once the timeline incongruity was pointed out, plenty of Twitter users mocked the Lakers standout. One user joked that James was the mastermind behind giving Takeoff his nickname. "He really is the greatest liar of all time," another tweeted about James. Perhaps James was merely off by a year while remembering when he first started listening to the "Bad and Boujee" artists.
Regardless of when he started listening to them, the bond between James and the Migos was clearly evident. In 2017, Quavo returned to his high school where he played football as a student, and gifted the entire basketball team new pairs of LeBron 15 sneakers, per the Atlanta Journal-Constitution.