Why Anna Faris And Dax Shepard Were Almost An Item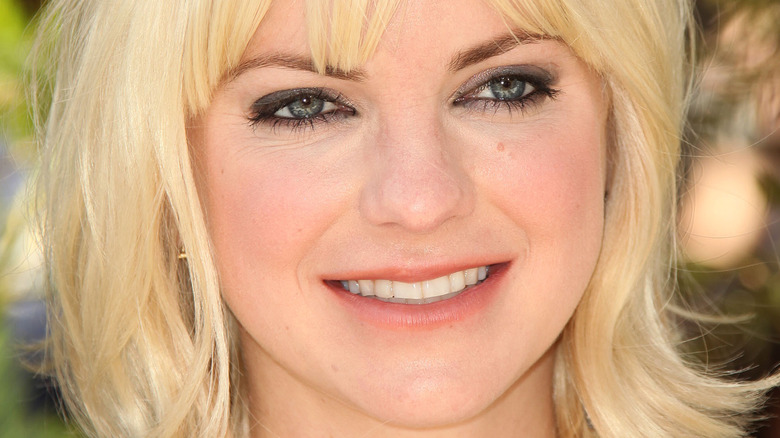 DFree/Shutterstock
It's hard to imagine Dax Shepard with anyone other than his adorable wife, Kristen Bell. The two are one of the cutest couples in Hollywood, and have never shied away from being totally honest about their kooky romance — including admitting it wasn't exactly love at first sight. "When I met her and her friends, I was suspicious of their unbridled happiness. I thought, 'Something stinks here; they're in a cult,'" the "Employee of the Month" star joked to Good Housekeeping during a joint 2015 interview. That changed when they ran into each other at a hockey game two weeks later though, with Shepard admitting, "I thought to myself, 'Who is this sparkly creature?'" and they've pretty much be joined at the hip since.
Bell also admitted they didn't exactly have the most insatiable spark when she first met her husband to be, telling Flare in 2013 that it wasn't until their second run in at the sporting event that she realized the comedian and actor was the one for her. "He was with someone I knew, and I was with my roommate, Ryan Hansen — and we ran into each other. It was on from that point," she shared. Adorable!
But, while we don't want to burst this love bubble we love to love, things could have turned out very different had a single Shepard been successful with a plan he had to woo Anna Faris.
Dax Shepard wanted to ask Anna Faris on a date
Rather than worshiping Daxsten, we could have been all about Danna. Dax Shepard opened up about the attraction he once had to Anna Faris when she appeared on his "Armchair Expert With Dax Shepard" podcast in March 2018, explaining that back in 2005 he was a fan of the "Scary Movie" star and tried to shoot his shot when he was seated next to her at an event. "I saw 'Just Friends' and was like, 'You are so talented' and you and I sat next to each other during a premiere," he shared, revealing he let Faris know he was interested and tried to get her talking by asking plenty of questions. Only, his attempts were all in vain. The "Parenthood" star recalled before finding love with Kristen Bell, "I would definitely like to take this person on a date. Then from my point of view, that door was shut. It was like a dead-bolt door." As for why? Well, Faris was married at the time, and she admitted her first husband, Ben Indra, was sitting the other side of her at the premiere. Awkward. 
Faris also admitted that Indra wasn't exactly the happiest about Shepard basically hitting on her in front of him, though she and the actor shared a laugh about the incident during the interview. That's probably because she and Indra went on to end their marriage in 2008, blaming irreconcilable differences, according to People.
Anna Faris divorced twice after shutting down Dax Shepard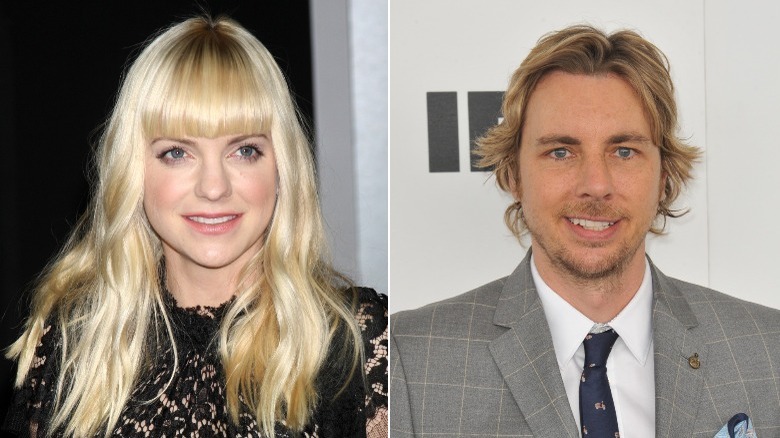 Kathy Hutchins & Featureflash Photo Agency/Shutterstock
After making it clear to Dax Shepard that anything romantic was a no-go, Anna Faris didn't exactly have the luckiest time in love. Following her divorce with Ben Indra, she married Chris Pratt in 2009 and the two stayed together until 2018. The star got very candid about her breakups on "Armchair Expert With Dax Shepard," admitting her take on marriage had changed following her divorces. "Is it safety for your children? Is it convention? Is it so other people respect your relationship more? For me, I'm just not quite sure where [marriage] fits," she shared. "I am a romantic. I believe in partnership, I believe in companionship. I just don't know I believe in the ceremony of a wedding."
Shepard and his wife, Kristen Bell, have also been very open about their takes on marriage, including getting candid about their struggles at the start of their relationship. "We'd get in a fight — because we would fight, a lot — and I'd, like, yell something then slam the bedroom door, then I'd slam the front door, then I'd get in my car and then I'd skid out the driveway, and then I would sit around the corner in my car," she explained of the first year of their romance on Harry Connick Jr.'s now defunct talk show "Harry" in 2018. "It felt so good, and I realized how incredibly toxic it was only after he pointed it out."