Tom Brady And Gisele Bündchen: Who Will Find Love Again First? Experts Weigh In – Exclusive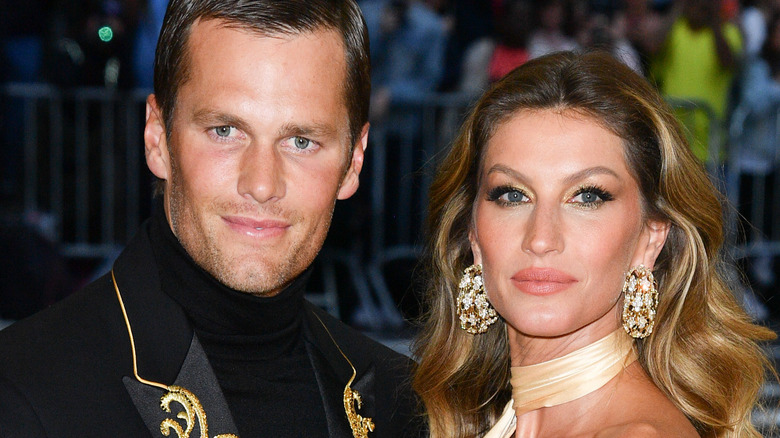 George Pimentel/Getty Images
It seemed like the whole world was buzzing about Tom Brady and Gisele Bündchen's marriage before the longtime couple officially announced they were going their separate ways. The football legend and the iconic supermodel confirmed their divorce after weeks of speculation they'd hit a rough patch, with the pair being legally single as of October 28, per People.
"The decision to end a marriage is never easy but we have grown apart and while it is, of course, difficult to go through something like this, I feel blessed for the time we had together and only wish the best for Tom always," Bündchen wrote in a statement posted to her Instagram Story confirming the breakup, while Brady also took to Instagram Stories to share a similar sentiment. "We arrived at this decision amicably and with gratitude for the time we spent together. We are blessed with beautiful and wonderful children who will continue to be the center of our world in every way," he wrote (via People).
Since then, there's been plenty of speculation about who the genetically blessed twosome may date next, with Bet Online even compiling lists of eligible bachelors and bachelorettes that might be in the running. And it could be a case of ex-partner swap, as Kim Kardashian is on the list for Brady while Pete Davidson is on the list for Bündchen. Now there's an episode of "Wife Swap" we'd like to see! But who's actually more likely to move on first?
Tom Brady may have a few 'flings,' according to a matchmaker
Nicki Swift spoke to Susan Trombetti, matchmaker and CEO of Exclusive Matchmaking, who believes Gisele Bündchen will be first to dip her toe back into the serious relationship pool. "Tom could possibly be spotted with someone first, but Gisele will be the first to move forward with a new, more long term relationship and love. The only thing we might spot Tom doing is having a few flings," she suggested, pointing out that outlets like People have claimed Brady didn't want to divorce and may take some time to process things, as he's still wrapped up in football. "There could be so many women in his orbit, that he never feels isolated and alone enough to sit back and ponder. Also, he could go from short term fling to fling. He can't seem to retire and that might hit him hard as well when he does," Trombetti shared.
Of course, Brady's made it pretty clear he still has no plans to say goodbye to football (despite retiring, then un-retiring shortly after) stating during a Tampa Bay Buccaneers press conference in October, "No retirement in my future."
As for the supermodel, Trombetti told us, "Gisele on the other hand, has been lonely for a while... While I am sure she is sad, she has gone through it for years, and is now coming out on the other side. She will have no trouble finding the right one."
Tom Brady could be hung up on Gisele Bündchen for a while
Nicki Swift also spoke to life coach and relationship expert Nicole Moore, who agreed Gisele Bündchen will likely get into another serious relationship first. "Tom may rebound first but Gisele will find true love first," she predicted, noting that Brady may indulge in a little casual dating to help distract himself. "I highly doubt his heart is truly open to real love, so it's likely that any relationship he does enter into will be a fling at best." She also claimed Brady made his priorities clear when he ditched his retirement plan, admitting, "Tom [could continue] to use football as a distraction, in which case, he will physically move on at some point but will likely remain emotionally stuck on Gisele in some way for years to come."
On the opposite side of the field, Moore noted, "Gisele's in a more healed place within than Tom is, so she'll likely attract a better partner and have a higher chance of finding true lasting love than Tom." Moore speculated the supermodel could potentially be in another serious relationship one or two years after the divorce, pointing out, "Gisele was emotionally done first, so she will likely fully move on first."
Notably, a source told People in October that Bündchen was seemingly doing okay post-split, stating, "[She's] lived her own life for years while Tom played football so she's not afraid to do things by herself."