Savannah Guthrie Claps Back At Today Fans Over Segment With Ashton Kutcher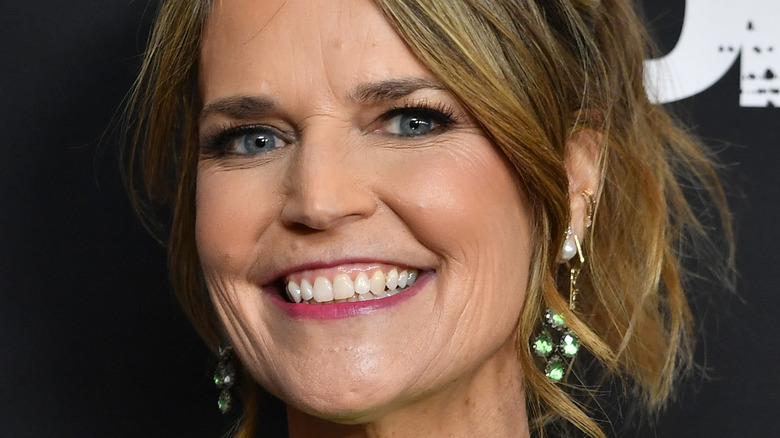 Roy Rochlin/Getty Images
Anchor Savannah Guthrie is addressing those rumors about her pulling a fast one on viewers during a segment on "Today" with actor Ashton Kutcher. The "That '70s Show" actor appeared on the November 4 episode of "Today" to discuss his upcoming participation in the New York City Marathon that weekend. In preparation for the feat, host Carson Daly presented two large pint glasses of beer for Kutcher and Guthrie to "carbo-load." The pair agreed to chug the beers together, quickly downing the drinks.
But audiences immediately raised their eyebrows at the validity of the segment asking: Did Guthrie drink an actual beer? Since the glasses were clear, you can see that even after the chugging was done, Kutcher's glass had that leftover foam that beer leaves but Guthrie's was missing any foam. "Zero chance the 'Today' show served Savannah a flat beer," one user wrote on Twitter. "It's apple juice."
After all this online speculation, Guthrie is speaking out about the fake segment accusations.
Savannah Guthrie insists it was a real beer!
On the November 7 episode of "Today," the group of hosts — including Savannah Guthrie, Carson Daly, Hoda Kotb, and Dylan Dreyer — gave an update on actor Ashton Kutcher's placement in the New York Marathon. "He had an impressive three-hour-fifty-four-minute run," Daly recounted on the show (via The Sun). "We think that is highly attributed to the beer chugging he did with Savannah before."
In a quick exchange during the transition to the next story, Guthrie defended herself to the audience. "It was a real beer!" Guthrie added. "Some people were like, 'That wasn't beer.'" Even Kotb — who is good friends with Guthrie on and off camera — jumped in, echoing, "It was real beer!"
Other than taking Guthrie's word for it, we will never truly know if that beer was real or not. But this certainly wouldn't be the first time audiences have called out a TV show's segment for being faked. After fans spotted James Corden's Carpool Karaoke car in 2020 getting towed around by another truck — instead of Corden driving it himself — the British host had to address the controversy on "The Late Late Show." In the case of "Fake Beer Gate," the proof may just be in the pudding, aka the foam!