What Savannah Guthrie Is Really Like Behind-The-Scenes Of The Today Show
Bryan Bedder/Getty Images
Savannah Guthrie has become a staple within the NBC community. Since 2018, she has headlined "Today" alongside co-host Hoda Kotb, marking the first time that both lead "Today" anchors were female. Their pairing proved to be a huge success, bumping ratings to a five-year high at the time, per The New York Times. However, recent reports indicate that, behind Kotb and Guthrie's smiles, a feud might be brewing.
Amid these rumors, Guthrie also raised eyebrows when she arrived roughly 20 minutes before the show was supposed to go on-air. She played it off as an honest mistake, but an inside source told Page Six that her intent was to show producers "who is the boss and that they can't do the show without her." Additionally, the insider debunked the idea that Guthrie could miss work for two key reasons: the show scheduled a driver to pick her up every day and that "the entire force of NBC News is dispatched to find out where she is" if she doesn't show up.
Even so, Guthrie maintains the image that all is well over at NBC — something one of her co-hosts recently opened up about.
Craig Melvin opens up about Savannah Guthrie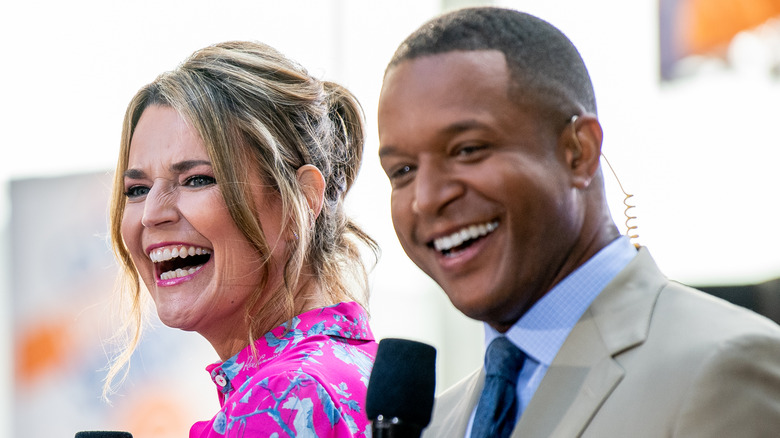 Roy Rochlin/Getty Images
While co-host Hoda Kotb was on vacation for most of the summer, Savannah Guthrie was joined by another NBC favorite, Craig Melvin. He joined "Today" as its weekday news anchor in 2018. Speaking with Hello!, Melvin gushed over his "Today" family. More specifically, he praised both Guthrie and meteorologist Al Roker for their sharp humor.
"I didn't know it until I started hosting with her, but Savannah Guthrie is wicked funny," Melvin explained. 'Her sense of humor is high brow." He then added that "her humor is quite bright" because "she's quite bright." Melvin's statements don't negate the rumors that Guthrie is difficult to work with, but they do highlight a different side of the news anchor's personality.
However, according to The U.S. Sun, Melvin wasn't immune to the awkwardness that follows Guthrie in recent episodes of "Today." When transitioning from news to weather, he made a "Sun's out, guns out" joke about meteorologist Dylan Dreyer's arms being visible. Guthrie interrupted him to point out that he didn't mention her arms, "because my guns are like flabby spaghetti." While he assured her this wasn't true, the uncomfortable moment threw off the rhythm of the show.
Does Savannah Guthrie get along with Hoda Kotb?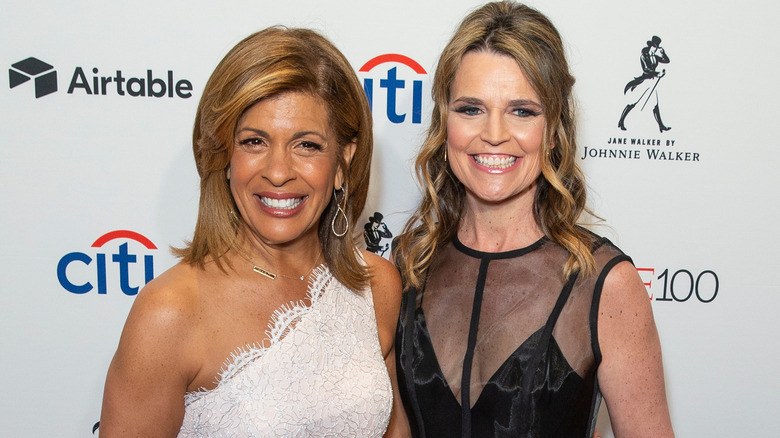 lev radin/Shutterstock
While Craig Melvin sings Savannah Guthrie's praises, her relationship with co-host Hoda Kotb has been the subject of scrutiny. Per The U.S. Sun, the awkward chemistry between the two made fans wonder if there was trouble behind the scenes. Though certain scenes between the two are uncomfortable to watch, both co-hosts insist that their relationship is built on friendship and trust. In fact, Guthrie and Kotb revealed that they lean on each other not only professionally, but in another major aspect of their lives: motherhood. 
"Sometimes it's enjoyable to just vent to each other," Guthrie told Good Housekeeping. "We trade parenting tips or ideas, or sometimes I listen to Hoda FaceTime with her kids." The anchor appreciates being able to share the experience of having a "high-pressure job" with a fellow mother "who understands the other high-pressure job you have." For her part, Kotb agrees with Guthrie, stating that working with another parent "makes [her] feel less alone."
Despite the supposed drama between Kotb and Guthrie, the co-hosts maintain a friendship both on- and off-screen. As an insider told Good Housekeeping, "Savannah and Hoda have blazed a trail by supporting one another and other women."