Savannah Guthrie Opens Up About Bond With Hoda Kotb Amid Feud Rumors
Monica Schipper/Getty Images
The "Today" show co-anchors Hoda Kotb and Savannah Guthrie have been in a rumored feud since late July. The speculation started with an awkward encounter while the two co-hosts were cooking on the show, per OK! magazine. Kotb asked if they were done cooking, and Guthrie lashed out a bit in a hurried and a seemingly annoyed response to her co-anchor's question. But in a recent interview, a source said that the feud is far from the truth.
"It's unfortunate to see and hear rumors that are not based in reality," the insider told Good Housekeeping on August 16. "However, it's not bothersome because we have the truth on our side. Savannah and Hoda have blazed a trail by supporting one another and other women."
While there may not be a squabble going on between the two hosts, a body language expert told The U.S. Sun that Kotb and Guthrie's personalities are naturally opposite, which creates "the perfect balance on the show." The expert furthered her explanation by claiming that stress can sometimes heighten one's personality, so that can create some tension. And it seems that despite rumors of drama, the two co-anchors are still able to support each other.
Hoda Kotb and Savannah Guthrie bond over motherhood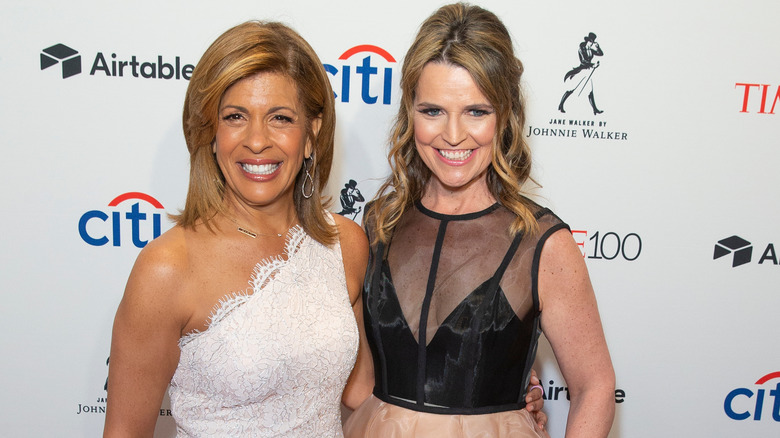 lev radin/Shutterstock
"Today" show co-hosts Hoda Kotb and Savannah Guthrie have shown that they are able to support each other, despite being in a rumored feud. Although Kotb recently posted a vague quote about relationships that some viewed as a subtle aim at her relationship with her co-anchor, per The U.S. Sun, Guthrie was still excited when she shared the People magazine cover that features Kotb on the morning news show. "You ladies look so cute," Guthrie said. "Let's go over to the store and buy all the copies!"
The two have also bonded over being mothers. "We try to bounce ideas off each other," Guthrie told People on August 17. The news anchor mentioned that they talk about raising children while being older and being a public figure. "It's so unusual and it's so wonderful to have somebody who's your coworker who's not only a mom but a mom of kids of virtually the same age," she added. "And so we're kind of going through a lot of the same things at the same time."
The two mothers have opened up previously about the bond they share. In a March interview with Good Housekeeping, both Kotb and Guthrie admitted they talk and "vent" to each other, especially when they're facing the struggles of parenting. We hope the rumored feud between the two co-anchors doesn't get in the way of the way they seem to support each other.