The Reality Show Jennifer Lawrence Got Liam Hemsworth Hooked On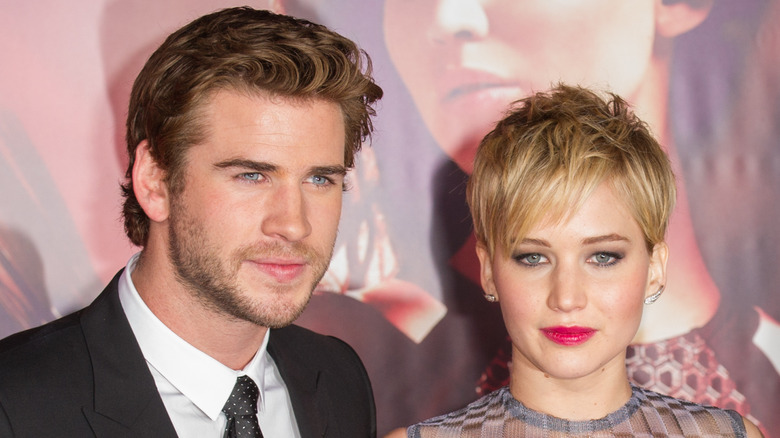 Christopher Halloran/Shutterstock
If there's one thing you need to know about Jennifer Lawrence, it's that she's a huge reality TV fan. Like, massive. Lawrence has opened up about her affinity for reality shows (and Bravo series in particular) on multiple occasions, regularly getting candid about the goings-on in her favorite "Real Housewives" shows in interviews. "I do love my Real Housewives," she told Vanity Fair in 2014, admitting that some of the franchises she can't get enough of include New Jersey, New York, Atlanta, and Beverly Hills, though her favorite happens to be all the drama going down in the Sunshine State. "I mean, I love them all, but Miami — oh, my God! Miami is really special," she said.
But it's not just "Real Housewives" this star is obsessed with. Amongst the other shows Lawrence has a penchant for? "Keeping Up with the Kardashians!" In fact, "The Hunger Games" star is so wrapped up in the goings-on of the K family that she even had a Kardashian tent set up while she was filming the horror "mother!" where she could go and relax after intense scenes. "It was a tent that had pictures of the Kardashians and 'Keeping Up with the Kardashians' playing on a loop — and gumballs. My happy place," she admitted to Vogue in 2017.
But don't think Lawrence is keeping her love for all things reality to herself. Oh, no. It turns out she even got Liam Hemsworth interested in the genre!
Liam Hemsworth is a 'Vanderpump Rules' fan thanks to Jennifer Lawrence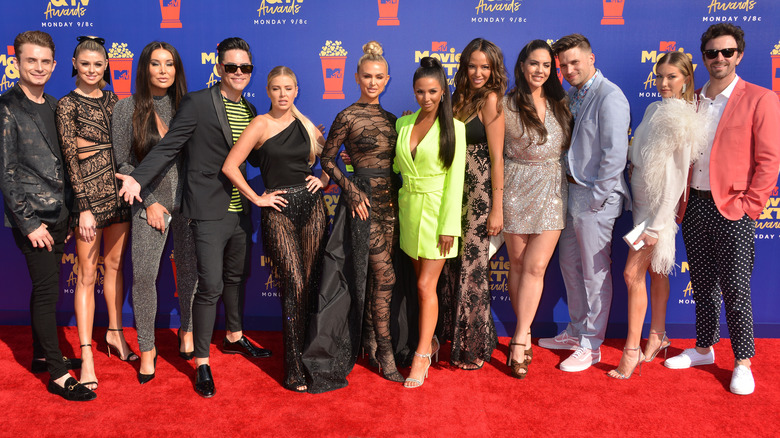 Tsuni-USA/Shutterstock
Jennifer Lawrence is truly doing the Lord's work, as Liam Hemsworth has her to thank for being just as obsessed with "Vanderpump Rules" as we are. Yep, during a 2015 Comic-Con panel for "The Hunger Games: Mockingjay — Part 2," Lawrence revealed that she'd introduced her co-star to what may just be one of the most dramatic reality shows on television — and he got pretty invested. "I got him hooked on reality TV," Lawrence said of Hemsworth (via E! News), though he initially denied the claim. Lawrence wasn't having that, though, noting, "You love 'Vanderpump Rules.' You do! It was 'Vanderpump Rules.' He texted me weeks [after we watched it] and was like, 'Kristen and whoever used to date?!'" We feel you, Hemsworth, we really do.
But while it seemed like the star was a little reluctant to admit his love for Bravo's offering, he's certainly not the only star who's totally hooked on "Vanderpump Rules." The Lisa Vanderpump-led reality show also has a fan in none other than Rihanna, who took to Instagram to share her love for the show back in 2018. She posted a clip that showed Tom Schwartz reminiscing about a drunken night in Mexico, writing in the caption, "easily the best clip on tv[.] whoever edited this...we're besties in my head."
Liam Hemsworth and Jennifer Lawrence are still close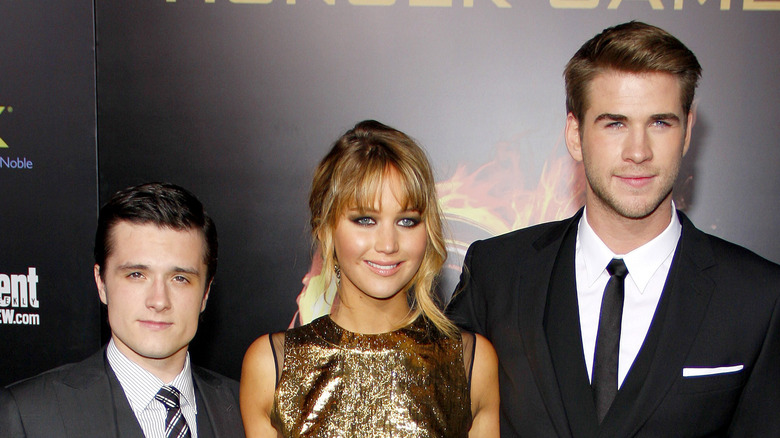 Tinseltown/Shutterstock
Despite Jennifer Lawrence outing Liam Hemsworth's love of reality TV to the world (hey, it's certainly nothing to be embarrassed about!) it sounds like they stayed close friends after the former's big reveal. In September, she gave Hemsworth and their co-star, Josh Hutcherson, a special shoutout when she admitted in a Vogue's "73 Questions with Jennifer Lawrence" video that she just couldn't get enough of working with the duo. "The most fun I've ever had with actors on set is Josh and Liam on 'The Hunger Games.' Hi, boys!" she shared.
It turns out that she and Hemsworth may even be closer than you realize, though. In December 2015, the movie star admitted that she'd actually kissed her "The Hunger Games" co-star off-screen. Cue gasps! "Liam and I grew up together. Liam's real hot. What would you have done?" Lawrence asked when asked by Andy Cohen on "Watch What Happens Live" if they've ever kissed off-camera. Hey, she has a point!