Is Barron Trump Close With His Sister Tiffany Trump?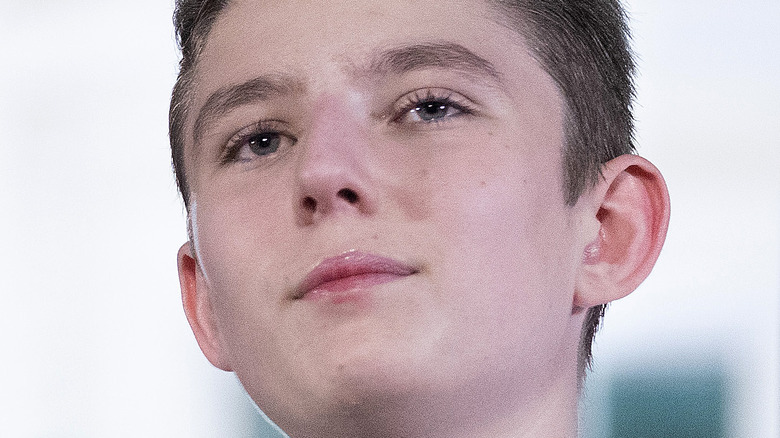 Chip Somodevilla/Getty Images
Barron Trump is the one member of the Trump family that people don't often hear about, and there's a reason behind that. Throughout former President Donald Trump's tenure at the White House, Donald and his wife Melania Trump had repeatedly asked for their son's privacy, according to Politico. After all, no teen should be scrutinized by the public or the media just because their father happens to be one of the most visible men in the world. Still, the internet seemed to be rather fascinated about Barron and even more so when everyone found out that he supposedly had a Roblox account and was a huge K-Pop fan, per Refinery 29. Still, Barron's parents did everything they could to keep him out of the spotlight to ensure that he would grow up experiencing a semi-normal childhood, despite growing up in an environment that was anything but normal.  
Even as the transformation of Barron throughout the years has kept fans interested in him, a lot of people can't help but wonder what kind of relationship he has with his very famous siblings. While there's no doubt that he spends a lot of time with his mother Melania — as he was seen towering over her in New York City back in 2021, per Page Six — his relationship with his sister Tiffany Trump is one of keen interest, too. That's because it's unlike the relationship he has with any of the other Trump kids.
Barron Trump seems to be closest with his sister Tiffany Trump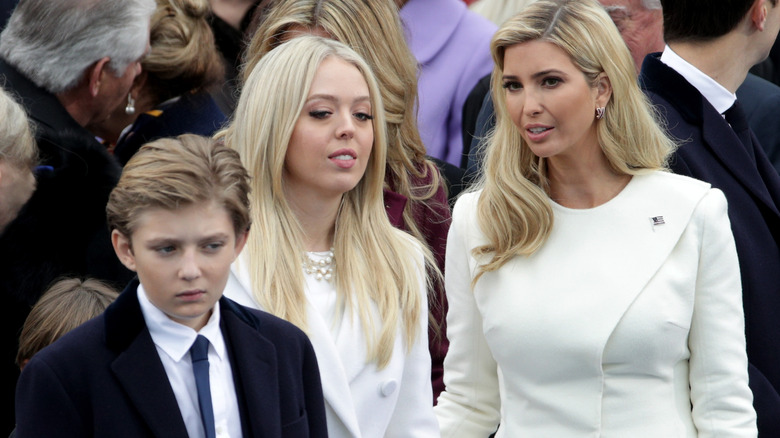 Alex Wong/Getty Images
It's not easy growing up in the public spotlight and it's certainly not easy growing up as the son of one of the most controversial presidents in the country's history, but that's life for the Trumps. That may also be one of the reasons why Barron Trump's older sister Tiffany Trump decided to keep a close eye on him during the family's time in the White House. 
Tiffany grew up in California with no other siblings around her, so there's a very good chance that she made it her mission to make sure Barron felt as though he was always loved and looked after. According to the South China Morning Post, she made sure to always stop by the White House to visit Barron whenever she was in D.C. As fans may recall, Barron was also there when Tiffany graduated from the University of Pennsylvania. 
What's more, Tiffany also makes an effort to give her little brother a shout-out on his birthdays — which she doesn't normally do for everyone. She wished him a happy 14th birthday back in 2020 and called him the "best 'little' brother I could ever ask for" in the caption alongside a couple of family photos. 
Given how close they've appeared over the years, many may be wondering what their relationship is like today, and whether Barron is close with his other siblings as well.
Tiffany Trump has played an instrumental part in Barron Trump's childhood
Even though their father Donald Trump is still making headlines for one controversial reason after another, the Trump children have kept a relatively low profile in their father's post-White House days. Still, that doesn't mean they aren't keeping busy with their day-to-day lives. Barron Trump has enrolled in a private school in Palm Beach, as detailed by People, while Tiffany Trump is planning her West Palm Beach wedding with her fiance Michael Boulous, according to Page Six. 
Furthermore, it seems as though Barron has acclimated to life at Mar-A-Lago, as he is reportedly spending time with his father either on the golf course or enjoying spa days with his mother. Though Tiffany hasn't shared any snaps of Barron on her Instagram since she posted an adorable throwback of the two for his 15th birthday, the two are likely still as close as ever. With Tiffany's nuptials to Boulous on the horizon, fans of the Trump children may even get a glimpse at the brother and sister together then. 
As for whether Barron is close with his other siblings, it seems like he also has a close relationship with them. According to the South China Morning Post, Ivanka and Donald Jr. seem to be closer to their little brother than Eric is, though none of them appear to have as close of a bond with Barron as Tiffany does. Ivanka once referred to her youngest brother as a "baby whisperer" on Twitter, but other sweet sentiments toward the youngest Trump sibling seem to be few and far between for the rest of the brood.